ChartHop boasts that it is one of the market's most modern HR analytics software. This review will see if this claim is valid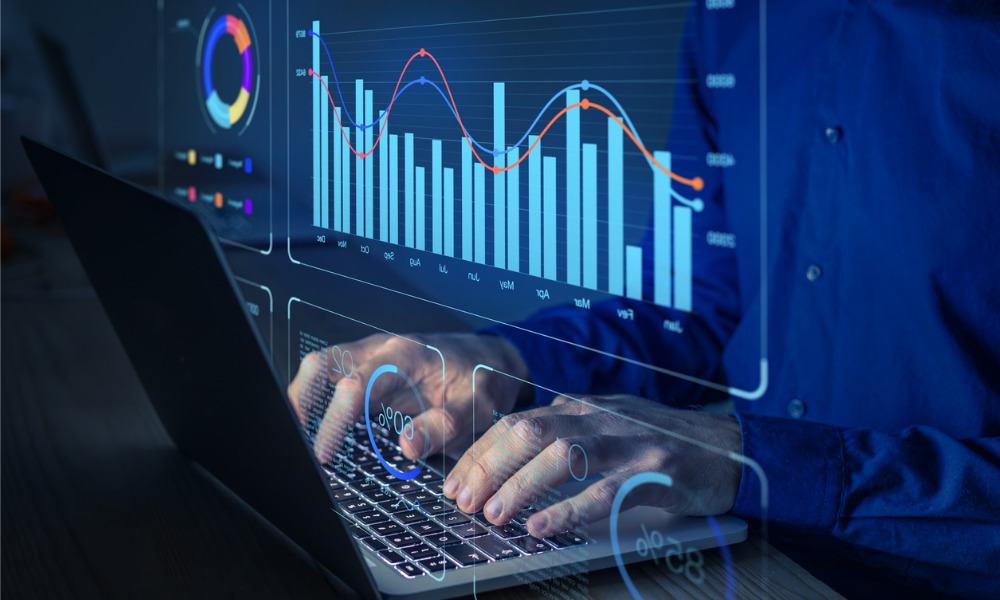 HR analytics is more than just numbers. It is a way to understand the needs and address the concerns of the people working for the organization's benefit. That's why you need reliable and efficient HR analytics software to gather, analyze, and interpret HR data.
In this ChartHop review, HRD will go over the software's functionalities and strengths. This should give you an idea of whether this is the right software for your HR analytics needs.
ChartHop is a cloud-based HR analytics and workforce planning software designed to help organizations gain valuable insights into their people and make data-driven decisions. It centralizes data from various HR systems such as payroll, employee records, and performance reviews, providing a comprehensive view of an organization's workforce.
This software allows HR professionals, managers, and executives to access real-time data and create interactive visualizations like org charts, headcount reports, and diversity metrics.
The platform offers advanced analytics and reporting capabilities, enabling users to identify trends, track key performance indicators, and forecast workforce needs.
In addition, the platform facilitates collaborative planning by allowing users to model different scenarios, assess the impact of changes, and optimize workforce strategies. It promotes transparency and empowers leaders to make informed decisions to improve employee engagement, identify talent gaps, and align HR initiatives with business objectives.
Overall, this software aims to revolutionize HR management by harnessing the power of data and analytics to enhance workforce planning and people management.
This HR analytics tool offers a range of critical features in HR analytics that empower organizations to gain deep insights into their workforce, optimize their people strategies, and make informed decisions. Some of the vital critical features of this software include:
Centralized People Data: This tool integrates data from various HR systems such as HRIS, ATS, payroll, and performance management tool, into a single, unified platform. This centralization ensures that all employee information is up-to-date and easily accessible.
Interactive Org Charts: The platform provides dynamic and interactive org charts visually representing an organization's structure. Users can explore reporting lines, identify potential bottlenecks, and gain a better understanding of the team's composition.
Diversity and Headcount
Headcount Analysis: The platform offers detailed headcount reports, enabling HR professionals and executives to track employee numbers, monitor growth trends, and compare data across different time frames.
Diversity and Inclusion Metrics: It supports diversity tracking by providing insights into various demographic categories such as gender, ethnicity, and age. These metrics help organizations assess their diversity efforts and ensure an inclusive workplace.
Workforce Management and Scenario Modeling
Real-time Reporting: Users can access real-time HR data and generate custom reports on demand. This feature allows for timely decision-making and the ability to respond promptly to changing workforce dynamics.
Workforce Planning and Scenario Modeling: This HR analytics software allows HR teams to perform workforce planning by creating multiple scenarios to evaluate the impact of potential changes. This feature aids in optimizing resource allocation and planning for future workforce needs.
Compensation Insights: HR analytics on this platform includes compensation analysis, providing insights into salary distributions, pay equity, and overall compensation trends within the organization.
KPI and KPO Analysis
Performance Analysis: With performance analytics, organizations can assess employee performance, identify top performers, and track progress toward performance goals.
Employee Engagement Insights: ChartHop enables HR professionals to gauge employee engagement levels and identify areas for improvement by integrating survey data and engagement metrics.
Role and Skill Mapping: Users can map roles and skills to employees, allowing for better visibility into skills gaps and potential areas for upskilling or reskilling initiatives.
The platform's critical features empower HR teams and leaders to move beyond basic HR reporting and make strategic, data-driven decisions that optimize workforce management, promote diversity and inclusion, enhance employee engagement, and align HR initiatives with broader organizational goals.
ChartHop integrates and analyzes data from various HR systems to provide a comprehensive view of an organization's workforce. Here's how this tool operates:
Data Integration: ChartHop connects with multiple HR data sources, such as HRIS, ATS, payroll, and performance management systems, to gather employee-related data. This integration ensures that all HR data is consolidated and up to date in one central platform.
Data Visualization: ChartHop uses integrated data to create interactive org charts that display the hierarchical structure of the organization and allow users to explore team compositions, reporting lines, and other relevant insights.
Here's a short video on how data visualization can help your company leverage data analytics:
Real-time Reporting: ChartHop provides real-time access to HR data, allowing users to generate custom reports and visualizations on-demand. This enables timely decision-making and quick responses to changing workforce dynamics.
Analytics and Insights: The platform offers various HR analytics features, including headcount analysis, diversity metrics, compensation insights, performance analysis, and employee engagement data. These insights help HR professionals and executives identify trends, track key performance indicators, and make data-driven decisions.
Workforce Planning: It supports collaborative workforce planning by allowing users to create and compare multiple scenarios based on changing workforce needs. This feature helps optimize resource allocation and align HR strategies with organizational goals.
Another interesting video on how to use HR scenarios in projecting growth, slowdowns, and other critical situations that might affect your company's and workforce's overall development:
Role and Skill Mapping: It enables users to map roles and skills to individual employees, clearly showing skills gaps and potential areas for employee development.
ChartHop streamlines HR analytics and provides actionable insights, promoting transparency, efficiency, and data-driven decision-making for effective talent management and organizational success.
ChartHop offers two packages:
1. Basic: free for companies with up to 150 employees. It comes with these features:
Dashboard
Data sheet
Map
Org Chart with filters
Primary payroll integration
Rich employee profiles
Slack + Carta integration
Single Sign-on (SSO)
Here's what the log-in page looks like: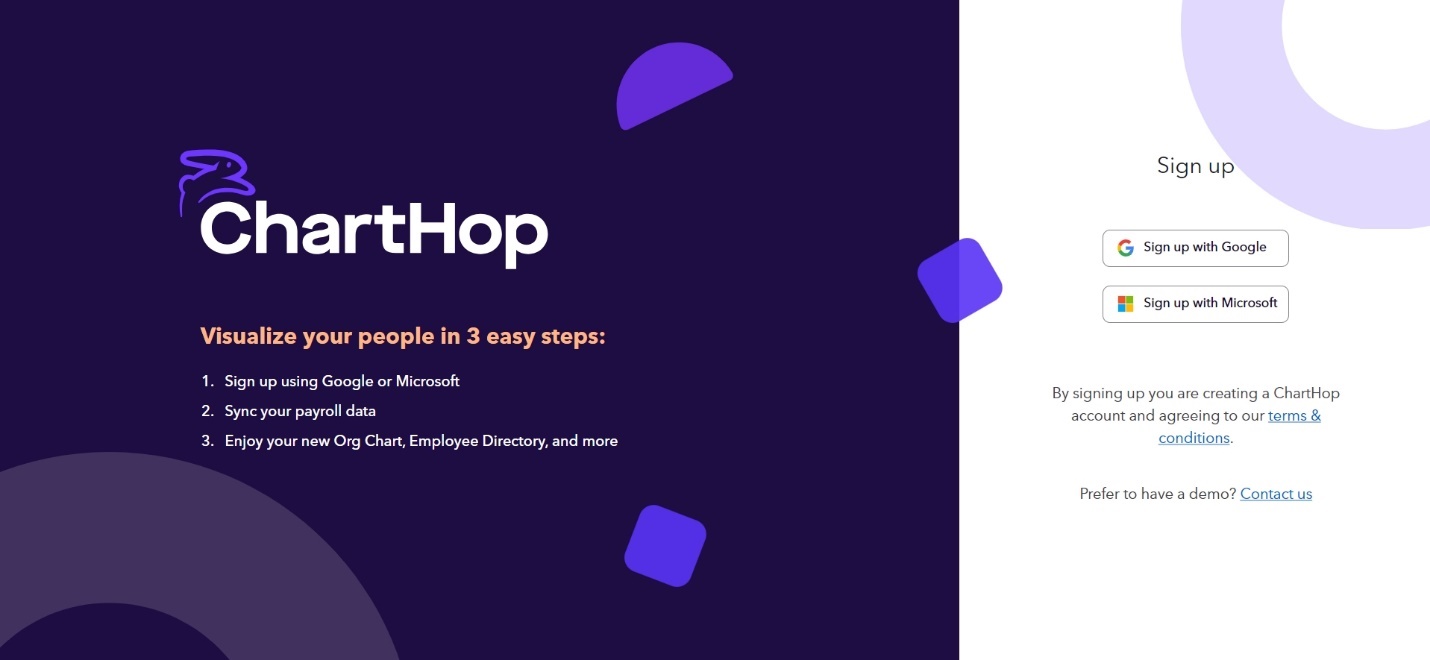 You can log in to the platform by simply using your Google or Microsoft account, giving you quick and easy access. That means one less username/password to remember.
2. Standard: shares the same functionalities as Basic plus:
Headcount Planning or Compensation Reviews
Role-based access controls
People Analytics
Surveys and feedback forms (this includes three custom templates)
Custom HRIS / Payroll mapped fields
Calculated metrics (it has up to 10 calculated fields)
Document storage
Dedicated CSM
If you are interested in getting this bundle, visit the ChartHop website for pricing details and a demo.
In the meantime, here's a sneak peek of how ChartHop can simplify pay reviews for your company:
Here are some of ChartHop's standout features and how they can help transform your organization:
1. Data Centralization: consolidates HR data from various sources, making it easier for HR professionals and managers to access and analyze all essential information from a single platform.
2. Interactive Org Charts: offers dynamic and interactive org charts that provide a visual representation of an organization's structure, aiding in understanding reporting lines and team compositions.
3. Real-time Analytics: provides real-time access to HR analytics, enabling users to promptly generate up-to-date reports and gain insights into crucial metrics.
4. Customizable Reporting: allows users to create custom reports and visualizations based on their specific needs and requirements, allowing for personalized data exploration.
5. Workforce Planning: scenario-modeling capabilities assist in workforce planning, helping organizations anticipate talent needs and make informed decisions for future growth.
6. Diversity and Inclusion Metrics: supports diversity tracking, helping organizations monitor and improve their diversity and inclusion initiatives.
7. Employee Engagement Insights: integrates survey data and engagement metrics, enabling HR teams to assess employee engagement levels and identify areas for improvement.
8. Collaborative Features: fosters collaboration among HR teams and executives, promoting data-driven discussions and decision-making.
If you think that ChartHop does not fit the requirements of your company, check out its competitors. One of them might be a better fit:
NaturalInsight
360 Feedback
ChartHop Review: company profile
Year Founded: 2018
Number of Employees (Based on LinkedIn Data): 51 – 100
Key People: Ian White (CEO & Founder), Matt Wolf (CFO), Diana Kucer (CMO)
ChartHop has been one of the leading providers of HR solutions, giving companies a chance to leverage their game by giving them the proper tools to effectively and efficiently analyze people's data.
CEO and founder Ian White said that he developed ChartHop to "create greater transparency and alignment in organizations." ChartHop enables institutions to understand their workforce completely, and make decisions backed by solid data. It helps prevent possible problems and issues in operations, workforce productivity, and others through data analysis and practical applications of its results.
As an HR analytics tool, ChartHop centralizes HR data, providing real-time and interactive insights into an organization's workforce. It also enables data-driven decision-making and optimizes talent management strategies. All these are critical for the organization's optimum growth and in the creation of a healthy and people-centered work environment and culture.
Is ChartHop the right HR analytics software for your organization? If you'd like to go over other options, take a look at our HR software reviews. We provide an in-depth analysis of the capabilities, core strengths, and weaknesses of different HR software tools.
Would you use ChartHop for your organization? Do you use it already? Share your views on ChartHop in the comments section.