Forget the exit interview – it's time to focus on your existing talent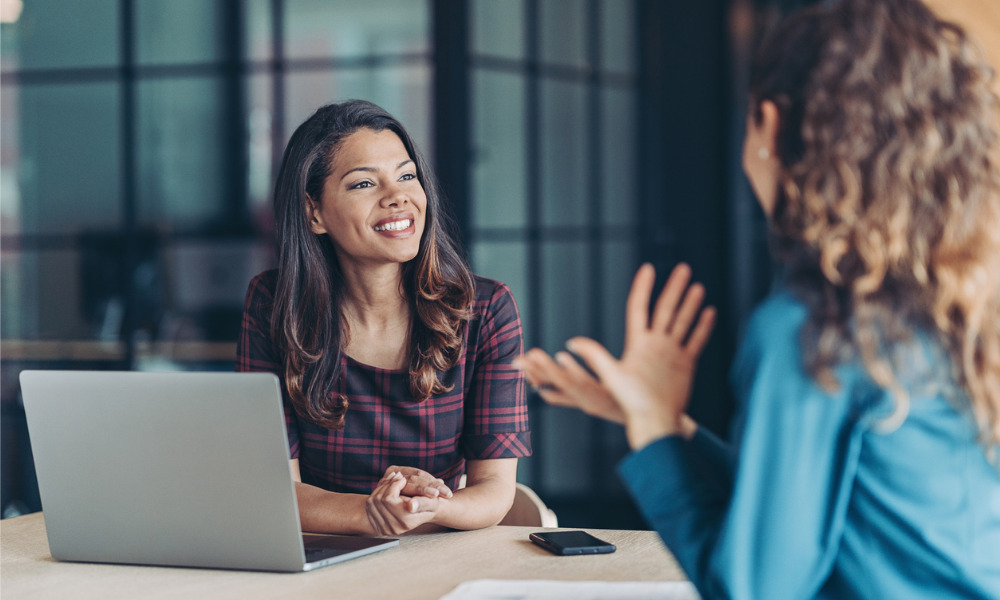 As we navigate the pitfalls of the ongoing Great Resignation, HR leaders are left looking for talent in the least likely of places. But instead of looking outward for the skills you so desperately need, it's time to hedge your bets on your already existing talent.
Forget the exit interview – 2022 is the year of the 'stay interview'.
"The exact purpose of a stay interview may vary between organisations, but the majority are employee engagement check-ins that help managers understand specifics on why employees have stayed at the organisation and what has the potential to cause them to leave," Amy Mosher, chief people officer at isolved, told HRD. "As opposed to exit interviews, which occur once an employee has already resigned, stay interviews can also be used to level-set with employees who are at risk of leaving an organization or ones that have verbalized the desire to change jobs."
The name 'stay interview', however, isn't the best name. As Mosher told HRD, it indicates a transactional relationship versus a high-trust relationship. Employers and managers should think of stay interviews as engagement discussions that supplement everyday interactions, survey feedback and individual motivation.
How to conduct a 'stay interview'
When it comes to rolling out these conversations, employers should take a top-down approach. Start by getting the C-suite involved in the early discussions – after all, securing that executive backing will be essential in getting the rest of the staff body involved.
"I believe that every type of organisation can benefit from better employee relations, and stay interviews are a tangible way to show that you are listening and that you care," added Mosher. "I'd recommend not labelling these programs as stay interviews but rather a discussion about an employee's current level of engagement, what's been happening and what's next."
What questions should HR be asking in 'stay interviews'?
When conducting these interviews, HR leaders need to lead the conversation with compassion and empathy. Stay away from super emotive subjects and keep the interview on topic.
"A standard and structured list of questions should be established before the interview occurs," Mosher told HRD. "Though the employee will provide the feedback and insight during the interview, it is still the job of the manager to facilitate the interview in a casual and conversational manner. Asking specific questions helps employees articulate their feelings and desires more accurately. During an engagement discussion, managers should avoid discussing topics like performance or tips for being more productive and focus on having an open, candid conversation with the employee."
Some examples of great questions to ask include;
What do you look forward to when you come to work each day?
What do you like most or least about working here?
What keeps you working here?
If you could change something about your job, what would that be?
What motivates you about your job? What demotivates you?
How often should HR conduct 'stay interviews'?
The responsibility of setting up stay interviews lies firmly at HR's feet. While it may seem like another duty you've got to seemingly fit into an already overworked day, if these conversations stem the haemorrhaging of talent, they're well worth it.
"Not all employees are comfortable with proactively offering feedback to managers outside of regular performance reviews," added Moher. "The stay interview or engagement discussion creates a dedicated time for an employee to discuss their experience at the company outside of a performance-centric context.
"Stay interviews shouldn't be treated as a quick fix for issues like the Great Resignation. These types of check-ins must occur consistently in order for organizations to see real benefits. By ensuring a consistent stream of check-ins, trust is built between employees and management. The timeline for these interviews looks different for every company, but I would recommend hosting a check-in at least once a year with a caveat of ensuring it's not a transactional conversation, but one built on an already high-trust environment."
How do 'stay interviews' benefit an organisation?
The importance of ongoing communication, of open dialogue between employer and employee, really can't be overstated. Recent research from UKG found that trust, and communication, were key factors in determining whether or not an employee jumped ship. In today's digitized world, where the talent market is now officially global, HR needs to spend more time on upskilling and developing existing employees – rather than competing in a saturated skills market. Something Moher knows all too well.
"These check-ins have proven to be an important piece to retaining and engaging our employees at isolved," added Moher. "With consistency and care, employers can expect increased trust and transparency within their workforce, which in turn translates to a more engaged and happier employee. We want to culturally convey that we are a high-trust environment and that these calls are a discussion about what the manager can proactively solve. "