Your business should have the equivalent of an online "water cooler" channel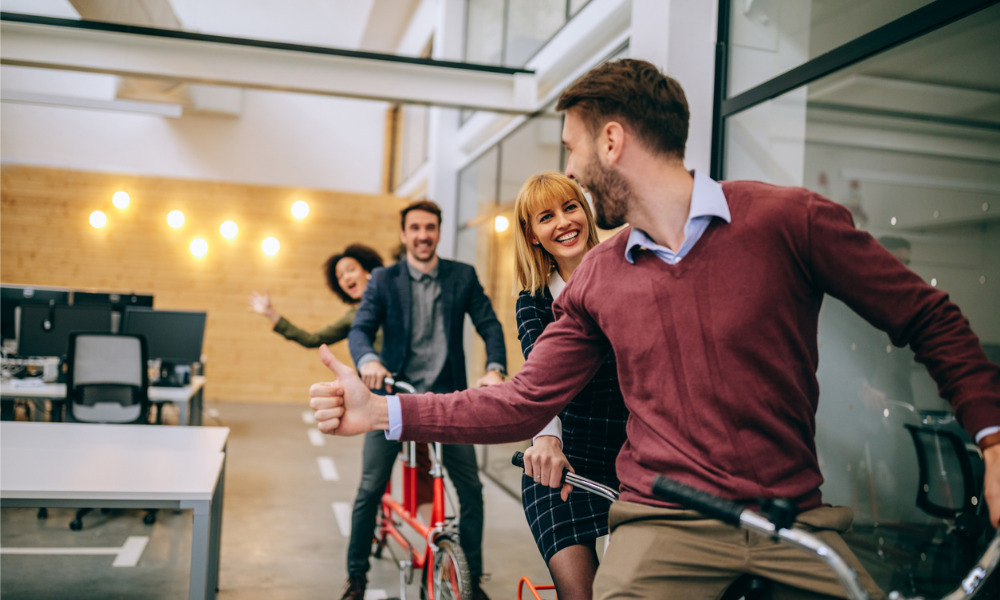 by Craig Furness, Managing Director, Gallagher Bassett (GB) New Zealand
Looking to strengthen your remote team? Seeking better team collaboration? Then read on to discover the best remote team building activities here.
Flexible working doesn't have to lead to emotional distancing as well as lack of engagement.
Due to the complications arising from COVID-19, the majority of companies (big and small) are asking their employees to work remotely and are instituting work from home policies.
However, with a big workforce working remotely —for the first time, in the majority of cases— staying connected and communications between team members can get stretched, and even a trophy.
This is where creating and implementing remote team building activities comes in to save the day.
Keep on reading to learn all about the top six ways you can build great team building activities.
Remote team building activities: Create the foundation
In order to structure engaging remote team building activities, you'll have to ensure that a solid foundation of communication is readily available.
For instance, your business should have the equivalent of an online "water cooler" channel. This way your employees could chat with each other and discuss things that aren't necessarily related to tasks or assignments.
Once you have that foundation in place, you'll know that there is a place for conversations that have been created after a team-building activity can continue.
Otherwise, your employees won't have a "place," so to speak, to continue their chats.
Alright, now you're ready to implement the following team-building activities.
Personality quizzes
In general, quizzes are a rather fun way to get to know your employees and vice versa.
They don't have to be just personality and productivity-related quizzes. They can delve into pop culture, films, literature, and sports. There is a variety of topics to select, just as long as they're business-appropriate.
You can simply create quizzes in multiple-choice format, or even polls. One of the widely available platforms that you can use to create these quizzes is Kahoot.
Furthermore, these quizzes can be quite versatile. Here are a couple of examples that can get your creative juices flowing:
Theme-based trivia: it can revolve around a specific theme like music, sports, even celebrations.
Match the fact to the colleague: the more unusual and unexpected the more fun this quiz can get. A picture of my day: considering that COVID-19 is making it almost impossible to get outdoors-based photos, this can get quite complex in a fun way.
The aim of the game is to match the photo to the college who submitted it. In addition, this can be as abstract as people would like it to be
Singing competition
We know that asking you to create a whole "New Zealand's Got Talent" show would be a bit much (but, if you can, then all the power to you).
Yet, if you have a shy team of employees that the idea of singing in front of their colleges can give them nightmares, then it can turn into a favourite song of the week competition.
Your employees can select their favourite song and then the whole team can vote on which one is the best or the catchiest.
Afterward, all of these songs can be added to your company's playlist, either on YouTube or Spotify.
The remote fitness challenge
Staying healthy while working from home can be a bit of a trial, especially if your employees aren't used to working remotely in the first place.
Therefore, why not make it an actual fun challenge with a virtual scoreboard?
There are multiple ways you can implement this sort of challenge. However, the premise remains rather simple.
Everyone should have a set exercise goal that can be tracked by phone or even a google spreadsheet. Whoever places first gets to win a prize.
As it were, due to COVID-19, make sure to select types of exercise that can be comfortably done at home.
The remote mental wellness challenge
As it stands, there is nothing that will be more beneficial to your employees' productivity than mindful meditation.
Mindful meditation, or even the practice of mindfulness itself whether in the form of mindful eating or others, can help decrease stress both for you and your employees.
Having a 30-day challenge can help boost your employees' ability to focus, as well as decrease their stress levels.
It's undoubtedly a stressful time on a global scale. Thus, having a community activity that brings your team together will help develop a great support network that will last even after you reintroduce your workforce.
Simple virtual games
Sometimes, you'll need a game with solid ice-breaking abilities that are well-suited to a digital format. In addition, these games can be set up in no time at all.
First, you can set up a time for your team to play Pictionary. All you'll need on hand is paper and a pencil.
Second, you can always rely on charades to be a crowd pleaser. It simple and straightforward, and all you'll need is to set up a video call, nothing more.
The last suggestion would be "Draw the Picture." This game purely relies on communication and how well in-tune your team members are with each other.
It's a game where someone describes a picture, and everyone else draws what they hear.
The fun part is when you get to see the malformed and disfigured sketches that sometimes have nothing to do with the original picture the describer had in mind.
A group wide bake-off competition
A great way to nurture friendly competition would be hosting a group wide bake-off competition.
Of course, it'll have to be adjusted to stay-at-home orders. Yet, it can add a great vibe to your daily and weekly meetings.
In short, everyone that wants to participate can bring their baked goods to your online meeting. After the meeting is done, they can show off what they've baked.
Furthermore, you can take it a step further by having your employees send each other baked goods care packages. You can be the first to go as a great way to show leadership, and your employees can pick up from where you left off.
Working remotely doesn't have to kill employee engagement
It might be a bit of a challenge at first to get a sense of which activities are winners.
However, with a bit of trial and error, you'll have a good set of team-building activities and games always available in your toolkit.
You can use these top six remote team building activities whenever there are new team members that you'd like to mesh with your current employees. Also, you can use them whenever you feel like there's a bit of a lag in team engagement.
Make sure to check out our blog for a host of different ideas and tips that you can integrate into your business strategy that can help nurture your teams' mental health whilst working from home.