HRD looks at how businesses are building Matariki into their culture, values and marketing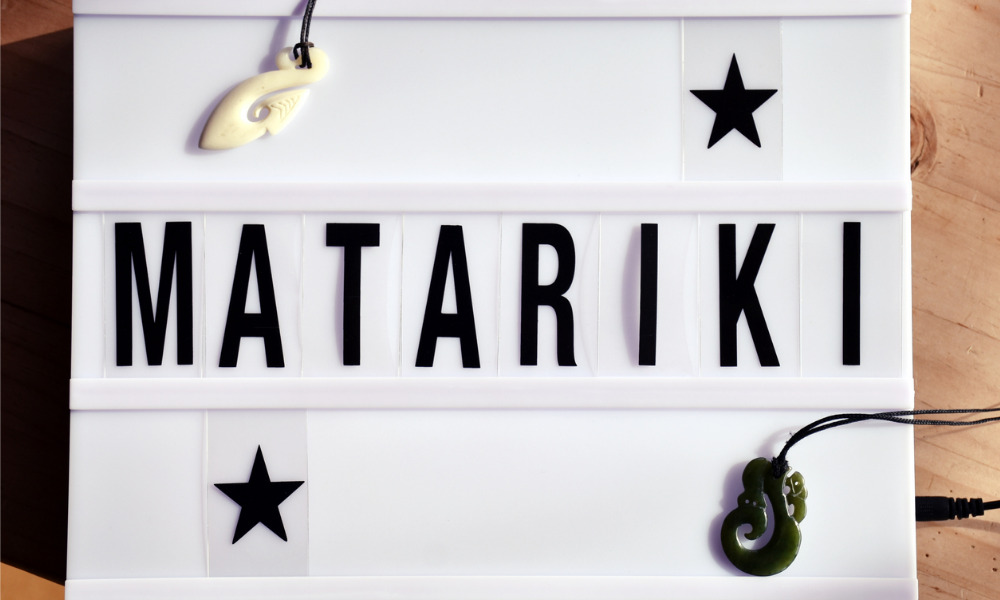 ACT call it a burden to business and Labour says it's a step forward in our race relations journey. Either way, Aotearoa will officially recognise Matariki, the first indigenous public holiday, and maramataka the Māori calendar for the first-time next Friday.
Matariki is a great opportunity for businesses to promote cultural proficiency and understanding of Te Tiriti o Waitangi amongst staff and many Kiwi businesses are jumping on board. HRD takes a look at what some Kiwi businesses are doing to mark the inaugural event.
Isthmus
It's business as normal for the national design company who have had Matariki embedded in their workplace culture since 2014 when they made the day a public holiday for all their staff. Every year staff get a day off and the company directors host a dinner for all their staff and staff's whanau.
An evening of waiata, kai, drinks and conversation is held for clients, collaborators, and friends.
The company embedded Matariki as an additional public holiday because they believe that Aotearoa should celebrate its own authentic events and seasons.
"Matariki provides a punctuation mark in the middle of the long dark winter; a time to both reflect and look forward, but most of all a time be present with one another, enjoy each other's company and deepen relationships."
Read more: Auckland employer fined $20k over holiday pay
EPIC Careers in Infrastructure
Following on from the success of their first EPIC Work photo competition, EPIC opened round two of the competition with the theme Matariki (Spirit), inviting construction and infrastructure workers to submit photos showing their EPIC spirit on the job.
The company said Matariki is a time to reflect and think about the year gone by, as well as share with your friends, family, and team. It's all about the amazing people who are building and maintaining New Zealand's civil infrastructure, whether it's by starlight moonlight or sunlight.
Air New Zealand/Araraurangi
You can join Air NZ at the Canterbury Museum when they launch a Matariki exhibition from June 18.
Known for their quirky safety videos, the mixed reality show builds on the "Tiaki and the Guardians" Safety Video launched earlier this year and promises to "take people to the sky, without leaving the room".
Read more: Matariki public holiday announced: When is it?
Attendees will board the waka rererangi to visit the guardians, Tanē Mahuta, Tangaroa, Papatūānuku, and Ranginui and experience the Matariki story, all without moving an inch.
A life-size 3D version of Pou Tikanga (Cultural Leader), Joe Harawira, will tell the story and they have replicated the carved waka in its entirety digitally using similar techniques, mimicking intricate carvings and textures.
The company said it's important for the airline to continue to support te ao Māori and champion the use of te reo Māori.
ANZ Banking Group
ANZ has become known for its Matariki ATM surrounds which have been around since 2015. This year ANZ introduces Kiwis to the man responsible for Te Tohu O Matariki O ANZ (ANZ's Matariki design). In a short video posted throughout their social media channels we meet Geoff Popham, a 38-year-old Māori designer who grew up near a marae in Awarua, south of Kaikohe and find out the story behind the design of Te Tohu O Matariki O ANZ and what Matariki means to him.
Radio New Zealand
Radio New Zealand will celebrate Matariki with a broad range of programs across their digital services and the official Mānawatia a Matariki celebrations will stream live on RNZs website.
"This programming is a fitting way to honour one of the most important days in te ao Maori and the first Matariki public holiday – a day of reflection, celebration and looking to the future," said RNZs Tumu Māori Shannon Haunui-Thompson.