Internal messages from news station WDBJ7 have revealed that the gunman who killed his former colleagues this week had been 'aggressive' at work.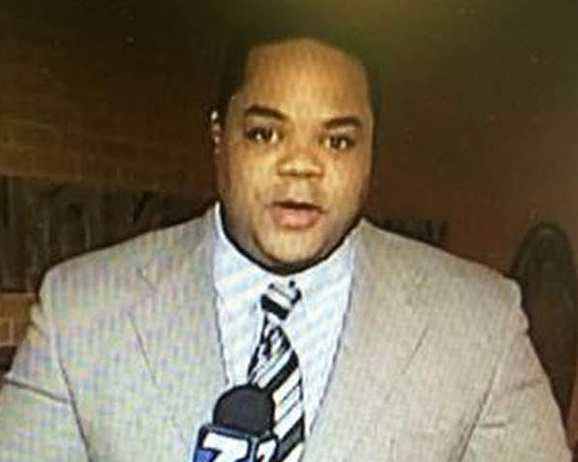 Footage of a shooting that took place on live television in the US has gone viral, and it has since emerged that the perpetrator was motivated by a grudge he held against his former colleagues and employers.
Vester Flanagan shot reporter Alison Parker and cameraman Adam Ward on Wednesday morning in Virginia, US. Both victims were killed at the scene.
He then shot himself, and later died in hospital.
Flanagan is reported to have previously made claims of grievances around racial mistreatment against news station WDBJ7 – which is supported by the statements he sent out on social media following the attack.
After the shooting, he took to
Twitter
to make comments about his victims.
"Alison made racist comments," he alleged. "They hired her after that???"
"Adam went to HR on me after working with me one time!!!"
In documents obtained by
The Guardian,
Flanagan's relationship with his colleagues and a series of misconduct during his tenure at WDBJ7 were detailed.
According to the memos, Flanagan was told by his bosses to seek medical help following complaints from co-workers about his behaviour.
The internal messages, sent by former news director Dan Dennison, detailed numerous conflicts that had occurred.
Flanagan was reprimanded for "lashing out" at a colleague, as well as his use of "harsh language" and "aggressive body language".
On July 30, 2012, Dennison instructed Flanagan to enrol in an employee assistance program with the company Health Advocate.
"This is a mandatory referral requiring your compliance," Dennison told him. "Failure to comply will result in termination of employment."
Later that year, Dennison emailed employees to inform them that he had given Flanagan a final warning, stating that he was "not entirely sure where [Flanagan's] head is at".
Three months later, Flanagan was fired, leading to a lawsuit against the company.
Dennison began sending memos regarding Flanagan's behaviour just two months after he began working at the station.
"On three separate occasions in the past month and a half you have behaved in a manner that has resulted in on or more of your co-workers feeling threatened or uncomfortable," Flanagan – who is also known as Bryce Williams – was told.
Firstly, it was claimed that during an argument inside a news truck, he had "used verbal and body language that left co-workers feeling both threatened and extremely uncomfortable".
In a second memo, Dennison scolded Flanagan for his misconduct during a separate incident.
"You have been the common denominator in these and other incidents outlined previously," he said. "It seems that you are taking the actions of many of the photographers quite personally and misinterpreting their actions or works."
A subsequent performance review rated Flanagan's ability to work with his colleagues as "unacceptable".
"The area where Bryce must make immediate improvement is with photographers," a manager said. "The issue is well-documented and has been discussed."
According to an email in December 2012, Flanagan told his bosses in a meeting that "maybe it's time for me to go".
Dennison offered him one more chance, but said he would accept the decision if it had been made.
In February 2013, Flanagan was fired for "unsatisfactory job performance and inability to work as a team member".
Upon receiving the severance package, Flanagan reportedly became angry.
"I'm not leaving, you're going to have to call the f###ing police [sic]," a memo detailed him as having said.
"Call the police. I'm not leaving. I'm going to make a stink and it's going to be in the headlines."
After he stormed out of the office, Dennison called the police, who arrived to escort him from the building.
Flanagan threw a small wooden cross at Dennison, and was reported to have told him: "you need this".
He then claimed that his employers "basically called me a n----- [sic]".
In March 2014, Flanagan filed a civil lawsuit against the station, alleging racial and sexual discrimination.
The case was dismissed later that year.
Flanagan's next course of action was to send a letter to City General District Court Judge Francis Burkhart, in which he claimed he had been the victim of a "carefully orchestrated" attempt by co-workers to have him "ousted".
He claimed he was upset that a staff photographer had reported him to the HR department after working with him once.
Earlier this month, Flanagan named Ward online as the photographer who he believed reported him to HR.
He also claimed "racial harassment", and treatment that was "nothing short of vile, disgusting and inexcusable".
The letter requested a trial by jury that he said should consist only of African American women.
"Your Honor, I am not the monster here," he wrote. "I get along with my current co-workers … [T]hat sure doesn't sound like the monster I was painted to be."
In light of the shooting, Parker and Ward's colleagues have expressed their shock and sadness via social media. Parker's partner said that he was "comforted" by his "family" of co-workers.
If you or someone you know needs help, contact Lifeline on 09 5222 999 (Auckland)/ 0800 543 354 (outside Auckland), or the
Mental Health Foundation of New Zealand
.