Grumblings in the office? Staff a little bit feisty with each other? Then it's highly likely there has been some sort of "theft" or lunchtime abuse.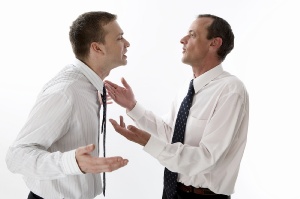 It's only natural that in a workplace made up of multiple personalities there will be some kind of friction between colleagues every now and then. But what are the main culprits for getting workers hot under the collars?

Topping the list for creating annoyance among staff is the great battle for annual leave. According to a survey by Hotels.com, being denied leave because a colleague has snatched away their planned holiday by booking the dates is the main gripe for over a third of employees.

The Daily Mail reported the study found 84% of workers plan to make holiday bookings in January to not only have something to look forward to but to 'pip others to the post'. And a fifth are so organised that within the first four weeks of the New Year they have planned all their holidays.

Competition for time off may be the top cause of tension, but for a quarter of workers what draws their ire is people stealing food from the office fridge.

And if they are not grumbling about food theft, it's colleagues taking too much time to devour their lunch. Around 17% said they despise co-workers taking too long over lunch.