A new survey shows a third of Kiwi companies don't think annual appraisals are necessary.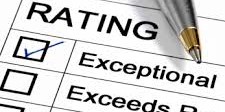 A new study by recruitment giant
Robert Half
has highlighted just how much the workplace is changing as a third of Kiwi companies say performance reviews are no longer necessary.
The survey saw 100 CFOs share their thoughts on the traditional talent management measure with 31 per cent saying it isn't needed – rising to 39 per cent among smaller businesses.
Incredibly, just three per cent of respondents said employees want to receive feedback annually but while bosses may be rejecting yearly appraisals, they still recognise the importance of reviews.
In fact, the majority of CFOs said their employees prefer more regular feedback with 33 per cent pointing to a monthly time frame, 29 per cent pointing to quarterly and 19 per cent indicating on-the-spot feedback as most valuable.
"Performance management is still an important aspect of any human resources policy. If done efficiently and thoughtfully, performance reviews can foster a corporate culture that encourages staff career development and it can also be an effective way to improve employee engagement and loyalty," said Megan Alexander, GM of Robert Half New Zealand.
"However, the chance to deliver feedback to employees and offer career development doesn't need to only happen on an annual basis," she continued. "There are numerous other ways to keep employees motivated, and businesses need to be prepared to think creatively of other ways to gain the best output, results and loyalty from their staff."
The survey also revealed the alternative engagement strategies which are growing in popularity.
One-on-one discussions between employees and managers took first place with 53 per cent of CFOs saying conversations geared toward career development can be effective in keeping employees engaged and motivated.
Almost the same number (52 per cent) said training opportunities are a good source of motivation, followed by salary increases and promotions at 42 per cent and encouraging employees to offer suggestions and input ideas at 41 per cent.
Interestingly, only 21 per cent of CFOs said employee recognition programs and rewards were an effective way to motivate and engage employees.
"No matter what the occasion is to deliver constructive feedback, employer guidance is always useful to staff career development and progression," said Alexander.
"Employers who receive feedback from their boss can use it as motivation and be able to identify areas for improvement. This will help employees further develop their career and consequently increase their market value."
Recent stories:
HR event attracts industry influencers
How to get the most from your managers
Chinese employees made to eat live worms as punishment