Kiwi women may be top of the world when it comes to education but they are still struggling to gain equal footing with their male counterparts when it comes to pay, a new report reveals.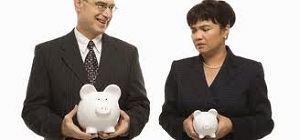 Globally New Zealand is one of the top nations for gender equality, however a new report shows when it comes to pay there is a growing gap between the sexes.
The World Economic Forum's annual report, The Global Gender Gap Index, shows for pay equality, the country ranks 33rd out of 142 countries. A drop from 15
th
ranked in the previous two years.
The index, which ranks nations on the gap between men and women on health, education, economic and political indicators, also showed New Zealand has dropped in the overall global rankings. While the country has previously consistently ranked in the top 10 this year New Zealand dropped to 13
th
.
Dame Jenny Shipley, chairwoman of Global Women NZ, told
The New Zealand Herald
the report showed there was "so much to do" to reach equality. She said that it was "inexcusable" for a woman to graduate with equal qualifications to a man but be paid less upon entering the workforce.
Federation of Business and Professional Women president Vicky Mee also told the paper that New Zealand has lost its edge and was no longer holding companies to account on the issue.
She anticipated things would get worse in New Zealand for women in low-earning jobs.
Despite New Zealand's fall in the rankings globally there has been an improvement in equality for women in the workplace.
The report shows that the gender gap for economic participation and opportunity now stands at 60% worldwide, having closed by 4% from 56% in 2006.
However based on that trajectory, with all else remaining equal, it will take 81 years for the world to close this gap completely.
The report states that much of the progress on gender equality has come from more women entering politics and the workforce. While more women and more men have joined the workforce over the last decade, more women than men entered the labour force in 49 countries.
Of the 111 countries that have been continuously covered in the report over the last nine years, 105 have narrowed their gender gaps, the other six however have seen prospects for women deteriorate.
These six countries are spread across regions: in Asia, it is Sri Lanka; in Africa, Mali; in Europe, Croatia and Macedonia; and in the Middle East, Jordan and Tunisia.
"Achieving gender equality is obviously necessary for economic reasons. Only those economies who have full access to all their talent will remain competitive and will prosper. But even more important, gender equality is a matter of justice. As a humanity, we also have the obligation to ensure a balanced set of values," said Klaus Schwab, Founder and Executive Chairman of the World Economic Forum.
Other key findings from the report:
Nordic nations remain the most gender-equal societies in the world. Last year's leading four nations – Iceland (1), Finland (2), Norway (3) and Sweden (4) – are joined by Denmark, which climbs from eighth place to fifth.
The US climbs three places to 20 in 2014, after narrowing its wage gap and improving the number of women in parliamentary and ministerial level positions.
France leapt from 45th to 16th. France's gain is mostly due to increases in the number of women in politics, including 49% women ministers – one of the highest ratios in the world, and narrowing wage gaps.
The UK fell eight places to 26th which is mainly attributed to changes in income estimates.
Within the economic participation category, Nepal, Botswana and Nigeria have had the most absolute gain in terms of increased rates of female labour force participation. Kuwait, Luxembourg and Singapore have seen the largest absolute gains on women's income. The largest gains on women in senior roles – legislator, senior official and manager positions – have come from France, Madagascar and Honduras, while on high-skilled roles in general – professional and technical workers – Bulgaria, Honduras and Ecuador have the lead.
To view the full report card on New Zealand
click here.