The firm's HR head says things were looking bleak until a major investment channelled resources into its workforce.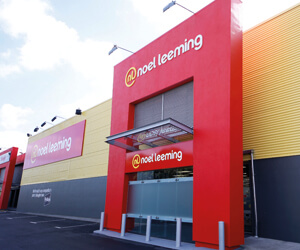 Late last year, national retailer Noel Leeming was recognised as
IBM
Kenexa's most improved workplace – here, the firm's HR head explains how the company went from clutching at straws to winning awards.
"We've been on a bit of a journey over the past four or five years and we went through some very tough times in terms of the global financial crisis," admits general manager of people support Matt Williams.
"The business was doing it hard for a number of years and right through that time, a lot of our focus was on the things which we needed to do just to continue to trade."
However, Williams says everything began to change in 2012 when Noel Leeming was acquired by the Warehouse group in a deal worth $65 million.
"What that investment allowed us to do was really focus on some of the other things because we knew we had a strong backer," says Williams.
"It enabled us to develop a very clear and a much longer-term strategy than had typically been the case in the past and it gave us the ability to define things such as values and behaviours by which we expect our team members to work," he continues.
"We've been able to become very clear about what we're about, what we stand for and we've been able to communicate that effectively to team members and our team members have very much come along on the journey."
Now, Noel Leeming can boast endless initiatives which benefit its people – including its Aspire women in leadership program which identifies promising female leaders and supports their professional development in a bid to combat the gender imbalance which currently exists within the consumer electrical appliance industry.
"Another initiative is every member of our senior leadership team has a buddy store and they spend two days in the store initially and then one day every six months going in," says Williams.
"The idea is absolutely not to tell the store how to make improvements, the idea is to understand how things operate in-store so you can take that understanding and improve how we do things from a support stand-point which will make things easier for our team members.
"That visibility in-store makes a huge difference and there's appreciation from team members that senior leaders have taken time out to spend time away from the head office and it creates a great connection and better relations."
Williams says a drive towards improving communication and connectivity across the entire business has also helped boost engagement.
"We've got 75 stores and 1,700 team-members right across New Zealand but if you're a store in Invercargill or Greymouth, it's quite easy to feel disconnected from the business so we've done a raft of things around getting more connected to our team members and making sure that any information cascades down to them," he says.
Every year, the company organises a nation-wise roadshow where the executive team visits every team member in every store across the country, discussing strategy, taking questions and listening to feedback.
"We also produce a monthly video where our CEO or another member of the lead team provides the business with an update on trade and performance, what's new and what's going on."
Williams says one of the most beneficial programs comes in the form of My Ideas, which not only makes employees feel more connected but also leads to meaningful business improvements.
The system allows workers to submit their ideas and a lead team member is assigned to look at the suggestion and offer a response.
"Sometimes people think that the only team members with great ideas are senior managers but often it's the employees at the store level," says Williams. "Most often, they're the ones who are best placed to see opportunities and they also feel like they're able to have their voice heard by higher management."
Recent stories
:
Pumpkin Patch confirms more closures
Could 'meaningful work' cause staff burnout?
How KFC is nurturing its young employees