Hundreds of factory workers are set to lose their jobs as execs confirm production will be moved to Australia.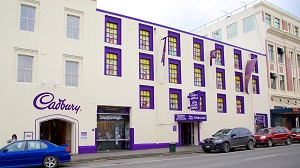 Mass jobs cuts are expected over the next two years as the company which owns Cadbury has decided to move production to Australia.
Mondelez International confirmed yesterday that it would be closing its Dunedin site at the end of 2018 – some 80 years after production first started – with a loss of more than 350 jobs expected.
''This is an incredibly difficult announcement, given the factory's proud history and the outstanding performance of our employees," said Amanda Banfield, VP for Australia, New Zealand and Japan.
"Our people in Dunedin are among the best performing teams in the region and, if it weren't for their dedication and outstanding performance, the factory might have closed some time ago."
Banfield said the company was "focused on becoming globally cost-competitive through increased production and investment in larger sites while reducing costs, which allows us to fuel the growth in our brands".
She also pointed to the high export rate as a reason for moving the factory – currently, more the 70 per cent of the products manufactured are shipped overseas with the majority being sent to Australia.
Employees were told of the closure at an on-site meeting yesterday where bosses said around 200 staff would be made redundant by the end of the year.
Recent stories: