Cupid's bow strikes all too often in many offices – but how exactly does love first blossom? And what happens outside of working hours?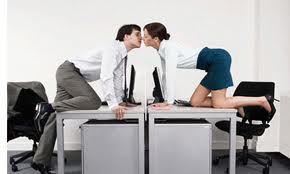 Workplace romances are an inevitable occurrence – they may be an absolute nightmare or they may lead to nuptials – you never can tell. But have you ever considered just how many of your co-workers have copped-off together? It might be more than you think…
Market research firm Harris Interactive has shed a little light on the inner workings of the office romance. Here are some of their most interesting findings:
38% of workers said they'd dated a co-worker at least once over the course of their career.
17% admitted they'd dated co-workers at least twice.
Of those who had engaged in an office romance at some point, Harris Interactive found the following:
31% said their office ardour led them to the altar.
18% said they'd dated their own boss.
28% said they'd dated someone above them in the company hierarchy.
Women are more likely to date someone higher up than men – 35% of ladies said they'd dated further up the ladder, while only 23% of men had.
37% said they'd kept their workplace romance under-wraps.
In the business of love
It seems certain industries are much more prone to an office fling than others. At 47% – way above the national average – people in the hospitality industry were most likely to engage in a workplace fling.
Financial services followed closely behind with 45%, transportation and utilities came in at 43%, information technology came in at 40% and health care took fifth place with 38%.
19% of all workers said they were more attracted to people who had a similar job to them.
26% of workers said a person's profession would influence their decision to date them.
Romantic catalysts
The survey also strove to find out exactly how workplace romance first blossomed and it seems cupid strikes best while outside of the office.
Thirteen per cent said their romance had begun as a result of running into each other outside of work.
Alcohol played a part for 12% of workers, who said happy hours were where it all began. What a surprise…
11% of respondents said their affair began over lunch – they do say that the way to a man's heart is through his stomach.
10% said late nights at work led to the kindling of affection.