After a woman was recently sentenced to jail time for stealing $150,000 from her employer, HRM investigates the best practice for dealing with a suspected case of theft within the workforce.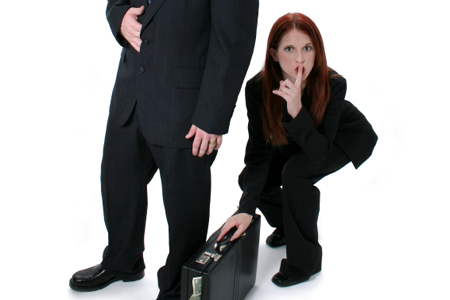 A judge discarded a woman's excuse that she was depressed when she stole almost $150,000 from her boss in a Tauranga District Court case this week.
Lesley Hunt was sentenced to 23 months in jail for one count of theft, an offense which took place between April 2010 and October 2014.
She committed the theft by using a merchant card from her employer – Triac Lighting, Sound and Visual Hire – to transfer refunds into her personal account.
Judge Robert Wolff ruled that Hunt's depression was no excuse for her actions.
"Winston Churchill suffered from depression and managed to run a country during World War II," he said. "Depression can be managed."
Due to the extent of her offending, the judge decided that home detention was not sufficient penalisation for Hunt.
The judge considered Hunt's guilty plea as well as other mitigating factors, and sentenced her to jail for 23-months with six months standard release conditions.
The court heard that Hunt managed to steal a total of $146,175.60.
Triac's owner, Neil Turner, said that Hunt had worked for him for 15 years and was considered a trusted employee.
"She was someone I would tell everything to," he said. "I would quite often go into her office and vent out my frustrations and concerns… She had intimate knowledge of the company."
Turner claimed that initially, he refused to believe the allegations made against Hunt, although the company's profits were not matching its productivity.
He instead chose to believe that this was just down to the costs of running a business, even after money continued to disappear following him changing the security codes on his bank account.
But his wife questioned how Hunt was living beyond her means and had the money to build hot rods and go on cruises.
However, Turner's wife began to question how Hunt was living beyond her means, noticing her splurging on luxuries that her salary would not stretch to cover.
"Not only did she steal off the company, which couldn't afford it anyway, she stole off me, my wife and children, as I had been pumping my own money into the company to keep it afloat," Turner said.
The New Zealand Police's website outlines the best practice for employers who suspect or have evidence that an employee is stealing from their company.
"You need to address two issues here," the guidelines say. "First is the issue of their employment; second, whether they have committed any criminal offences.
Employment case law allows an employer to make a decision based on a full and fair investigation, and on the balance of the probabilities. Criminal law requires a higher standard of proof for a conviction."
It is also advised that employers carry out all steps of the fair process under the Employment Relations Act before reporting a suspected staff member to police. If this is not done and police decide not to prosecute, any later decision to ask a staff member to leave could be deemed unfair dismissal.
The Employment Relations Act requires you to:
Fully investigate any suspicion or accusation made about an employee.
Give the employee due advance notice of an interview, stating that it may have a bearing on their continued employment and that they may bring along a representative to the interview.
Put the accusation or evidence to the employee and then provide an opportunity for them to give an explanation.
Investigate properly (including objectively checking out the person's explanation).
Make a decision only after considering all the facts. The decision may be to dismiss, to issue a warning, or not to take any action.
Once you have carried out a fair process under the Employment Relations Act, notify the police about any criminal issues.
"When you find it necessary to dismiss a worker for theft, give serious consideration to calling the Police," advises the New Zealand Police website. "Unless the suspect is prosecuted they will have a clean record and could start offending in another retail position."
Employers who are in doubt about the Employment Relations Act are directed to contact the NZ Retailers Association or their legal advisor.