Self-absorbed people have a "sense of entitlement and lack of empathy" – which makes teamwork rather challenging. What can HR do to help?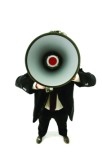 Self-absorbed people can be boring at best, or chew through valuable time and resources at worst – and if you happen to work with one, it can be "tricky territory to navigate", said mediator, counsellor and trainer Jill Goldson.
Truly self-absorbed people, sometimes termed as having a 'narcissistic personality', can have a "sense of entitlement and lack of empathy", she said.
"I think many of us have been through an unenviable encounter with a self-absorbed person, and if they are work mates… it can be tricky territory to navigate," Goldson told the
NZ Herald
.
"This personality type can be charismatic and entertaining, especially when you first meet. Initially, they will radiate a brightness and confidence, which is often very alluring ­– until it suddenly starts to dawn on you that actually, you are on a one-way communication street."
For the most part, this type of co-worker will be unaware of your needs and even worse, they may be "uninterested in meeting them, even if they are aware", Goldson explained.
However, there are strategies you can use to make working together more palatable.
Confronting a person with these traits can provoke their anger or retaliation, so you need to "be strategic", Goldson suggested, by lowering your expectations, and only interacting with the person when absolutely necessary.
You could also try diverting their attention towards something useful by offering a compliment, such as, 'You're always so good at XYZ – can I get your help with that on this project?'
"We can't choose our families – nor our work colleagues – and therefore it is important to learn how to manage these personalities," she said.
"While it is tedious to ego stroke these people, your relationship is unavoidable, and using techniques to keep the relationship harmonious, whilst preserving your own peace of mind, is advisable."
You might also like:
HR should look for 'Shrek' when recruiting
Three HR roles in hot demand
Why Baby Boomers are essential hires