As Team New Zealand remains on match point, we ask if employers are letting their staff skip the start of the working day to cheer on the lads.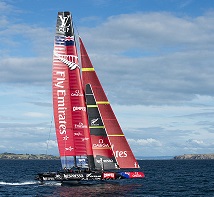 New Zealand is still holding it's breathe as to whether Emirates Team New Zealand will reclaim the America's Cup and as the anticipation builds we asked: Are employers letting their employees skive off to watch the race unfold?
And it turns out they are – but mainly from their desks.
Employers HRM Online spoke to all gave a resounding yes to whether they were letting their workers watch the yachting race.
Richard Westney, Head of HR Australasia – FNZ, said with the races starting so early one or two had been going off to other places to view the races, but the majority coming into the office weren't missing out.
"We have TVs in the office so people have been watching," he said.
Rice Consulting Founder, Jonathan Rice, confirmed his employees were allowed to watch the race and had been doing so at work, while Metal Skills Office Manager Katrina Lee-Guard said that had a mix despite having big screens up in the office.
"[Employees] are allowed to watch it at work. Some people come in after the race so we have a bit of both," she said.
Are you letting your employees have time off to watch the America's Cup. Take part in our poll here.