Employee disengagement may be trending, but is it really that bad in New Zealand? A worldwide survey suggests that comparatively we're well off.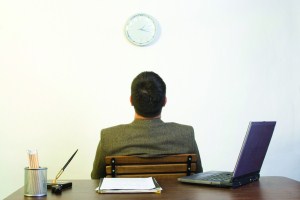 Worldwide, only 13% of employees are engaged, that's only one in every eight employees from across 142 countries studied for the Gallup research, State of the Global Workplace.
However, in New Zealand engagement is slightly higher with 23% engaged at work. And alongside Australia we come in second for the highest level of employee engagement globally coming in behind the US and Canada's 29%.
While the highest levels of actively disengaged workers are in the Middle East and North Africa region (35%) and the Sub-Saharan Africa region (33%), many developed regions were also found to fair unfavourably, with 20% of employees in Western Europe disengaged.
"Regardless of region or industry, businesses seeking to adapt to rapidly changing global economic conditions must learn how to maintain high-productivity workplaces and grow their customer bases in widely varying social, cultural, and economic environments," Gallup stated. "Systems for reliably measuring and improving employee engagement across industries and regions worldwide are vital to that goal."
But while New Zealand has almost double the global figure of those engaged there are still 62% of us heading to work lacking motivation and uninspired, while a further 15% are identified as being actively disengaged. According to the report those who are actively disengaged have higher absenteeism, have more safety incidents and lower retention rates and are estimated to cost the country's economy $7.5 billion annually (based on the NZ Statistics Bureau's average NZ wage figure).
Disengagement here can be partly blame on forgetting employees are humans too, Gallup New Zealand senior consultant Robyn Reilly said.
"What happens sometimes is in the pressure, the requirements to perform, requirements to be competitive, to do better than what we did yesterday, often we forget there is a person at the heart of that," she said.
As well as not treating workers like robots, having a great manager is also vital to staff engagement, but with the study finding only 19% of those in leadership positions, such as managers and executives, engaged in their jobs it would be hard to expect the same of those below them.
"If those people themselves aren't engaged it's going to be very difficult for them to give that motivation and sense of empowerment to the people that are working with and for them," Reilly said.
To raise engagement levels, Reilly recommends three steps: Collaboration, hiring great managers, and treating employees as people.
By encouraging managers to work closely with employees the barriers to engagement can be identified and rectified. The catalyst for successful collaboration lies with a great manager. Organisations need to make sure they are identifying and hiring the right managers, Reilly said.
"Not everyone can be a great manager, it's not whoever the best sales person is or whoever was in line for promotion," she said. "Our research shows you have to have some innate talent to be a great manager and then you add to that talent such as knowledge, experience, what are the dos and don'ts."
And finally getting to know employees outside of their job description and KPIs is also necessary. Identifying an employee's strengths can go a long way Reilly adds, with research again showing that by focusing on what an employee is good at then the chances of that person being actively disengaged is one in 100.
The full results of the study, as broken down by region, are as follows:
United States and Canada
29% engaged, 54% not engaged, 18% actively disengaged.
Australia and New Zealand
24% engaged, 60% not engaged, 16% actively disengaged.
Latin America
21% engaged, 60% not engaged, 19% actively disengaged.
Commonwealth of independent states and nearby countries (Kazakhstan, Moldova, Russia, Ukraine, Balrus and Azerbajan)
18% engaged, 62% not engaged, 21% actively disengaged.
Western Europe
14% engaged, 66% not engaged, 20% actively disengaged.
Southeast Asia
12% engaged, 73% not engaged, 14% actively disengaged.
Central and Eastern Europe
11% engaged, 63% not engaged, 26% actively disengaged.
Middle East and North Africa
10% engaged, 55% not engaged, 35% actively disengaged.
South Asia
10% engaged, 61% not engaged, 29% actively disengaged.
Sub-Saharan Africa
10% engaged, 57% not engaged, 33% actively disengaged.
East Asia
6% engaged, 68% not engaged, 26% actively disengaged.