The airport worker was originally linked to $1.8 million worth of 'unexplained transactions' but an employment court has speculated it could be much more.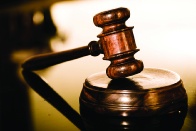 An Auckland International Airport worker who was fired last month amid reports of "unexplained transactions" totalling $1.8 million may actually have defrauded the organization out of much more.
The indication comes as Employment Court Chief Judge Graeme Colgan issued asset freezing orders against the former employee, who failed to appear at the hearing.
"There is respectable evidence that investigations have discovered that the amounts at issue are larger than first thought and probably exceed that figure of $1.84m," he said.
Judge Colgan limited the woman to a weekly allowance of $500 – which can only be increased on application – and ordered her to disclose the full extent of her assets, both in New Zealand and overseas.
While the name suppression was upheld, Auckland Airport did previously confirm that the former employee in question was not part of their executive team.
The Serious Fraud Office is looking into the matter, and the airport has launched its own civil proceedings.
More like this:
Mercedes-Benz backing people, not robots
"Pestering" boss pushed Auckland worker to quit
A new HR twist in meeting millennial demands