Kiwibank's people and business services group manager reveals her HR experiences and insights.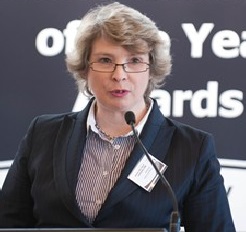 Kiwibank's group manager people and business services Catherine Taylor shares her HR highs, challenges and lessons.
What does your typical work day look like?
This is why my job is so interesting – working with great people and every day being different. The day may include discussions and meetings on various bank-wide programmes or work related to our People Strategy; regular team meetings; meetings with other key stakeholders or external partners; talking to our people and getting their feedback or a team member popping over to my desk and discussing issues and challenges or ideas.
What are some of your HR highs?
Since joining Kiwibank 12 years ago – the examples that stand out include being part of the team that successfully built and delivered Kiwibank, building and continually developing the people processes that support the culture and brand with the other great people in my team and from across the bank, and being recognised by others for this success. I also really enjoyed being on the HRINZ Board, including being the National President for the last two and a half years (with my term finishing in June this year).
What are some of the challenges and how do you deal with these?
There are a wide range of challenges that arise in HR. These could be solving a people issue, to working out the right strategy to address a gap – both here and now or in the future. I am a practical thinker and sometimes can think quite left field and this has always helped with working through these sorts of challenges. I also have a great team of people who I can ask for help or bounce ideas past.
Have you always worked in HR?
For most of my career I have worked in HR however, I have also had experience leading brand, marketing and communications, knowledge management and programme management. When I finished my Commerce degree from Otago University, I was recruited by the Reserve Bank of New Zealand to work in the Administration department where I learned about "Personnel" but also a wide range of other administrative functions and processes. This was a great foundation for my career.
What is the most important lesson you have learned over the course of your career?
There are a number of lessons I have learned. These include always focusing on what HR can do to lead and contribute to the organisation's strategy. You have to be flexible in your thinking and able to lead change. HR has also evolved significantly and will continue to do so especially with the influence of technology, so, if you want to be respected as an expert in HR, then you have to be progressive in your thinking and keep your knowledge up to date along with learning from others.
What's your favourite thing you love about your job?
I love the people I work with so going to work everyday is like spending time with my "work family". I really enjoy contributing to help people grow, develop and be successful. I also enjoy learning from them, and we have a lot of fun.
How do you see the role of HR changing in the future?
HR has evolved significantly since I first started working in "Personnel". HR must move from being a transactional function (and the policy police) to value-add and supporting organisations to achieve their strategy. This is about working in the business and then designing and delivering people strategies that support the business. This includes having positive and credible relationships with the business and other partners. HR is the role model of the organisation's culture (and brand) so living the values is essential. HR will not grow in credibility if there is no step change in HR's capability and performance.