A young life insurance adviser had only been in the job for three months when he received the ultimate work bonus.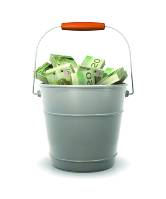 Life insurance adviser Lewis Gill has pledged to keep working for his firm after a scratch card his boss gave him for his efforts worth just $2.40 proved to be a $240,000 winning ticket.
Gill had only been working for advisory firm Lifesearch Ltd, based in West Yorkshire, UK, for three months when he was given the scratch card for going 'above and beyond' with a client.
The 22-year-old said he felt sick when he realised what he had won and hoped it was karma repaying him for a few good deeds.
"I'm not particularly superstitious or anything but I can't help thinking that this win was some kind of cosmic pat on the back," the
Daily Mail
reported him saying.
"That morning, on my way to work, I was in a good mood and wanted to pass on some positivity.
"So I gave up my seat on the bus, I let a couple of people ahead of me on the queue and I helped a fellow passenger with his bags.
"I even joked with colleagues when I got to the office that maybe the universe would repay me, and we all laughed and agreed that karma probably didn't work like that."
When Gill discovered his scratch card was the jackpot card he called his manager Chris Vickers out of a meeting, even offering to split the prize with him.
Vickers said his employee was kind-hearted, compassionate and a great worker. He offered the young adviser the rest of the week off to come to terms with his win but Gill returned to work on and to finish some calls.
"I couldn't have been happier for Lewis because of the way that he is, he could have walked out.
"If you imagine most people 22 years of age and won $240,000, they would be gone. But he just did his job.
"He's got his head screwed on and is going to stick around."
Gill was even given a massive round of applause when he left the office that day.
Vickers admitted it would have been great to enjoy such a win himself. But he said: "Would I have taken Lewis' money? No.
"In fact, when he came out he sort of offered to split the money with me and I said 'no, don't talk silly'."
Gill said after treating his colleagues to a few drinks on his winnings he planned to invest in some property, take a holiday and help out his parents.
"Whatever I am going to do I'm going to be careful, this money has opened up doors that weren't there before."