KFC's chief people officer explains how the company tackles the challenge of retaining staff who are mostly young casual workers.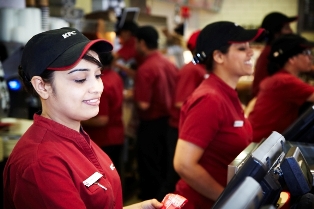 Since opening its first branch in Utah, US in 1952, KFC has accrued an impressive 14,000 outlets globally.

Today, the company employs around 30,000 employees in Australia alone. The majority of these are young casual workers, who see their roles as temporary.

HRM spoke to Rob Phipps, chief people officer for the South Pacific at Yum! Restaurants, KFC's parent organisation.

He summarised the complex retention task as KFC with one question: "how do we help employees be the best they can be?"

According to Phipps, many of KFC's internal programs focus on equipping people so that they can effectively handle their workplace responsibilities; he explained that the company's entire learning and development (L&D) framework has been criticised to meet this need.

"We're on a significant culture journey around helping people be more constructive more often," he said.

Phipps added that an important aspect of this is unlocking the potential of employees to help them better understand themselves.

A twist on tradition

At most organisations, individuals are promoted first and are then taught the necessary skills for the role; KFC takes a more strategic approach to workforce planning.

Employees are trained before being accepted into any sort of leadership role. This is done through the high visibility of line leaders within the organisation all of whom have the ability and skills to select future leaders without the need for assessment tools or centres.

Phipps explained that the company's People Promise states that all employees who want a career with KFC can "absolutely have one". This extends to all staff members, even those who see their employment as short term.

Upskilling for HRDs

Phipps shared his top tips for personal development:

1. Never be stagnant

Phipps said that this can stem from relationships with peers in other organisations, or from networking groups.

"Understand what's going on in the world of HR and the world of business," he advised.

2. Be a participant as well as a leader

"When heading up a program, make sure to get as much out of it as those you're leading," Phipps said.

"Treat yourself as a participant, and the others as leaders."

3. Have a continual learning mindset

"If you see anybody that performs well in a role, whether they are staying there for a long time or going to be the next CEO, they will be wired towards this kind of
continual approach to personal improvement," Phipps said.