A recent survey is shedding light on which business-meeting behaviour Kiwi workers just can't stand – are you guilty of questionable conduct?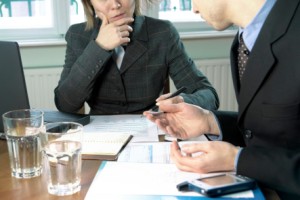 Kiwis across the country may be questioning their conduct today as new research has revealed the most common traits likely to cause offence – or just plain irritation – in a business meeting.
Conducted by Colmar Brunton, the study identified a number of different attributes that antagonize employees and employers, including dominating people, negative people, and people who are more interested in their phones.
Dubbed "Generals," employees who dominate meeting are the most despised (30 per cent)
"Black Hats" – those who are always negative – came in second (27 per cent)
"Phone Junkies" followed up third (26 per cent)
"Other pet hates include 'the Bully' (25%) who wants everyone to agree with them, 'the Hijacker' (23%) who goes off topic and distracts everyone else and 'the Chatterbox' (23%) who talks too much and says nothing useful,'' says Jessica Balbas, a representative for the Takapuna-based market research firm.
Kiwi workers' hatred of bossy colleagues likely comes from the fact that the majority (29 per cent) describe themselves as "Wallflowers" – someone who simply has nothing to say.
People were second most likely (12 per cent) to identify themselves as "Fiddlers" – someone who can't stop playing with papers, jewellery or anything else at hand – followed by "Eager Beavers" (13 per cent) who talk over others.
At 12 per cent and six per cent respectively, the study also found that Kiwi men are twice as likely as women to be the "Nuclear Bomb" in meetings – a person whose ideas silence the entire room.
More like this:
Impending health and safety laws send shockwaves across NZ
Infamous employer hit with seven-figure fine
Apprentice report proves happy reading for Kiwi employers