The beverage giant is the latest company to offer its ex-pat workers in China extra money to compensate for the heavy air pollution. Would you brave the pollution for more pay?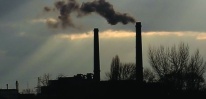 Coca-Cola has reportedly started paying its expatriate workers in China an "environmental hardship allowance" in an effort to compensate for the country's heavy air pollution.

The Australian Financial Review reported that the allowance was believed to be an extra 15% on top of a worker's base salary, but a company spokeswoman would not comment on the amount.

"Our competitive mobility package includes an environmental allowance for postings to China," she told the Review in an emailed statement.

The article also said that Hassell, an Australian architectural firm, provided face masks to its China staff members and changed its air filters weekly when the pollution was heavy.

Comparatively, the company's Shanghai-based managing director for Asia, Peter Duncan, said that in Australia, the air filters might be changed every year.

Earlier this year, Japanese electronics giant Panasonic became what is believed to be the first international company to offer pollution pay to its ex-pat workers in China, although the company would not specify the amount paid.

Almost all of China's major cities fell below national air quality standards last year, with only three of the 74 monitored cities making the grade.

According to a count by the US embassy in Beijing, levels of PM2.5, the particles that penetrate the lungs and have been linked to premature death, have reached more than 400 micrograms per cubic metre which is more than 16 times the World Health Organisation's safety guideline of 25 micrograms.

Would you brave the air pollution for a bigger pay packet?