Want a happy office? Then single sex workplaces are the way to go, according to the findings of a new study. But there is a catch.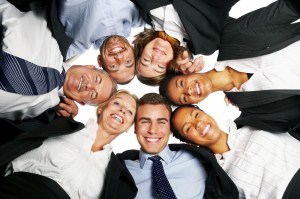 If a happy office is high on your workplace agenda then it may be time to divide the sexes. That's according to a new report which claims men and women are happier in single sex offices.

The study from the Massachusetts Institute of Technology (MIT) revealed the happiness of single-sex offices lay with men and women being more comfortable without the other gender around.
Researchers found a higher level of contentment for men if they did not have to 'walk on eggshells' around women, while women were happier when not dealing with a 'testosterone-fulled atmosphere'.
However, if you want a productive workplace then it would pay to keep the sexes mixed as, although the research revealed that workers preferred a single sex workplaces, employees are actually more productive when they share their workplace with the other gender.
"We all think that we want to be in this pluralistic society in a diverse setting. But when push comes to shove, when our co-workers don't think like we do, that can cause some friction," study co-author and senior economics lecturer at MIT, Dr Sara Ellison told The Daily Mail. "[Workers] liked the idea of diversity more than they liked actual diversity."
The study used eight years' of revenue data and survey results, covering 1995 to 2002, from a professional-services firm with more than 60 offices in the United States and abroad. The data included some all-male and all-female offices in addition to mixed-gender offices.
The survey measured cooperation, trust and work enjoyment, and the researchers cross-checked the data with figures on company revenue and diversity.
Overall, single sex offices reported being happier, but there was a twist when it came to company profits.

The researchers found that if the single sex offices had been mixed then revenue would have gone up by about 41%.
"The more homogeneous offices have higher levels of social capital," Ellison said. "But the interesting twist is that … higher levels of social capital are not important enough to cause those offices to perform better. The employees might be happier, they might be more comfortable, and these might be cooperative places, but they seem to perform less well."
Additionally the researchers found that just the perception that firms are diverse was sufficient to produce satisfaction among employees – but this perception did not necessarily occur in the places where more extensive gender diversity accompanied better bottom-line results.
"In offices where people thought the firm was accepting of diversity, they were happier and more cooperative," Ellison says. "But that didn't translate into any effect on office performance. People may like the idea of a diverse workplace more than they like actual diversity in the workplace."