The online giant has come under fierce criticism amid claims some UK workers are sleeping in tents.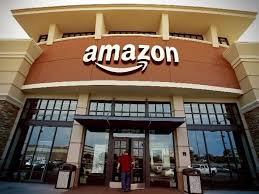 Online retail giant
Amazon
has come under fire this week after it was reported that some workers are sleeping in tents close to their workplace as a result of long hours and low wages.
At least three tents were spotted in the woodland beside the company's Dunfermline site in Scotland and advocates say some workers are opting to sleep outdoors to save money, as they're currently paid little more than the minimum wage for working up to 60 hours a week.
"Amazon should be ashamed that they pay their workers so little that they have to camp out in the dead of winter to make ends meet," Scottish Liberal Democrat leader Willie Rennie told local newspaper The Courier.
"Amazon need to take a long, hard look at themselves and change their ways," he continued. "They pay a small amount of tax and received millions of the pounds from the SNP Government so the least they should do is pay the proper living wage."
Amazon employs around 1,500 staff on a permanent basis at its Dunfermline fulfilment centre but has created 4,000 seasonal jobs to help cover the busy Christmas and New Year period.
A spokesperson from the firm staunchly denied allegations of being a poor employer and said Amazon provides a safe and positive workplace for all employees.
"The safety and wellbeing of our permanent and temporary associates is our number one priority," they said. "We are also proud to have been able to create several thousand new permanent roles in our UK fulfilment centres over the last five years."
Earlier this year, Rennie demanded the multinational receive no more public cash until it could guarantee higher wages for workers, amid suggestions that some staff were paid well below the current living wage of £8.45 an hour.
"We pay competitive wages," countered the firm. "All permanent and temporary Amazon associates start on £7.35 an hour or above regardless of age and £11 an hour and above for overtime."
General manager Paul Ashraf acknowledged that Christmas was a testing time of year for employees at Amazon but insisted the company cares about its staff.
"We know it's a very intense time for them, as it's a month of hard work for everybody, but we've got to make sure that it's safe for them and that they have fun along the way," he said. "It's hard work at this time of year, of course it is."
Ashraf also said Amazon did its best to make things easier during particularly challenging periods and said there had been DJs on every floor for Black Friday as well as tombolas and raffles.
"While we're doing that, we make sure we keep people here safe, so it's all about safety first, and make sure that from an associate experience point of view we try and have as much fun as possible."