Hostile squirrel causing mayhem in a store results in a police officer's firing after he pepper sprayed the fury fugitive.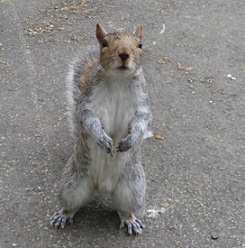 A police officer has been fired after taking down an aggressive squirrel trapped inside a Tennessee, US store.
Employees' failed attempts to apprehend the fury intruder, who was causing a ruckus, prompted them to call animal control. They, however, were unavailable so it fell on Mountain City Police Officer Jody Putnam to handle the situation, reported the town's local paper The Tomahawk.
When Putnam arrived the offender was still in the store and becoming increasingly agitated. The officer took the decision to shoot the squirrel. There are conflicting reports as to how many shots were fired.
When he failed to shoot the critter, Putnam bought out his mace spray causing a mass exodus of customers who were still in the store at the time. When bystanders re-entered the store they found Putnam with the apparently dead squirrel beneath his shoe.
In the town when an officer fires their weapon, they have to report it to a supervisor and make a written statement. Putnam refused to do so. Therefore, the city council made the unanimous decision to terminate the officer's employment.
"The decision the City Council made on this incident speaks for itself," Mountain City Mayor Lawrence Keeble told The Tomahawk.