Women's tendency to over-apologise is causing them to miss out on top jobs according to new research.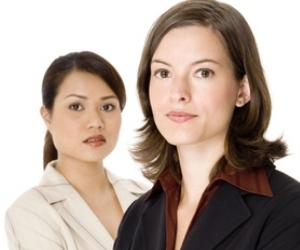 Working women who give a list of reasons when apologising or say sorry too much are thwarting their chances of getting a promotion.
According to a report from the Chartered Management Institute, women constantly say "sorry" in situations men wouldn't and this is one of the problems hindering women's ascent in the workplace.
It states while women make up 60% of junior managers, numbers collapse at the higher rungs of the career ladder with only 20% of senior managers being women.
Ann Francke, Chartered Management Institute CEO, told the Daily Mail: "Take this example – a woman is late for a meeting.
"Rather than just sitting down and getting on with the meeting, they say: 'I'm so sorry. I had to take the kids to school or the dog was sick.' They over-explain.
"A man would just say 'Sorry, I'm late', sit down and get on with it. It is a phenomenon known as being a 'sorry skirt'."
The report also claims women are holding themselves back in the workplace by being reluctant to broadcast their achievements, while men are happy to publicise theirs.
"Women sit there thinking the work I am doing is so great someone will come along and they'll put a tiara on my head," the report states. "At the next desk, a young man… has no embarrassment about jumping on his desk and saying to the boss: 'Look at me. Aren't I fabulous?'"
Women are also less likely to put themselves forward for a promotion according to the report stating that a woman is more likely to meet the majority of requirements before applying whereas a man will go for it even if he only meets a few key requirements.
Do you agree with the findings? Let us know in the comment section below.