A Hong Kong company has introduced martial arts classes for its front-line staff to defend against angry passengers.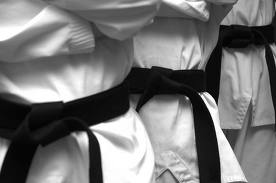 Some jobs are inherently likely to involve conflict and potentially violent situations – police officers, social workers and cable customer service reps all regularly face volatile people.
Flight attendants might not seem like an obviously dangerous role, but with more than 80% of flights from Beijing delayed angry passengers are a real challenge for the industry. No major Chinese airports have more than 50% of their flights depart on time, and staff have been told not to announce delays.
Hong Kong Airlines had an average of three incidents involving disruptive passengers every week and in response has introduced training in wing chun, a form of kung fu, for its cabin crew.
Last week more than 30 passengers broke through security and stormed the runway at Nanchang airport after being delayed for seven hours by bad weather. The week before a number of passengers in Shanghai tried to rip off an attendant's name badge before hitting her. Two airport staff were injured and three passengers arrested.
In June a passenfer slapped and kicked an Air China attendant to the ground after her flight was cancelled and British businessman Graham Fewkes reported seeing people cheer when a passenger assaulted an attendant on a flight to Sanya, in the south of China.
"The other passengers were applauding as the man was hitting her," he said.
How do you advise front line staff to handle volatile customers and what training do they receive?