Looking for long-term commitment then it might be time to cast your eye over the office, as new research reveals office romances are more likely to result in marriage.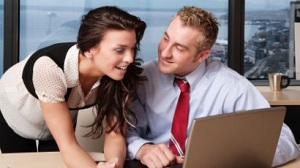 An office flirtation is more likely to evolve into ever-lasting love, according to new research.
Despite being frowned upon by those in charge, HR and colleagues, workplace romances are more likely to end in marriage than those that start any other way including meeting through friends.
The conclusion was drawn following a detailed study of 2,000 adults, reports the Daily Mail.
The research found that 14% of couples who met through work ended up married, compared to 11% who were introduced by friends. And holiday flings have little chance of ending up down the aisle with barely one in 10 ending in matrimony.
But while relationships which started in work have a good chance of success, 23 per cent of those questioned said attempts to find love during a night out had resulted in nothing more than a one-night stand.
As expected, relationships that begun in a nightclub or pub had a particularly short life span – usually just the night, according to 22%, or a casual fling.
Researchers also found that 51% of people think the place or situation where you meet someone can affect how successful the relationship is. While almost one in five have refused to pursue a relationship with a potential suitor because they fear the way they met has already doomed the liaison before it has started.
A spokesman for the survey, commissioned to mark the DVD release of the eighth season of How I Met Your Mother, told the Daily Mail that while people may think where they met can't affect how long a relationship lasts it does appear meeting through work does give a relationship greater longevity.
"We spend so much time at work that it's inevitable that you will form close friendships that may go onto become a relationship further down the line," the spokesman said. "But being in a relationship where you work in the same place as your partner also means you have something in common before you even get to know each other, and being in the same career means you are both like-minded and have similar interests."
The top five places if marriage is what you seek:
Through work
Through a friend
They were already a friend
At University
Online
But if you are after a fling you should head to:
The pub
A nightclub
Holiday
A party

Do you agree with office romances? Take part in our poll here.