Older workers injured on the job have higher claim costs, finds report, and this group is growing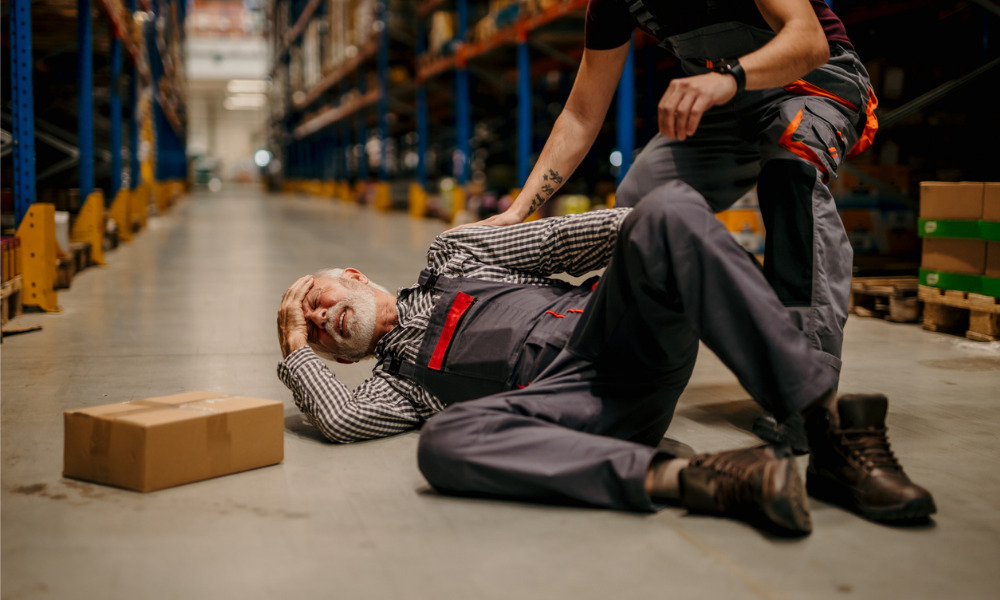 Over a third (34%) of workplace injuries occurred during workers' first year on the job, and this resulted in nearly seven million missed workdays.
First-year injuries also made up one-third (34%) of all workers' compensation costs, according to a report from business property casualty insurance provider The Travelers Companies.
Among industries, injuries in workers' first year on the job are most common among restaurants (53%), construction (47%) and transportation (40%). These also made up about half of their claims costs: 47% for restaurants, 51% for construction and 40% for transportation, found Travelers's analysis of more than 1.2 million workers' compensation claims it received between 2016 and 2020.
Among age groups, more experienced workers make up the biggest percentage of injuries:
35-49-year-olds (31%)
50-50-year-olds (25%)
25-34-year-olds (23%)
60-year-olds or older (13%)
18-34-year-olds (8%)
17-year-olds or younger (less than 1%)
And the older the workers are, the costlier it is for employers to cover their claims. Specifically, injuries to 18-24-year-olds are twice the cost per claim to that of those below the age of 18.
And the number grows as we go up the age scale: 25-34-year-olds (three times the cost compared to those below the age of 18), 35-49-year-olds (4.4 times), 50-59-year-olds (4.9 times) and 60+ (five times).
"This is especially significant as the number of older employees in the workforce is growing, a trend that is expected to continue," said The Travelers Companies in its 2023 Travelers Injury Impact Report. "In fact, the U.S. Bureau of Labor Statistics projects the number of people in the workforce who are 65 and older will account for more than 60% of the growth in the labor force over the 2020-2030 decade."
In February, OSHA started requiring most employers with 10 or more full-time employees to post Form 300A, a summary of work-related injuries and illnesses from the previous year.
Causes, lost days
The most common causes of injuries are:
Overexertion (29%)
Slips, trips and falls (23%)
Being struck by an object (13%)
Motor vehicle accidents (5%)
Caught-in or caught-between hazards (5%)
And the resulting injuries lead to workers missing a varying number of days from work:
Dislocations (137 days)
Fractures (89 days)
Inflammation (84 days)
Strains and sprains (53 days)
Contusions (31 days)
Among industries, construction (99) has the highest average lost workdays due to injury, followed by small business (79), wholesale (69) and manufacturing (66).
According to the Occupational Safety and Health Administration (OSHA), employers must provide their employees with a workplace that does not have serious hazards. OSHA further requires that employers must try to eliminate or reduce hazards first by making feasible changes in working conditions rather than just relying on personal protective equipment such as masks, gloves, or earplugs.
"Understanding who is getting injured, what causes may be leading to these injuries and what the costs are, including time away from work, can help inform the processes and training programs employers put in place to help keep their employees safe and their businesses running," said The Travelers Companies.
Previously, a panel of the Workers' Compensation Appeals Board of California found that an employer failed to prove an injured employee's intoxication during an accident and that such intoxication caused the accident.