Jobs data shows one clear winner – and one clear loser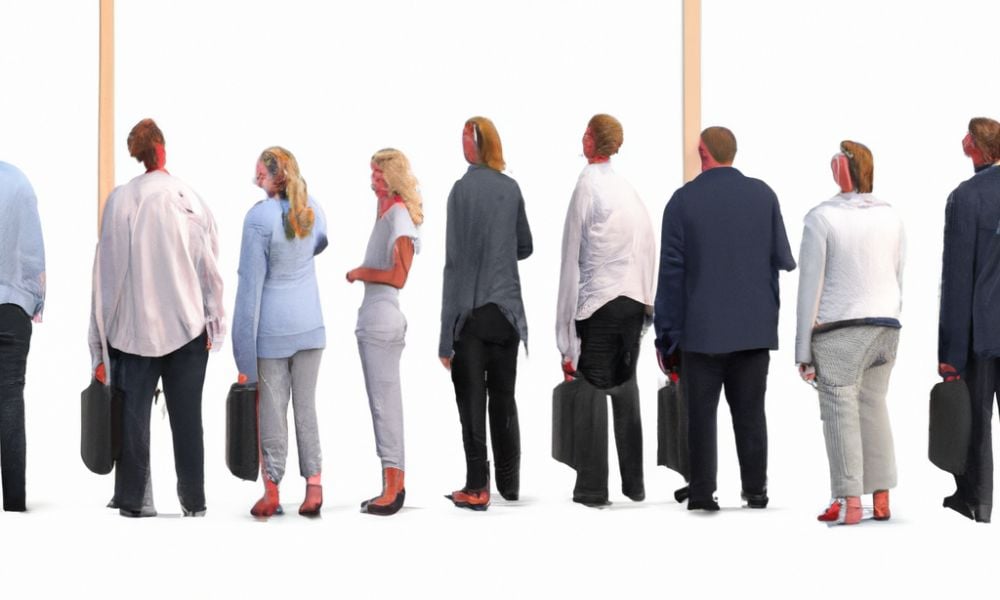 Employers across the US are struggling to find talent– and although it's not easy anywhere, some states are finding it tougher than others.
Looking to recruit in America's fourth smallest (by population) state? Bad news. Yes South Dakota, you're top of the list with an eye-watering 1.9% unemployment rate. The state's workforce of 447554 has only 17210 people unemployed.
But no states are particularly overburdened with available staff – even Nevada – the worst performing state by this metric is only at 5.4% - below the 5.7% national average from 1948 to this year.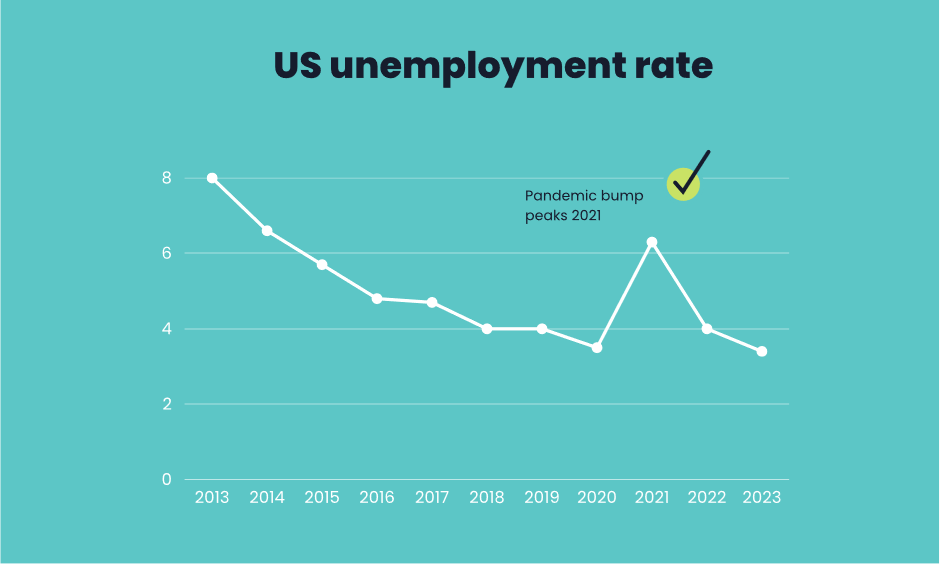 The current labor force participation rate stands at 62.6%, a slight decrease from the pre-pandemic level of 63.4% in February 2020. This decline signifies that capable workers are either being overlooked or opting to stay on the sidelines. However, the reasons behind this labor shortage are complex, with several factors converging to create an ongoing challenge.
Getting back to work
A survey conducted by the U.S. Chamber among unemployed individuals who lost their jobs during the pandemic revealed insightful findings. Approximately 27% of respondents found it difficult or impossible to return to work due to the need to care for children or other family members at home. Additionally, 28% indicated that their health issues took priority over seeking employment.
It is important to note that various other factors contribute to this labor shortage, including concerns about COVID-19 risks in the workplace, low wages, and a focus on acquiring new skills and education before reentering the job market.
You can see in the chart below just how good your state is for employees – and how tough it is for recruiters: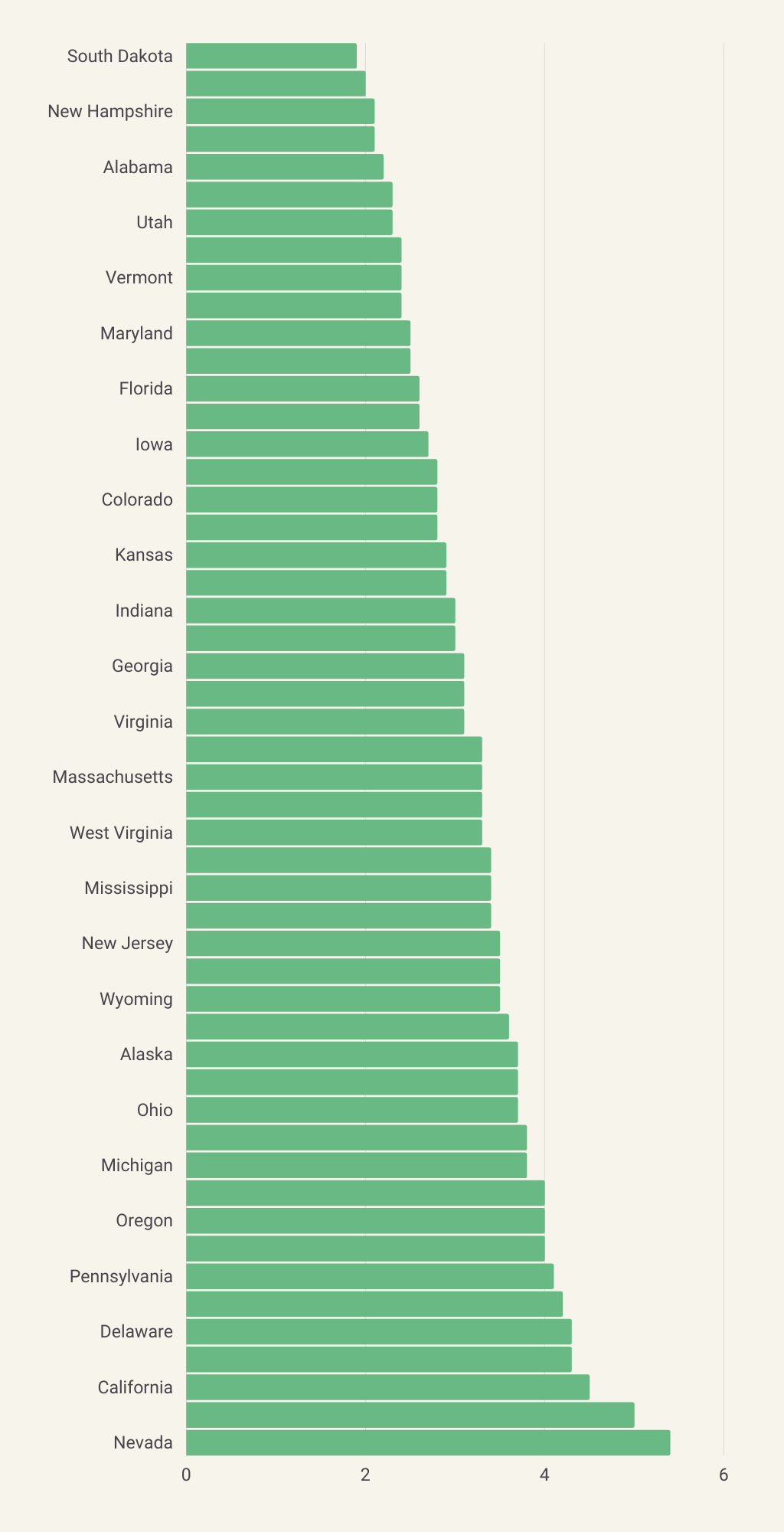 Figures: US Bureau of Labor Statistics, April 2023
Nevada's labour challenges
Despite being the worst (if we consider just unemployment %) state for employment, Nevada has seen its employment numbers continue to fall – in December it was running at 4.9% - and is now more than 10% worse than it was. It is worth remembering, though, that these numbers can be affected by job seekers arriving in the state.
Known for its vibrant entertainment and hospitality industry centered in Las Vegas, Nevada has been grappling with the arduous process of recovering from the severe economic downturn it endured during the initial year of the global pandemic. While there has been a significant resurgence in the hotel and entertainment sectors, as gamblers and tourists have returned in droves, the region's real estate market has recently experienced a noticeable cooling trend alongside other bustling areas, coinciding with a sharp surge in interest rates.
According to Apartment List, property managers in Las Vegas have observed a considerable increase in available rental properties, and the once rapidly rising rents in the area have suddenly taken a negative turn. This shift in the rental market mirrors a broader pattern of market adjustments occurring throughout Nevada, indicative of the mounting challenges faced by the state's real estate sector.
Even with these challenges, David Schmidt, the chief economist for Nevada's department of employment, has sought to put a positive spin on the situation. Schmidt highlights the fact that the percentage of the state's population either actively employed or actively seeking employment surpassed 61% for the first time in the year. In a released statement, he noted, "This month's report demonstrates ongoing growth in Nevada's labor market," emphasizing the resilience and progress within the state's labor sector.
| | | |
| --- | --- | --- |
| State | % | Position |
| South Dakota | 1.9 | 1 |
| Nebraska | 2 | 2 |
| New Hampshire | 2.1 | 3 |
| North Dakota | 2.1 | 3 |
| Alabama | 2.2 | 5 |
| Montana | 2.3 | 6 |
| Utah | 2.3 | 6 |
| Maine | 2.4 | 8 |
| Vermont | 2.4 | 8 |
| Wisconsin | 2.4 | 8 |
| Maryland | 2.5 | 11 |
| Missouri | 2.5 | 11 |
| Florida | 2.6 | 13 |
| Idaho | 2.6 | 13 |
| Iowa | 2.7 | 15 |
| Arkansas | 2.8 | 16 |
| Colorado | 2.8 | 16 |
| Minnesota | 2.8 | 16 |
| Kansas | 2.9 | 19 |
| Oklahoma | 2.9 | 19 |
| Indiana | 3 | 21 |
| Rhode Island | 3 | 21 |
| Georgia | 3.1 | 23 |
| South Carolina | 3.1 | 23 |
| Virginia | 3.1 | 23 |
| Hawaii | 3.3 | 26 |
| Massachusetts | 3.3 | 26 |
| Tennessee | 3.3 | 26 |
| West Virginia | 3.3 | 26 |
| Arizona | 3.4 | 30 |
| Mississippi | 3.4 | 30 |
| North Carolina | 3.4 | 30 |
| New Jersey | 3.5 | 33 |
| New Mexico | 3.5 | 33 |
| Wyoming | 3.5 | 33 |
| Louisiana | 3.6 | 36 |
| Alaska | 3.7 | 37 |
| Kentucky | 3.7 | 37 |
| Ohio | 3.7 | 37 |
| Connecticut | 3.8 | 40 |
| Michigan | 3.8 | 40 |
| New York | 4 | 42 |
| Oregon | 4 | 42 |
| Texas | 4 | 42 |
| Pennsylvania | 4.1 | 45 |
| Illinois | 4.2 | 46 |
| Delaware | 4.3 | 47 |
| Washington | 4.3 | 47 |
| California | 4.5 | 49 |
| D.Columbia | 5 | 50 |
| Nevada | 5.4 | 51 |