Three in four are struggling to cope — and the ongoing pandemic is making things worse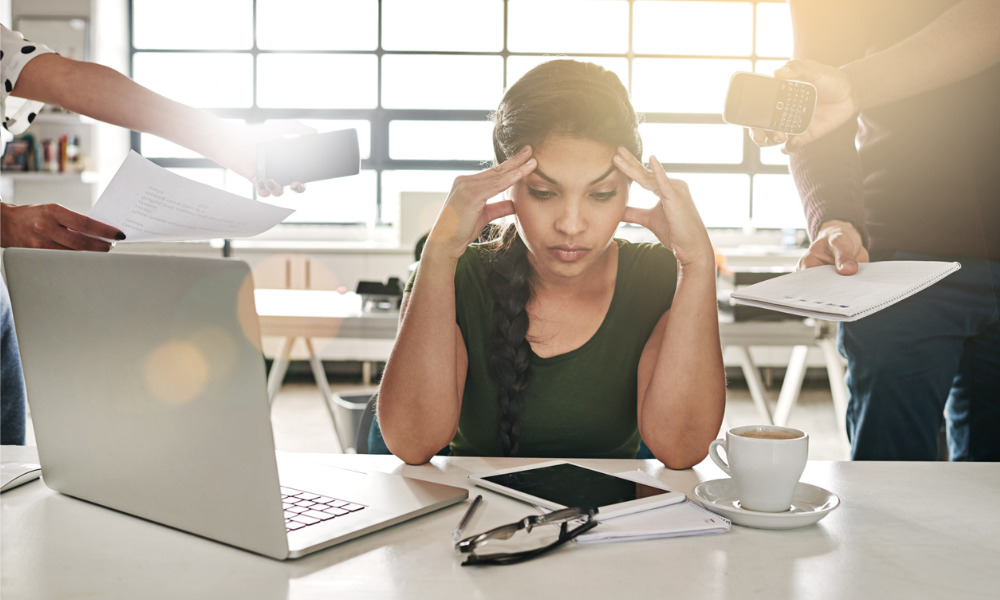 Three in four professionals have suffered from burnout at work, found a new study.
The mental health crisis was only made worse by the pandemic, with another 40% saying they've experienced burnout this year — mostly due to working longer hours (37%) compared with pre-COVID times.
Despite the alarming findings, only one in five (21%) professionals said HR facilitated productive conversations about solutions for their conditions.
Over half (56%) of those surveyed went so far as to 'blame' their HR teammates for failing to encourage open conversations about burnout, found the survey by FlexJobs, done in partnership with Mental Health America (MHA).
READ MORE: Are employees on the brink of burnout?
COVID-19's impact on mental health
According to the study, employees were more than three times more likely to report poor mental health now versus before the pandemic. Currently about 18% of staffers are experiencing 'poor' or 'very poor' mental health.
The figure was even worse for those facing unemployment — now almost one in four reported 'very poor' mental health.
Stress is also on the rise. Both employed (42%) and unemployed (47%) professionals reported their stress levels as 'high' or 'very high'.
Their top stressors being:
COVID-19

Personal finances

Current events

Concern over their family's health

The economy

Job responsibilities
What's worse, the study found a direct impact of job pressures on mental health. Three in four (76%) agreed that workplace stress triggered issues like depression or anxiety.
Unfortunately, only half (51%) of employees said that they had the emotional support they needed at work to help manage their stress.
READ MORE: Mental health: How to lead by example
How can HR help?
Employees said enabling flexibility at work (56%) is one of the best ways to support their well-being.
Encouraging time off and offering mental health days (43%) will also help.
Besides those, they suggested increasing paid time off days and better health insurance (28%).
Employees are also open to attending virtual wellness sessions such as:
- Meditation sessions (45%)
- Healthy eating classes (38%)
- Virtual workout classes (37%)
- Desktop yoga (32%)
- Webinars about mental health topics (31%)
Majority (76%) of respondents were currently working remotely. To help remote workers manage burnout, Carol Cochran, VP of people & culture at FlexJobs offered some tips.
"One of the most important things remote workers can do is to set clear boundaries between their work time and non-work time, and HR needs to take an active role in helping workers practice healthy boundaries between their professional and personal lives," said Cochran.
"Offering flexible scheduling to employees can have a dramatic impact on reducing burnout, since rigid work schedules usually magnify conflict between work and family, leading workers to mental exhaustion.
"Most importantly, leaders should strive to create a healthy company culture that values the individual as a person, and prioritises the overall wellness of its workers."