HRD kicks off mental health month by zeroing on a high-risk group of people – our healthcare heroes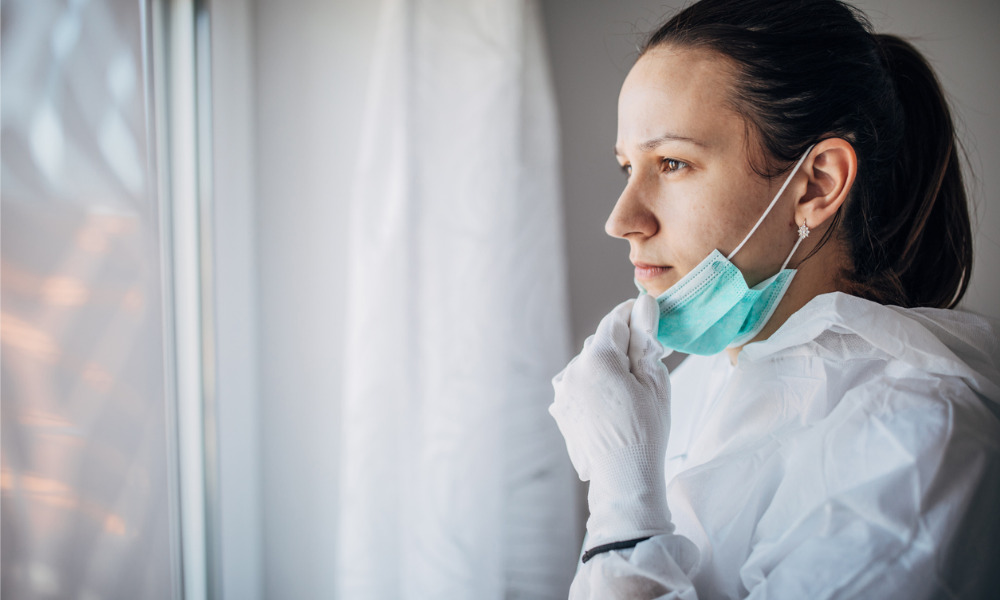 Are leaders doing enough for frontliners' health and well-being?
While several nations are starting to embark on a phased approach to lift lockdowns in hopes of saving the economy, China, which successfully contained the COVID-19 virus in March, has since been cautiously reopening the country.
Media reports on their experience however reaffirm what many may have feared: the damage done by the unprecedented health and economic crisis is enduring and will have a lasting impact on people.
And if there's anything the rest of the world can get from watching China struggle much earlier on, it's to learn from their experiences. One aspect that should be heeded is the dire impact of COVID-19 on the mental well-being of frontline workers.
READ MORE: COVID-19: How the world is caring for frontline workers
Frontliners' mental burden
In early February this year, a team of researchers from top universities and hospitals across China conducted a study to determine the factors associated with mental health outcomes among healthcare workers exposed to coronavirus.
The study surveyed 1257 healthcare workers from 34 hospitals treating patients with COVID-19 in multiple regions of China, including Wuhan, the virus's initial epicentre.
The results were staggering. Frontline workers directly involved with the diagnosis, treatment, and care of patients with COVID-19 reported a higher risk of symptoms of mental health issues and psychological burden.
Findings showed that frontliners reported symptoms of depression (50%), anxiety (45%), insomnia (34%), and distress (72%). They also found that nurses, female employees, frontline workers, and those working in Wuhan-based operations reported "more severe" degrees of mental health symptoms than other healthcare workers.
Factors that may have contributed to their "mental burden" included:
The ever-increasing number of confirmed and suspected cases
Overwhelming workload
Depletion of personal protection equipment (PPE)
Widespread media coverage
Lack of specific drugs/vaccines
Feelings of being inadequately supported
READ MORE: COVID-19: Are employers doing enough for frontliners' welfare?
"Sources of distress may include feelings of vulnerability or loss of control and concerns about health of self, spread of virus, health of family and others, changes in work, and being isolated," researchers wrote.
"The fact that COVID-19 is human-to-human transmissible, associated with high morbidity, and potentially fatal may intensify the perception of personal danger.
"Additionally, predictable shortages of supplies and an increasing influx of suspected and actual cases of COVID-19 contribute to the pressures and concerns of healthcare workers."
Considering the unprecedented and overwhelming nature of the crisis, researchers noted that the psychological response to the pandemic "is complicated".
It could be even more so for healthcare workers who have been helmed globally as the 'final defence' and heroes of the raging battle against COVID-19.
In response, governments and hospital management teams have sought out to ease their burdens. In China's case, the study noted that psychological assistance services, including telephone-, internet-, and application-based counselling or intervention were widely deployed by local and national mental health institutions.
"On February 2, 2020, the State Council of China announced that it was setting up nationwide psychological assistance hotlines to help during the epidemic situation," they wrote.
"However, evidence-based evaluations and mental health interventions targeting frontline healthcare workers are relatively scarce."
READ MORE: Patriot pay: US senator calls for hazard pay for frontliners
How employers can help
So what can employers do? In March this year, the World Health Organisation (WHO) released exhaustive guidelines for employers' duty of care to healthcare workers.
Employers and managers in healthcare facilities should:
Assume overall responsibility to ensure that all necessary preventive and protective measures are taken to minimise occupational safety and health risks
Provide information, instruction, and training on occupational safety and health
Provide adequate PPE supplies like masks, gloves, goggles, gowns, and hand sanitizer in sufficient quantity
Provide a blame-free environment where workers can report on incidents or cases of violence, and adopt measures for immediate follow up, including support to victims
Maintain appropriate working hours with breaks
Allow workers to exercise the right to remove themselves from a work situation that presents an imminent and serious danger to their life or health. They should be able to exercise this right without undue consequences
Provide access to mental health and counselling resources
Enable cooperation between management and health workers and their representatives
"Healthcare workers responding to the spread of COVID-19 reported high rates of symptoms of depression, anxiety, insomnia, and distress," the Chinese study's researchers concluded.
"Protecting healthcare workers is an important component of public health measures for addressing the COVID-19 epidemic. Special interventions to promote mental well-being in healthcare workers exposed to COVID-19 need to be immediately implemented."
Growing issues revolving around mental health and COVID-19 have led to panic and worry amongst many HR leaders. Speaking to HRD, Dr Jarik Conrad, Sr. Director of Human Insights and HCM Evangelism at Ultimate Software, explained how employers can start preparing for a potential fallout following COVID-19.
"We need to start rethinking health and wellness," prefaced Dr. Conrad. "Yes, of course, some people are going to use this period when working remotely or staying home to focus on their physical and mental health. They might use the extra time to devise a new workout plan, eat healthier, or be more mindful.
"People who are struggling and having mental-health challenges associated with this major change in working patterns are likely to come out of this in worse condition," he added. "Realistically, if they were a little bit depressed, or a little bit unwell, they're not likely to go and do some push-ups. They're likely to self-medicate or adopt other coping techniques.
"As such, it's important that HR recognizes that an authentic and realistic focus on overall well-being is essential to all employees."