HR leaders, employment lawyer weigh in on the controversy between Will Smith and Chris Rock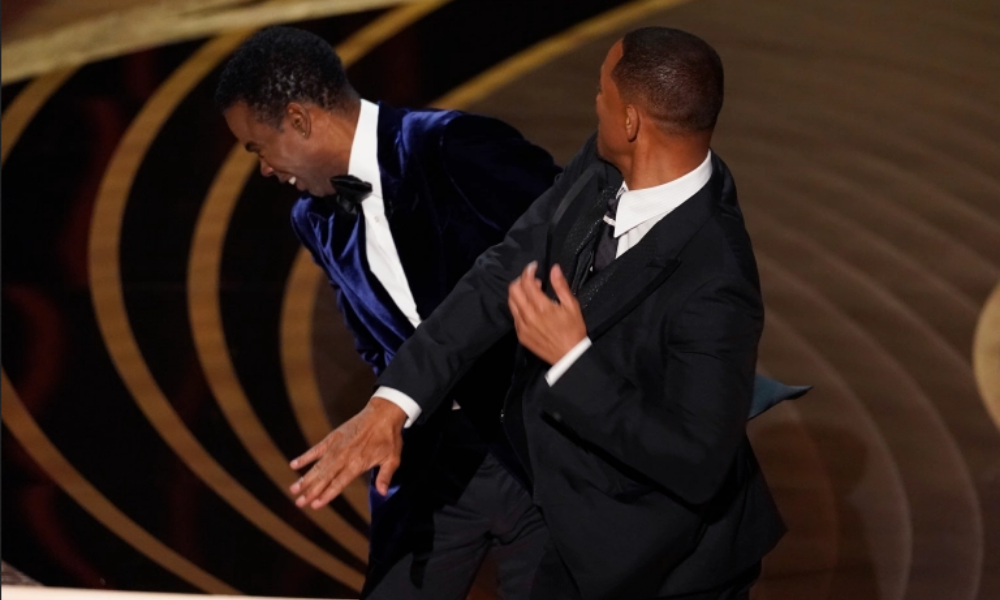 WrestleMania came one week early, as tempers flared during the 94th Academy Awards.
After comedian Chris Rock made a joke comparing actress Jada Pinkett Smith to G.I. Jane, her husband Will Smith ascended the stage. Believing his wife's shaved head – a result of alopecia, an autoimmune disorder that causes hair loss – wasn't a laughing matter, the Hollywood superstar slapped Rock in front of the world. Then, he sat back down and shouted, "Keep my wife's name out of your (expletive) mouth!"
Attendees were stunned, and viewers at home fled to social media to wonder if it was part of the show. Smith wasn't ejected from the event, and Rock declined to press charges, so there are still skeptics who claim the incident was a publicity stunt. Smith, who went on to win the Oscar for Best Actor later in the night, has since taken to Instagram to apologize to Rock.
People are still debating the legal ramifications, though, considering that Rock could sue Smith for battery under California law. Although the Academy of Motion Picture Arts and Sciences wouldn't be the employer in this situation, Brian L. Lerner, partner at Fort Lauderdale, FL-based Kim Vaughan Lerner LLP, considers the incident an interesting workplace discussion for HR leaders.
"Almost every company has anti-violence policies in their handbooks," Lerner told HRD. "Effectively, he's at a work event and he slapped someone. The simple act of hitting someone at work would probably result in Will Smith being fired."
Conversely, Lerner proposes, what if Rock was a coworker? Would he be fired for making an inappropriate joke?
"What if Will Smith is your number-one salesperson generating 52% of the company's revenue and you have a zero-tolerance workplace violence policy," Lerner says. "Let's assume Chris Rock, a coworker, knows about Will Smith's wife's medical condition and still makes the joke. Do you still fire Will Smith knowing how important he is to the company? Does the fact that Chris Rock knew about the condition mitigate or lessen the severity of the punishment? Most companies would say making fun of someone's medical condition could be a fireable offense under their anti-discrimination policy."
Read more: Can HR fire an employee for a Facebook post?
Even if a company has a zero-tolerance policy on violence in the workplace, it's still best to conduct an investigation because there's always two sides to the story and the truth lies somewhere in between, according to Brenda Neckvatal, HR professional, best-selling author and CEO of Aerial Recon Training by DRL Products in Fort Monroe, VA.
"An investigation will prevent a company from engaging or making a decision based off of adverse impact," Neckvatal told HRD. "On the surface, the company appears to be doing the right thing, but after a deeper look into the details, it may inadvertently be discriminating against an employee or a group of employees."
"There's usually some form of history that hasn't been communicated or expressed, which is often the driver behind any type of physical violence," Neckvatal added. "In addition to that, not every employee is honest about their background. If they have a history of violent and criminal action, and employers aren't doing the necessary due diligence by conducting a lawful background check during the interview process, then the company has exposure."
In this scenario, if Smith had a history of violent altercations, Lerner says Rock could make a claim against an employer for negligent retention. "If the company kept Will Smith and gave him a final written warning and he had to go to anger management, the company may be able to figure out a way to keep him," Lerner says.
Of course, some HR leaders see the incident as cut and dry.
"It was a publicity stunt, so HR would have been informed about it and would know not to freak out," Trav J. Walkowski, partner and chief people officer at Milwaukee-based HR consultancy Employmetrics, told HRD.
"If it were real, both would be terminated immediately."