Great places to work have at least one thing in common: trust. But there are other characteristics common to appealing workplaces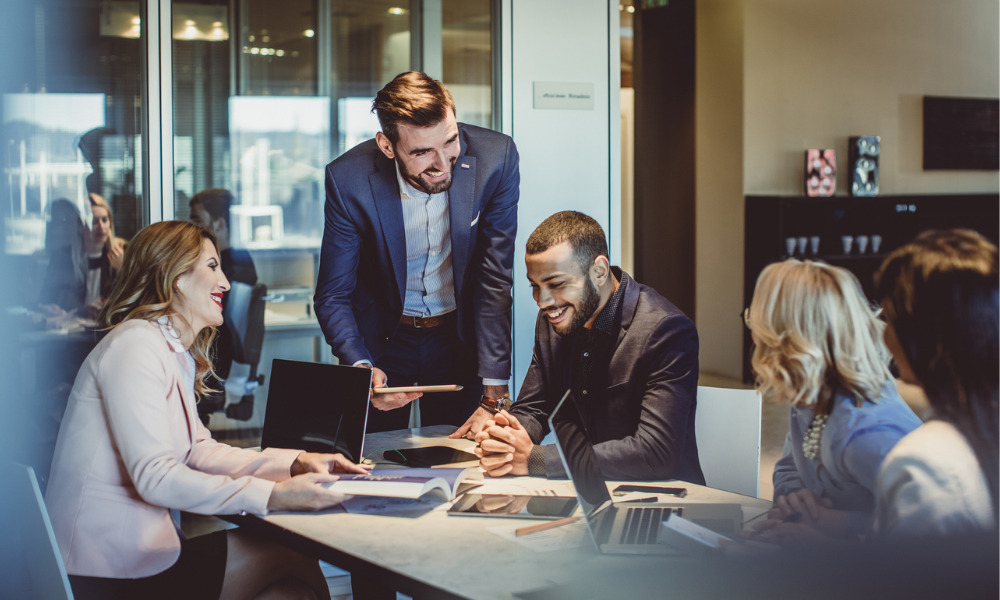 The current labor market and the HR industry are flipping the script. Since candidates are interviewing companies as much as companies are interviewing candidates, company culture and employee satisfaction are more important than ever.
But what constitutes a great place to work? What characteristics do good companies have in common? And how can employers go the extra mile not only to retain staff but inspire them to do better?
In this article, we will answer these questions and more. Here is everything you need to know about great places to work.
A great workplace is one where employees trust the people they work for, who have pride in the work they do, and who enjoy the people they work with. This criterion is outlined in the Great Place To Work Trust Model, a data-based model for quantifying employee experience. Started in 1992, the Trust Model is based on surveys of more than 100 million employees worldwide. The surveys found that trust was the biggest indication of what is considered a great place to work.
Jessica Zwaan, COO of video communications platform Whereby—which was named one of Human Resources Director's Best Places to Work 2023—agreed that trust and transparency are key. "We're open about our decision-making and it's a big part of what we do," she said. "That breeds a psychologically safe environment and relationships."
Added Zwaan: "We allow people to work from wherever they'd like to in the world and the US, and that trust allows them to work in a way that works best for them... to spend more time with their family and ultimately have a life that's inclusive of the work they want to."
According to HRD's survey on employee satisfaction, employees of the five award-winning companies said that great places to work included the following, in order of importance:
91% have a good working relationship with their co-workers
85% say their job performance is evaluated fairly
82% say communication between senior leaders and employees is good
81% know they will be recognized for excellent work
The purpose of a great place to work is to care about your employees and support them while also encouraging them to grow with the company. At companies that are considered great places to work, managers and their teams trust and respect one another, sharing a commitment to both the company's and individual's success.
Great places to work attempt to meet their employees' financial, mental, physical, and emotional needs, resulting in employees that are more productive and satisfied—and therefore willing to remain with the company over the long haul.
Common characteristics of great places to work
If you are in the workforce and are searching for a job, it is critical that you ask questions about the company culture. Let's look at some of the characteristics that great companies have in common:
Competitive compensation
Company culture
Trust
Fairness
Communication
Innovation
Professional development
Engagement
Transparency
Diversity
Here is a closer look at each so that you will know what to look for in a great place to work:
1. Competitive compensation
Good companies will provide employees with appropriate salaries and benefits, paying wages that enable employees to live comfortably in their area. Beyond competitive compensation, good workplaces usually offer creative benefits in addition to retirement savings and traditional health care, such as:
Bonuses
Free counseling
Free meals
Profit-sharing
Stock options
Wellness programs and free gym memberships.
2. Company culture
Company culture means the shared values of both the business and its employees, behaviors, and attitudes. Common core values include communication, honesty, and self-improvement. The following is a look at which factors often contribute to a strong company culture:
Benefits
Communication
Location
Management style
Traditions
Transparency
Work hours
Workplace procedures and rules
3. Trust
Trust is common among healthy workplaces everywhere. Managers trust their employees to work hard and make good decisions that benefit the company, employees trust managers to guide and support them, and colleagues trust one another in working toward a common goal. Indications of healthy levels of trust in the workplace include:
Flexible work hours
Remote work options
Transparent financials
Unlimited paid time off
4. Fairness
Fair workplaces help employees to feel like they are getting compensated adequately and are receiving the same opportunities as their co-workers. In a fair workplace, employees are also more likely to avoid politics, favoritism, and bias. Signs of a fair workplace include:
Equal distribution of tasks
Equal recognition and rewards
Regular and open feedback
Two-way performance reviews
Unbiased promotions
5. Communication
A workplace that practices open communication helps to create trust and is a great way to prevent misunderstandings. Here are some ways that great places to work practice open communication:
Approachable leadership
Company or financial status updates
Conversation between managers and employees
Employee engagement surveys
Managers and employees who regularly ask for feedback
6. Innovation
Companies that are innovative--I.e., that create new strategies, products, and workflows—encourage employees to share ideas, take risks, and offer suggestions. The result of that innovation is that employees are usually more engaged, motivated, and proud of their work. For the company, this usually means more opportunities to succeed and grow.
7. Professional development
Companies that invest in employees help them to grow professionally. Here is how good workplaces can promote professional development:
Free continuing education opportunities, like classes, conferences, and seminars
Membership in professional organizations
Skills or management training
Time off or money toward pursuing a new degree
For Zwaan, professional development at Whereby is key to not only retaining employees but encouraging them to continue rising. "For us the next big thing is how do we go about giving opportunities for our team to continue to learn and grow without feeling they have to start looking externally," she said.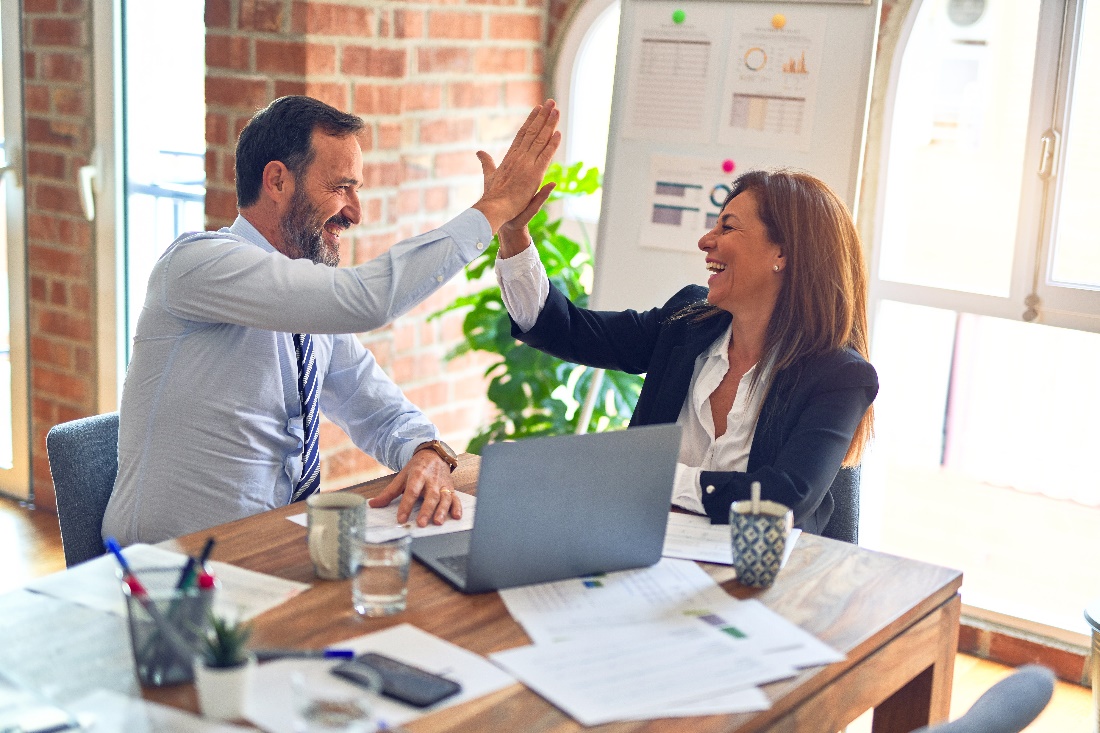 8. Engagement
Great places to work usually have engaging workplaces where employees are interested and invested in the outcome of their work. Engaged employees believe in their company's mission and work to achieve those shared goals beyond profits or sales. Not only should employees be engaged, but company leadership should be engaged and involved with the company's daily operations and responsive to ideas and questions.
9. Transparency
If a company is transparent—especially in its successes, failures, and daily operations—employees are more likely to show trust and commitment to solving problems and helping the company reach its goals. Here are some ways companies can show transparency:
An open-book management style in which the company's leaders share financial information (and other important information) with all employees
Approachable and accessible management
Leadership that requests employee feedback or ideas when overcoming strategic, financial, or operational challenges
Regular meetings or updates on the company's successes and issues
10. Diversity
Great workplaces will embrace employees of all work experience levels, beliefs, and backgrounds. Not only do good workplaces understand the value of a diverse team, but good companies make the effort to hire a variety of people. A company that has numerous perspectives has a greater chance of producing innovative ideas and creative solutions.
While we have explored 10 common characteristics that most great places to work share, companies can also go that extra mile to improve the workplace for employees. Here are five things that can make a great workplace even better:
Remind employees of their purpose
Address employee burnout proactively
Tailor your management style to each individual employee
Offer access to company perks
Make your workplace a fun/enjoyable place for everyone
Here is a closer look at each of the five things that make a great workplace:
1. Remind employees of their purpose
Since employees can get wrapped up in the day-to-day grind and lose sight of the bigger picture, it is important to periodically remind employees of their larger purpose. You can do this by explaining how their work affects the team, and the company as a whole, and helps support the company's vision. Therefore, it is a great idea to continually recognize employees for their efforts and make them feel valued.
2. Address employee burnout proactively
To address employee burnout proactively, you can regularly communicate with your team members. To help reduce employee burnout, you could:
Give an employee a day off to recharge
More evenly redistribute responsibilities across your team (either short- or long-term)
Do an office-wide activity to help reduce stress
Engagement is a big part of avoiding burnout, and our survey showed this: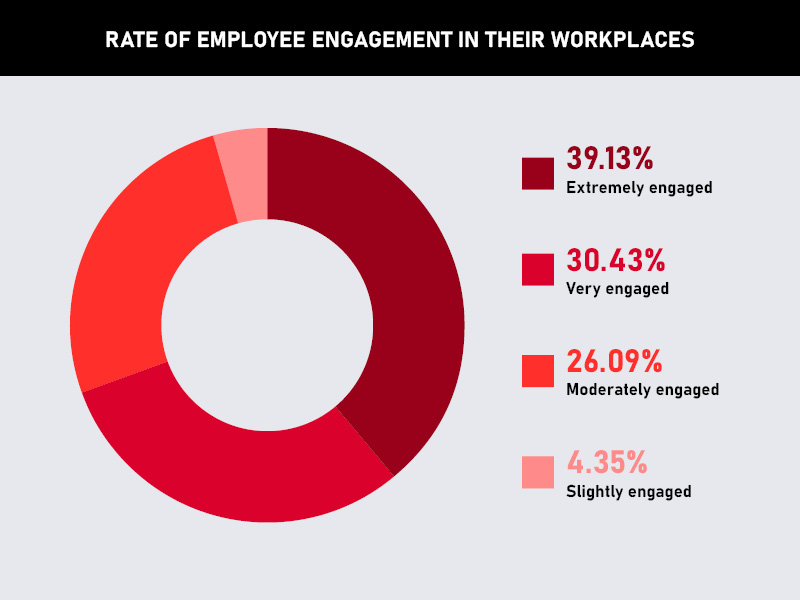 3. Tailor your management style to each individual employee
Different employees respond to management techniques differently. Therefore, it is a good idea to refrain from managing larger groups in a uniform way. The best way to speak to each employee as an individual is to learn who your employees are, what they want in a manager, and their personalities, goals, and preferences.
4. Offer access to company perks
Company perks include offerings above and beyond the standard benefits package. To keep employees happy and to show them they are valued, you could offer perks that are unique to your company.
5. Make your workplace a fun/enjoyable place for everyone
This does not necessarily mean you need to throw a party every day, but you can find out what your team considers fun and implement those activities to celebrate company wins, milestones, or, for instance, employees' birthdays.
When it comes to finding a great place to work, trust is critical. Trust can mean employees trusting their employers, employers trusting their employees, and colleagues trusting one another. But a great workplace is also built on more than trust, such as tangible benefits like competitive compensation and access to company perks. Before searching for a job—or offering employment—it is important to conduct your research to learn more about what makes great places to work.
Have experience working for a great employer? Let us know in the comment section below.
HRDUS Best Places to Work 2023
Go-live date: June 7
Interviewee:
Jessica Zwaan
COO
Whereby
Q: What are the elements that are allowing you to stand out as a best place to work?
We allow people to work from wherever they'd like to in the world and the US and that trust allows them to work in a way that works best for them, people to spend more time with their family and ultimately have a life that's inclusive of the work they want to.
Transparency. We're open about our decision-making and it's a big part of what we do. We have:
Fully transparent salary framework
Transparent and open in decision-making processes, we record all large commercial meetings so entire team can watch and be involved in the processes going into those decisions
That breeds a psychologically safe environment and relationships
Q: Recruitment is a tough game, what are some guiding principles in recruitment strategy?
Main things for us is we really focus on practical work and we always pay for it. It's a nominal hourly rate to acknowledge the time that somebody is putting into the practical work for our interview process, and be respectful of the fact that people have opportunities going on and we do this out of respect for our candidates
We have a great rate of referrals in our team and often have a bench of people who are waiting to be called up when it's time to recruit. Managers are also involved in the interview process. Onboarding becomes much quicker and candidates more likely to accept offers because relationships are forged from day one.
Q: As COO you guide direction, thinking back on past year, what challenges are top of mind and how did you overcome those?
One of the big things that hit us is the volatile economic circumstances in which every company finding themselves in, challenging responses from consumers, rising inflation, dealing with how your employees are compensated, skittish investors in a capital market, and still seeing a tough environment to recruit it. All of those things together have resulted in a constantly shifting new environment to lead a business through, and we realized how much it's been helpful to be transparent and open about the decisions we're making, and second, to be humble and ego-less …some of our best solutions to challenges have come from opening up suggestions from the team and saying here's the challenge what are the different ideas to solve this problem and collaborate rather.
We've seen a lot of our team step up and offer fantastic solutions from their own backgrounds and also to lean in because they've been so deeply involved in understanding why we're doing what we're doing.
Solving the challenges together and communicating our decision-making.
3 entities: 1 in the US (New York City, NY) Chicago, Wyoming, etc., and customer-facing team, Norway headquarters and the UK
Q: how do you foster a positive work environment and maintain high employee satisfaction?
Policy pull out called 'overarching policy', which is 'do whatever is in the best interest of Whereby'. If you bump into a problem or unsure if there's no crossover with your manager, make a decision that you think is in the best interest of the company and we trust that it is going to be OK. There's almost no problem that anyone can cause that would be chaotic, in best case you made a great decision independently.
That policy has been very empowering for out team, for example, when you join company you are given a company credit card two week before and you're welcome to use that for anything you need to unblock yourself for work … do what's best for Whereby … you need a stock image for a blog post if you're in marketing, no hefty procurement process, that policy have really helped the team to feel they are trusted and also enabled our team to learn.
They're empowered with the knowledge that there's nothing that you can do that's so detrimental to the company, if we've given you the space to make a decision then trust you can do it and it's going to be OK
Q: Learning and development of your staff
Lot of structure around internal promotion and performance recognition framework, also have credit card to use on a book, podcast, and finally, we have an exec reading list just go ahead and books around D&I, you can go purchase them. You can self-learn through the topics
Q: Look to the future, what will you focus on to maintain best place to work status?
For us the next big thing is how do we go about giving opportunities for our team to continue to learn and grow without feeling they have to start looking externally. For team members who are looking for the next challenge, we'll need to think about that.