What's inside KFC's secret recipe? Chief people officer says it's a mix of sustainability, innovation, and a commitment to caring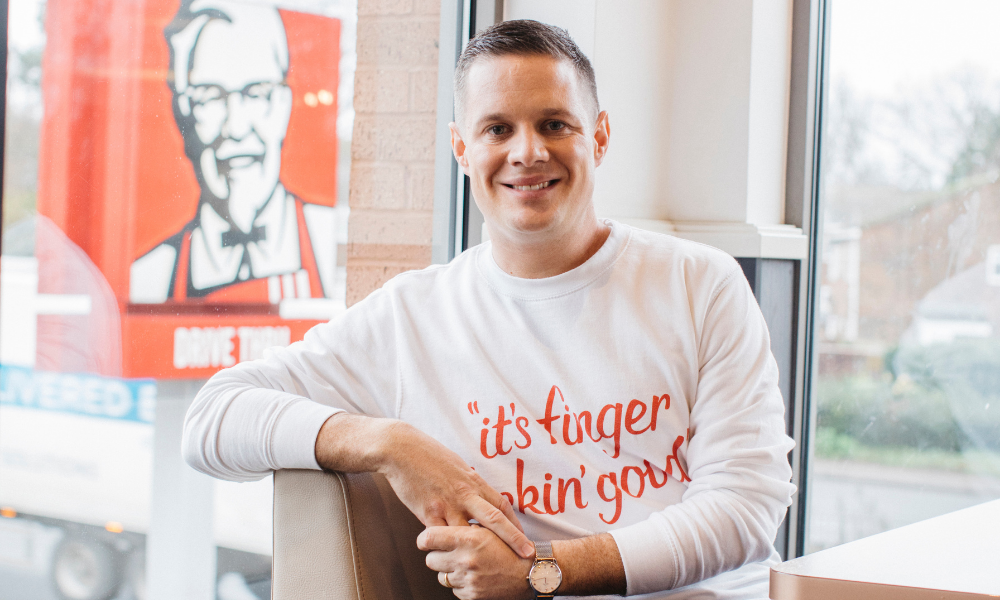 Every 24 hours, six new KFC restaurants open. That's tantamount to 42 a week, 168 a month, and 2,016 every single year. That amount of fried chicken needs a seriously strong staff base – something Neil Piper, chief people officer at KFC, knows all too well. In fact, it's this entrepreneurial spirit and fast-paced determination that he believes makes KFC's culture so utterly unique. And it all begins with Colonel Sanders.
"The Colonel was genuinely one of a kind, a man with a remarkable story and a very colourful life," Piper told HRD. "He left home at 13 to make his fortune – although he didn't actually launch KFC until he was in his 60s. His spirit is very much a source of inspiration to our people - a grounding for our brand - not least the fact that we're so gifted to have his legacy as our secret recipe.
"KFC's identity is rooted in how seriously we take the quality and taste of our product, something we all take pride in. But it's The Colonel's entrepreneurial spirit, famed beliefs of working hard, being authentic, generous, of being hospitable and of never giving up, that inform our values, our culture, and our purpose. Honestly, if you ever want to see the sort of work ethic that The Colonel had, then just watch our staff cook chicken at peak shift on a Friday evening. They are remarkable."
Read more: McDonald's director of people strategy on thriving in a pandemic
With over 25,000 KFCs globally, the fried chicken franchise is a household name around the world. But the brand itself goes further than fast food – as Piper told HRD, the core value of KFC is their overarching commitment to sustainability – both in terms of their employees and their products.
"Beyond celebrating and holding true to the values of The Colonel, KFC, and Yum! Brands, we believe in our 'Recipe for Growth' and our 'Recipe for Good'," added Piper. "It's a fast-growing organization which, in partnership with our franchisees, operate over 55,000 restaurants around the world. However, that growth is only sustainable if we double down our efforts on being a force for good at the same time. It's where our global citizenship and sustainability strategy takes centre stage - a core value in and of itself - as we all work to steward our people, our food, and our planet with sustainability and responsibility at its core."
Sustainability is the rising issue of the day – both inside and outside of workplaces. With groups such as Greenpeace and The Nature Conservancy gaining more and more support, and advocates like Greta Thunberg promoting greener policies, employees are increasingly unwilling to pledge themselves to 'unethical' companies.
According to data from Johnson Controls, 96% of Gen Y employees are massively concerned about the environment – and expect their employers to take steps to become more sustainable. What's more, one in four employees would actually quit if they found out their employer had a poor record when it came to sustainability. At KFC, they've pledged to have all plastic-based, consumer-facing packaging recoverable and reusable by 2025. The organization also plans to become a fully circular zero waste business by 2035, as well as a net zero carbon organization by 2040. All this, as Piper revealed, is just the tip of the iceberg for KFC's commitment to building a better world – and it's all supported by employee ingenuity.
"Our franchise partners have inspiring stories of entrepreneurship to tell," Piper continued. "Many of our franchise partners are now second-generation family businesses. Having made incredible journeys full of boldness, they have such passion for the brand. For me, that's a huge part of the success story overall. I can't help but think of our restaurant general managers who, day in day out, work tirelessly. They drive performance and define our culture. I'm in awe of how hard their role is - there's so much to balance needed - but I'm perhaps most inspired when you walk into a KFC restaurant that is literally humming with energy. It's then that you know it's being led by an exceptional manager. And whilst you can pretty much bet with certainty that the food is consistently excellent, that our guests' expectations are being met, it's actually all because that manager has chosen to act like an owner. This is exactly as The Colonel was all about – cultivating a team and restaurant culture that's always thriving."
Read more: Tesla's head of HR resigns
Career progression is a huge part of KFC's organizational strategy. The scope to go from the kitchen to the boardroom is a real possibility – with that all important entrepreneurial attitude taking the lead.
"So many of our managers joined as team members," added Piper. "This is probably where that entrepreneurial spirit shows up - seeing people grow through various management roles, gain skills, experience, and confidence along the way. Some of our people choose to join our apprenticeship and business management degree program in partnership with DeMontfort University and go on to flagship restaurants or multi-site operations roles. It brings a real sense of pride and admiration to me. Personally, as chief people officer."
Looking ahead to the rest of 2022, KFC's commitment to talent development, to a diverse culture and, most importantly, to sustainability is set to continue. As for HR leaders looking to mirror Piper's dizzying success – he has a poignant, and thoroughly unique, piece of advice.
"I would always advise people looking to build an HR career to stay very focused on understanding the business. Think business first and HR second. That's essential for credibility, for relationships, and for overall organizational influence."