Senator proposes amendments to current legislation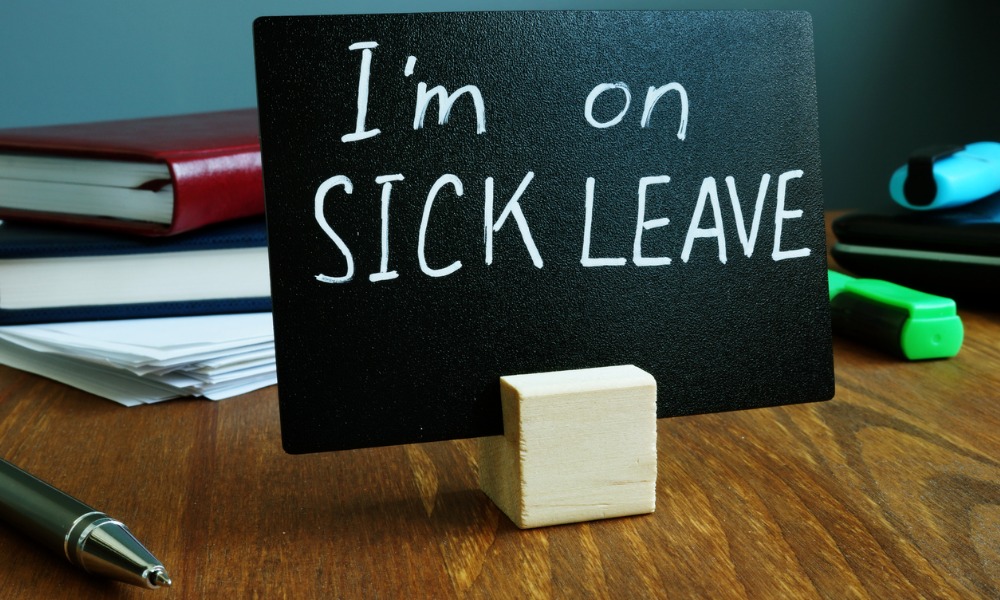 Workers in California could get at least five days of paid sick leave thanks to a legislation being forwarded in the state Senate.
State Senator Lena Gonzalez, (D-Long Beach) has amended Senate Bill 616 to propose that workers get 40 hours of accrued sick days under the state's Labor Code.
Under current California laws, full-time, part-time and temporary workers who work for the same employer for at least 30 days within a year in California, and complete a 90-day employment period before taking any paid sick leave (PSL) have a right to paid sick leave.
Nearly all US workers (89%) worked through an illness in the last year, according to a previous report from HR software company BambooHR.
PSL rule amendments
SB-616 amends Section 246 of the code to note that an employer may use a different accrual method, other than providing one hour per every 30 hours worked, as long as the accrual is on a regular basis so that an employee has no less than 24 hours of accrued sick leave or paid time off (PTO) by the 120th calendar day of employment or each calendar year, or in each 12-month period.
The accrual should also equate to 40 hours of sick leave or PTO by the 200th calendar day of employment or each calendar year, or in each 12-month period.
An employer may satisfy the accrual requirements by providing not less than 24 hours or three days of PSL that is available to the employee to use by the completion of the employee's employment, and no less than 40 hours or five days of paid sick leave that is available to the employee to use by the completion of the employee's 200th calendar day of employment.
Each employee shall be entitled to use accrued paid sick days beginning on the 90th day of employment, Gonzalez noted in SB-616.
PSL can be used:
to recover from physical/mental illness or injury
to seek medical diagnosis, treatment, or preventative care
to care for a family member who is ill or needs medical diagnosis, treatment, or preventative care
At the start of 2023, Assembly Bill 1041 took effect. Under the amended California Family Rights Act (CFRA), an employee may take unpaid leave to care for a "designated person," defined as "any individual related by blood or whose association with the employee is the equivalent of a family relationship."
'3 days is not enough'
During the pandemic, California introduced a paid COVID-19 sick leave benefit for workers.
"Families no longer have the temporary protections afforded by COVID-19 supplemental paid sick leave, which ended last year," Gonzalez said in a The Sacramento Bee report. "This back-to-school season, let's commit to ensuring that parents can take the sick leave they need to take care of their health and the health of their children."
A coalition of employer groups has already opposed SB 616, saying that many small businesses are still in survival mode because of financial setbacks they incurred during the pandemic, according to The Sacramento Bee.
"Despite the economic struggles that businesses have faced recently, the number of overlapping leaves has grown over the last few years and continues to grow," they wrote in letters to legislators, according to the report. "Some are paid and some are unpaid, but even unpaid leaves increase costs on employers because the employer must either shift the work to other existing employees on short notice, which leads to overtime pay, or be understaffed."
However, some stakeholders have previously expressed support for giving workers more paid days for when they are sick.
"[Eight] years ago yesterday, California became the first state in the nation to require [three] paid sick days for every private sector employee," said Lorena Gonzalez Fletcher, American Federation of Labor and Congress of Industrial Organizations (AFL-CIO) leader, back in July via social media platform X. "Despite the Chamber of Commerce's warnings, the world did not end. We know we need more. It's past time to expand paid sick days."
"Parents are twice as likely to send their kids to school when they are unable to take time off of work. Three days is not enough. Parents need more paid sick days," said the California Work & Family Coalition, last month via X.
Previously, Kaiser Foundation Hospitals was sued for alleged sick leave and vacation pay violations.