An unhappy job seeker sought vengeance on a recruiting professional by exposing shocking email correspondence, forcing the closure of the recruiter's business altogether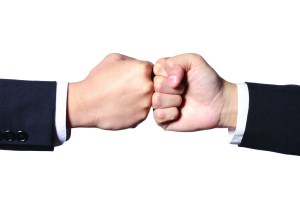 We've all had our fair share of messages from strangers on LinkedIn, but apparently one Cleveland jobs board owner had had enough when she had an outburst that quickly turned viral, forcing her to shut down the entire job board along with all of her social media accounts.
Kelly Blazek was the manager of the Northeast Ohio Communications Job Bank, and was named the 2013 Communicator of the Year by the Cleveland Chapter of the International Association of Business Communicators. But everything fell apart this week after correspondence she sent to job seekers was made public.
It started when young graduate Diana Mekota sent Blazek an request to connect on LinkedIn. Blazek's reply shocked the world:
This is how Kelly Blazek, the biggest Northeast Ohio marketing/creative job posting leader, treats young jobseekers: http://t.co/jaKBMw0knb

— Joseph Hughes (@nczeitgeist) February 25, 2014
Then, another appeared:
And days later, a Cleveland job seeker leaked this interaction to the local newspaper:
Hello Kelly,
My name is _______, I currently live in Chicago and am planning on moving back home to Cleveland in the next few months. I was born and raised in Cleveland and am excited to come back, finally. [A] friend of mine referred me to your Yahoo Group and I requested admission, but was denied.
When I told [my friend] about this, he told me that contacting you was the best way to gain access to the group. I am currently active in the employment market and have been in Technology Sales for the past 4 years.
What is the best way to gain acceptance into this group, so I can help find a job?
All the best,
_______
Blazek's response:
[H]ow about starting with NOT presuming I would share my nearly 1,000 personally-known LinkedIn contacts with a TOTAL stranger? How bush league to pull that stunt. It's what kids do - ask senior executives to link in to them, so they can mine contacts for job leads. That's tacky, not to mention entitled - what in the world do I derive from accepting a stranger's connection request? You earned a "I Don't Know ______" from me today, for such an assumptive move. Please learn that a LinkedIn connection is the equivalent of a personal recommendation. If I haven't heard of someone, met them, or worked with them, why would I ever vouch for them on LinkedIn?
My Job Bank is a gift of my personal time and effort to benefit my profession. It's a privilege to help thousands of jobseekers - but I have my limits. You have not earned the right to ask me to connect on LinkedIn, and your Yahoo Group request was denied because you didn't provide any information when you requested membership - or failed to respond to a request for more information that indicates your background is a match for the jobs I share.
No more questions or requests. Please tap into the other job seeker resources in NE Ohio for your search.
Kelly Blazek | Principal
Gemba Communications, LLC
2013 IABC Communicator of the Year
Blazek has since shut down her social media accounts and job board.
You might also like:
[LIGHTER SIDE] Email failure leads to recruitment chaos
[LIGHTER SIDE] Staffing agency not liable for employee who poisoned co-worker
[LIGHTER SIDE] The most absurd workplace lawsuit of 2013