Winningtemp can help decision-makers better understand their workforce with cutting-edge HR analytics solution that works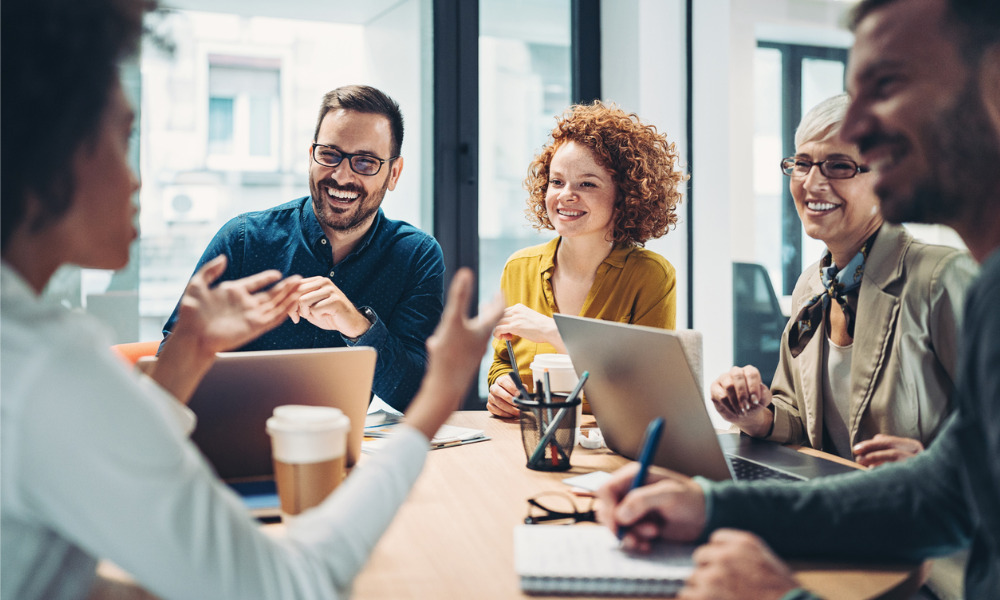 To keep your workforce happy and productive is to understand their needs, issues, and concerns. This can only be done through human resource (HR) analytics. Gathering and analyzing data manually can take time, which is why efficient HR analytics software is needed.
This is where Winningtemp comes in.
In this Winningtemp review, we will examine this software's capabilities, its strengths and core features. All to help give you an idea if this is the right software for your organization.
Winningtemp is an HR analytics software that claims to revolutionize employee engagement and performance management.
It uses advanced AI-driven technology to collect, analyze, and interpret real-time employee data, enabling organizations to make data-driven decisions to improve workplace well-being and productivity.
This software helps managers and decision-makers identify potential issues, boost employee morale, and reduce turnover by continuously monitoring employee sentiment and providing actionable insights.

Winningtemp offers a comprehensive set of features designed to transform HR analytics and employee engagement within organizations. These features empower HR professionals and leaders to make data-driven decisions, improve workplace dynamics, and enhance overall employee well-being.
Here are Winningtemp's vital features:
-time employee feedback: allows employees to share feedback on various aspects of their work experience such as workload, job satisfaction, and team collaboration. This real-time feedback fosters a culture of open communication and enables organizations to address issues promptly.
AI-driven insights: advanced AI algorithms analyze employee feedback and sentiment. By identifying patterns and trends in the data, Winningtemp provides actionable insights to HR teams and leaders, helping them understand the drivers of employee engagement and productivity.
employee pulse surveys: enable HR to conduct regular pulse surveys to gauge employee satisfaction and collect data on specific topics or events. These surveys help organizations understand employee needs and sentiments on a more granular level.
performance management: Winningtemp offers a continuous performance evaluation system that enables managers to set goals, provide feedback, and track employee progress in real-time.
predictive analytics: used to forecast potential employee turnover. This helps organizations take preventive measures to retain top talent and reduce the cost of employee attrition.
heat maps and team analytics: Heat maps visualize data to highlight areas of strength and concern within the organization. Team analytics provides a deeper understanding of group dynamics, facilitating team-building and targeted interventions.
well-being and health tracking: Winningtemp incorporates features to track employee well-being and stress levels. Organizations can implement wellness initiatives and support employees' overall health by monitoring employee health indicators.
sentiment analysis: gauges employee sentiments in comments and written feedback. This sentiment analysis helps HR professionals identify potential challenges or sources of employee dissatisfaction.
actionable recommendations: guide HR teams and managers in formulating strategies to boost engagement, increase productivity, and enhance overall employee experience.
integration and customization: integrates with existing HR systems and can be customized to meet the unique needs of different organizations. This flexibility ensures that the platform becomes an integral part of the HR ecosystem.
Winningtemp can be considered a powerhouse as it combines real-time feedback, AI-driven insights, performance management tools, predictive analytics, and other functionalities to create powerful HR analytics software. Utilizing this data-driven approach can improve employee engagement, increase productivity, and foster a positive teamwork environment, ultimately driving organizational success.
In line with common practice in the software development industry, Winningtemp failed to disclose the pricing of the products they offer.
They do, however, offer three pricing plans:
1. Essentials
This product bundle offers solutions for organizations that want to automate annual employee surveys. Using AI technology, this bundle can:
deliver pulse surveys through email, web, or app for easy capture of employee feedback
build a culture of thankfulness and appreciation through peer recognition
see employee engagement metrics through its visual reporting capabilities
2. Standard
This is Winningtemp's most popular pricing plan. It can help create robust employee engagement using surveys, heat map analysis, and anonymous feedback. This bundle can give you:
automatic view of the area of engagement that needs focus
ideas on how to create a healthy, robust, and safe workplace by providing insights about the best practices that your competitors have
the complete picture of what individual sections or departments of the organization are doing through the heat map feature
a 2-way feedback system where employees can share their ideas, opinions and even air their grievances anonymously
3. Pro
This has more features and functionalities that can help you predict employee turnover and see more measurable areas in the business and workforce. The bundle also provides learning tools for leaders to improve their leadership and management skills.
For more details on these pricing plans or to request a product demo, contact Winningtemp's sales team through the website's chat function.
What gives Winningtemp the winning edge in the HR analytics sphere? Here's a few of its strong points:
real-time employee insights: this tool enables HR teams and managers to address issues promptly and make data-driven decisions.
improved employee engagement: helps identify areas of improvement, allowing organizations to implement strategies to boost employee engagement and morale.
predictive analytics: helps forecast potential employee turnover, enabling proactive measures to retain top talent and reduce recruitment costs.
actionable recommendations: this feature guides HR professionals in formulating effective strategies to enhance employee well-being and productivity.
performance management: facilitates continuous feedback and goal setting, fostering a culture of growth and development within the organization.
customization and integration: Winningtemp can be customized to align with an organization's specific needs and integrates seamlessly with existing HR systems, streamlining the data collection and analysis process.
team analytics: provides valuable insights into group dynamics, enabling better team collaboration and identifying areas where intervention may be needed.
How does Winningtemp work?
As a tool, Winningtemp collects real-time employee feedback and sentiment through pulse surveys and continuous feedback mechanisms.
The platform utilizes AI-driven algorithms to analyze the data, providing actionable insights and predictive analytics. HR professionals and leaders can monitor employee engagement, well-being, and performance, enabling them to make data-driven decisions, implement targeted strategies, and improve overall workplace dynamics and productivity.
Is Winningtemp secure?
The platform employs robust security measures including data encryption, access controls, and regular security audits to safeguard all data stored and transmitted within the system.
The tool complies with industry-standard security protocols and adheres to relevant data protection regulations, such as GDPR (General Data Protection Regulation) in Europe or other regional data privacy laws.
Winningtemp follows strict guidelines to limit access to data and ensures that only authorized personnel can view and handle sensitive employee information. Regular software updates and ongoing monitoring of security protocols contribute to maintaining a secure environment.
By prioritizing data security and compliance, Winningtemp can provide organizations with peace of mind while using their HR analytics software, ensuring that employee data remains safe.
Is Winningtemp easy to use?
The software is designed to be user-friendly for HR professionals and employees. The platform's interface is typically intuitive and straightforward, allowing users to navigate and access its features easily. Here are some reasons why Winningtemp is considered easy to use:
simple setup: The onboarding process for this software is straightforward. The platform is quick to set up, enabling organizations to start collecting employee feedback and data without significant delays.
user-friendly interface: The interface is designed to be visually appealing and easy to understand, making it accessible for users with varying levels of technical expertise.
real-time feedback: Employees can quickly provide real-time feedback through pulse surveys and other feedback mechanisms, which are typically user-friendly and non-intrusive.
actionable insights: AI-driven analysis presents data in a visually digestible format, providing HR professionals with actionable insights and recommendations to support decision-making.
mobile accessibility: This feature enables users to access the platform and respond to surveys conveniently through their smartphones.
training and support: Winningtemp provides training materials, tutorials, and customer support to help users get acquainted with the platform and address any questions they may have.
While Winningtemp is generally considered easy to use, the perception of user-friendliness can vary from person to person, depending on their familiarity with technology and software interfaces.
To determine if Winningtemp is the right fit for your organization, explore their demo or trial version and gather feedback from potential users.
If you think that Winningtemp isn't quite right one for you, you can check out its direct competitors:
Year Founded: 2014
Global Headquarters: Stockholm and Gothenburg, Sweden; Oslo, Norway
Number of Employees: 51-200 employees (based on LinkedIn data)
Key People: Pierre Lindmark (CEO & co-Founder); Mathias Hansson Fredlund (CTO & co-Founder), Carl Axell (CFO), Sara Holmberg (Head of HR)
Since its inception in 2014, the company has been revolutionizing the HR world as it provides effective and cost-efficient HR solutions for companies in Sweden and different parts of the globe.
Winningtemp offers numerous advantages, including real-time insights, enhanced employee engagement, and predictive analytics, helping organizations create a more informed and engaged workforce.
A thorough evaluation of Winningtemp's features and alignment with organizational needs will help you decide if this software is right for you. To expand your options, head to our comprehensive HR software reviews section for a listing of other HR tools.
Does your company use Winningtemp? Share your own Winningtemp review in the comments section below.