Our Sociabble review explores the features that make this software loved by hundreds of thousands of employees all over the world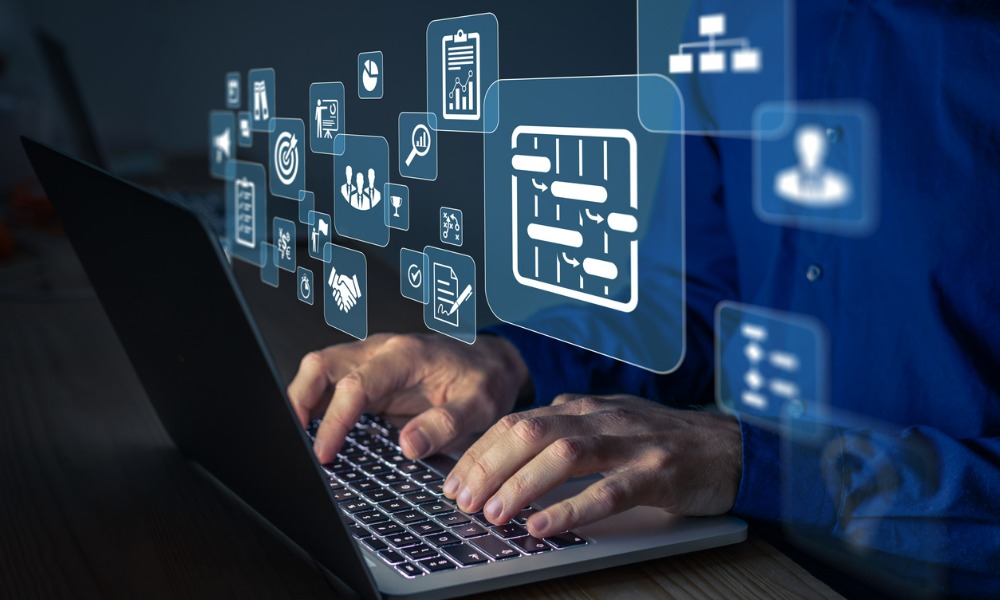 Effective internal communication plays a crucial role in improving employee engagement. Unfortunately, this is also one aspect that many businesses struggle with as they focus their resources more on external communication. Whether it's connecting with clients, networking with suppliers, or advertising through media to maintain profitability.
This is what Sociabble aims to address.
In this Sociabble Review, HRD discusses how this employee communication and engagement platform works. We will give you a walkthrough of its main features and explain why it has become a popular communication and advocacy tool among business leaders and employees. If you're searching for a tool to bolster your internal communication strategy, then Sociabble can be one of your options. Read on and find out if this employee engagement software suits your business.
Sociabble is a software-as-a-service (SaaS) platform that serves as a centralized hub where a company's staff can access internal information and curated social media content that they can readily share.
The platform enables businesses to create and manage a social community for their employees where they can share news, collaborate on projects, and connect with each other. It also provides businesses with tools to measure the impact of their employee advocacy efforts such as website traffic, social media engagement, and employee satisfaction.
On its website, Sociabble lists down four ways businesses can benefit from using the platform. These are:
Simplifying and optimizing internal communication
Enabling employees to share and create content on social media
Collecting feedback that can help boost employee engagement and build a positive culture
Generating sales opportunities and influencing prospects
Let's go deeper into each of them.
1. Simplifying and optimizing internal communication
Internal communication is something many businesses struggle with. Many employees are not interested in company news. They rarely read email newsletters, and even abandon the intranet altogether. The Sociabble platform helps ensure that vital corporate information reaches employees, allowing administrators to:
Create impactful photos, videos, and audio content, as well as surveys and quizzes, to boost engagement
Pin content that needs to be seen by every staff and create campaigns to measure performance
Produce themed channels that can be accessed by some or all employees
Companies can also automate content translation in 60 languages. Creating multiple-choice quizzes to test employees' understanding of important company news or training sessions are options as well.
They can also inform staff in real-time through the employee communication app.
Another prominent feature of Sociabble is its gamification function that enables businesses to launch internal challenges where employees can earn points and badges. Staff members can also participate in the Sociabble Trees program, a corporate social responsibility (CSR) initiative that rewards employee engagement with actual planting of trees to help revitalize damaged forests.
Happy #WorldEnvironmentDay! 🌍
Engage your workforce and increase employee engagement by weaving CSR causes into recognition programs.
🌳Introducing Sociabble Trees, the program that fuels engagement, rewards workers, and helps the planet.
Learn more 👉https://t.co/CxQd6oCpzr pic.twitter.com/rvYS0j2rDZ

— Sociabble (@Sociabble) June 5, 2023
Companies can also gather insights on their most engaging content via a user-friendly dashboard. Businesses can then use these metrics to improve their content strategies.
2. Enabling employees to share and create content on social media
Sociabble's platform also functions as an employee advocacy app, empowering staff to share and generate content, including:
Photos, videos, and audio recording from a company's social media accounts or any content approved by the administrators
Third-party curated content related to a specific industry
Any relevant content suggested by employees, subject to the administrators' approval
Businesses can use the platform to easily manage their social media accounts by allowing them to synchronize and automate all actions, including creating and sharing content, scheduling posts, and targeting audiences. The tool also comes with an agenda view feature that enables staff to see what their colleagues have scheduled and posted to avoid repetition.
All pre-approved content is archived and stored in a media library, which can also be accessed by "deskless employees," or those who don't have Microsoft Office or Google licenses. Uploaded photos, meanwhile, are automatically tagged and organized using AI.
In addition, the Sociabble platform allows companies to integrate employee advocacy initiatives from their marketing strategies and monitor and measure the results.
3. Collecting feedback that can help boost employee engagement and build a positive culture
Sociabble's platform enables companies to boost employee engagement by encouraging their participation in communication initiatives. By using the software, staff can create content to feed the platform and interact with and comment on content posted by colleagues.
Administrators, meanwhile, can use the platform to do the following:
Launch surveys and analyze results
Create calls to action to encourage content interaction
Pin important messages for all staff to see
Create internal campaigns to increase engagement
4. Generating sales opportunities and influencing prospects
As a social selling app, the Sociabble platform enables businesses to share the right content to the proper target audience, helping them create more sales opportunities. Companies can enable their sales team to share expert content, including thought leadership articles, stored in the media library.
Businesses can also structure content with topic channels that enable them to:
Share curated content
Publish engaging user-generated content
Monitor industry and competitor activities
Track content engagement and lead generation
Measure brand awareness
The employee engagement software's gamification feature can likewise encourage healthy competition within the sales team by allowing businesses to host contests that rewards top-performing employees, for instance, those who can generate the most leads or highest social media engagement rates.
Sociabble's employee communication and engagement software is built entirely on Microsoft Azure technology, allowing it to integrate seamlessly with Microsoft Teams and other Microsoft platforms.
Sociabble shares the same fundamental architecture with the tech giant's platform, making it an organic fit. Sociabble has been among the "easy-to-use" features of Microsoft Teams for internal communication.
Sociabble is a Microsoft Gold + Managed Certified partner and has been working within the tech giant's digital ecosystem for years.
Other apps that Sociabble can integrate with include:
Optimizely
Scoop.it
Welcome
Zapier
The table below details the technical specifications of the Sociabble employee engagement software.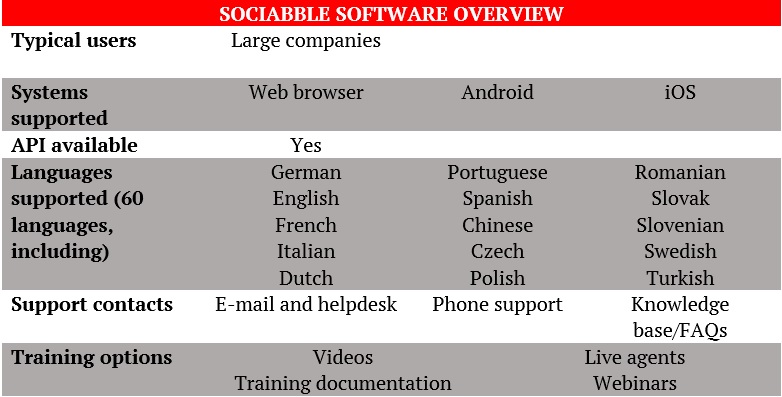 Sociabble is among the most popular employee communication and engagement platforms in the market, but it has its share of competitors. If you're looking for a good alternative to the functions and benefits featured in this Sociabble review, you can consider the following employee engagement software:
Headquarters address: 22 Rue Chapon, Paris, France
Year established: 2014
Number of employees: 100+
Global locations: Offices in France, the US, and India
Key people: Jean-Louis Bénard (Co-founder and chief executive officer), Elliot Ghnassia (chief customer officer), Krusha Sahjwani Malkani (director and head of Asia), Cedric Berthet (head of finance)
Sociabble is a software company that helps businesses inform, engage, and empower their employees to be the best ambassadors on social networks. Founded in 2014 by Jean-Louis Bénard and Laurent Gauthier, Sociabble has grown to become a leading provider of employee advocacy solutions. Today, Sociabble's customers include some of the world's largest and most respected companies such as Allianz, AT&T, Coca-Cola, and McDonald's.
In 2022, Sociabble acquired the Alhena group, publisher of SociallyMap and SociallyUp solutions. This acquisition strengthened Sociabble's position as a leader in the Employee Advocacy market and marked a turning point in the company's history. Sociabble is a Great Place to Work and is committed to creating a positive and productive work environment for its employees.
Sociabble has just acquired Alhena, the SaaS vendor that created the SociallyMap and SociallyUp solutions.
For more information 👉 https://t.co/AfSp5M9Ivq#Saas #EmployeeAdvocacy #EmployeeEngagement https://t.co/AfSp5M9Ivq

— Jean-Louis Bénard (@jlbenard) June 13, 2022
How much does Sociabble cost?
Although some review websites list down pricing for the different packages that Sociabble offers, these are not official quotes. Sociabble doesn't publish how much they charge for their services as it depends on a range of factors, including the scale of implementation. The best way to get an accurate pricing that suits your business' needs is to contact their sales team and ask for a quote.
Does Sociabble offer a free trial?
No, Sociabble doesn't offer a free trial, but you can book a demo through the company's website.
What companies use Sociabble?
According to its LinkedIn profile, the Sociabble employee communication and engagement platform is accessed by clients in more than 180 countries, including some of the world's most prominent brands. These include:
Does Sociabble have an app?
Users can download the Sociabble app to their mobile devices. The app is available for Android, Cloud, iPad, iPhone, Mac, and Windows. You will need an active Sociabble account to start using the app.
What are the drawbacks of Sociabble?
Users gave very few drawbacks. These include too much customization and a gamification feature that is geared more towards adding new users. Some say the price can be improved but did not provide additional details.
If your business is looking for an internal communication tool that can help build employee engagement and increase sales opportunities, Sociabble is worth a look.
With its utilization of social media channels and user-friendly interface, Sociabble is a good venue to deliver your content and reach your target audience.
Do you need help in choosing the right employee engagement platform for your business? Our HR Software Reviews section can help you compare the different options and find the best fit.
Do you have experience using Sociabble? Share your own Sociabble review in the comments section below.