Not everybody is ready to face the risks of the global pandemic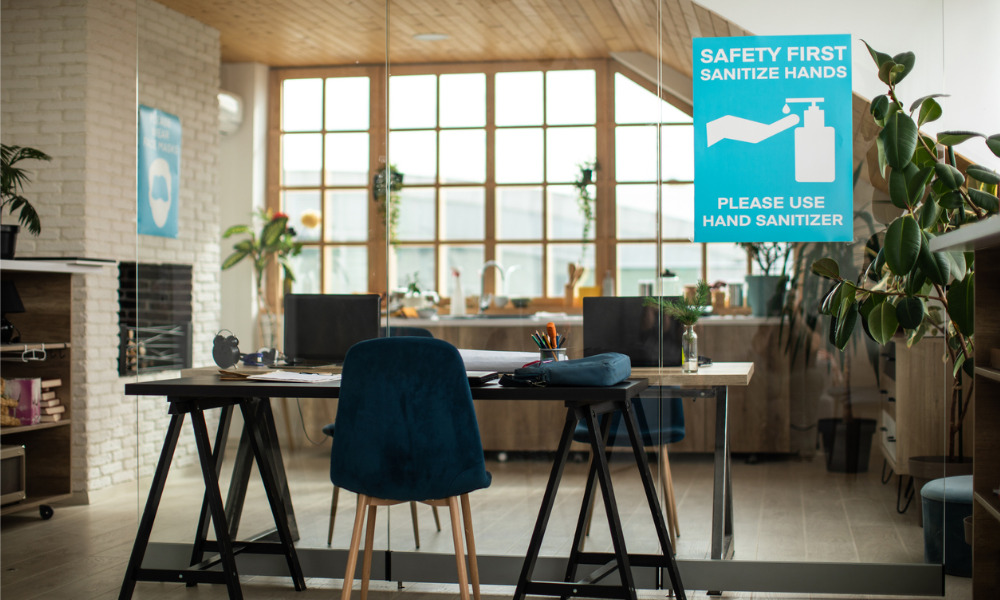 Not all workers have the opportunity to work from home amid the pandemic – and almost all feel apprehensive about returning to the workplace.
In a survey of more than 750,000 employees worldwide, only 4% said they wanted to return to the office full-time once COVID-19 restrictions are further eased, research from sentiment analysts at Perceptyx showed.
The overwhelming majority of employees would rather stay out of the worksite, at least for now.
The comfort, ease and familiarity of a work-from-home setup have "negatively impacted [workers'] desire to go back to the office," says Dr. Brett Wells, director of people analytics at Perceptyx.
While corporate and office-based workers typically have a remote-work option in place, some sectors – such as manufacturing, transportation, warehousing and logistics – are under increasing pressure to bring workers back to a physical worksite as part of their recovery plans.
But given the risk of contracting the novel coronavirus in the workplace, some workers are outright rejecting employers' call-back orders.
"States and cities have reopened with mixed success, and given the recent sharp increase in cases, many employees are likely worried about this second wave," analysts at Perceptyx write.
"In turn, they want to limit their exposure to unnecessary risks that might come from returning to the physical workplace."
Read more: Returning to a safe and healthy workplace
Some degree of flexibility
Safety remains "paramount" for businesses opting to call back workers on site, says Allison Cowan, director of human capital at the Conference Board of Canada. But companies are also open to giving specific classes of workers some leeway.
A study by the Board found employers in Canada are willing to exempt the following workers from returning to the site:
Workers with an increased risk of falling critically/severely ill if they contract the virus (96%)
Those with family care duties (86%)
Those with household members facing an increased risk of falling critically/severely ill if they contract the virus (84%)
Those with household members working as frontliners during the pandemic (60%)
Workers can therefore refuse to return to work if they have reason to believe they (or a household member of theirs) might be exposed to possible workplace hazards in the course of their duty.
In Ontario and other provinces, governments have even granted workers the right to a leave of absence if they are living with someone who is particularly vulnerable, advises employment lawyer Lorenzo Lisi in an interview with HRD.
Similarly, in the US, generalised fears about contracting COVID-19 need to be substantiated with evidence-based concerns for the person or their household member's health – if they have a physical or mental health condition that could be aggravated amid the pandemic.
"In these situations, employers should handle the situation as they would any other request for accommodation under the Americans with Disabilities Act and applicable state law, and teleworking or a leave of absence may be a reasonable accommodation," writes US employment lawyer Christine Samsel of Brownstein Hyatt Farber Schreck.
Read more: Should employers rely on COVID-19 home test kits?
It's all a matter of negotiation, explains Lisi.
"If employees state that they require changes to their shifts or the ability to work at home, it will trigger the regular accommodation process, no different than any other request for accommodation," he says.
What is critical is that employers "investigate, document and determine" the appropriate response to avoid any possible legal setbacks.
In New Zealand, employees can also request changes to their working arrangement post COVID-19, especially since flexible working would likely become the norm across the country.
"Under Part 6AA of the Employment Relations Act 2000, all employees have the right to request a variation of their working arrangements at any time," advises Andrew Shaw, partner at Lane Neave.
"Employers have an obligation to respond to such requests as soon as possible and not later than one month after receiving the request," he says.
But such requests entail a thorough review. "Employers need to consider their ability to accommodate flexible working arrangements and also consider updating their remote working policies and ensure that Health and Safety obligations are being met, whatever location the employee is undertaking work," Shaw tells HRD.
Safety first
Similar provisions protect workers in Australia from being forced to undertake what they consider to be dangerous work. "They have this right if there is a reasonable concern that the worker will be exposed to a serious risk to their health and safety from an immediate or imminent hazard. This could include exposure to the COVID-19 virus," Safe Work Australia writes.
Health and safety representatives (HSRs) working on the ground are assigned to guide employees.
"In most circumstances, the HSR will need to consult with you before they direct workers to stop work," the agency advises.
"If a worker stops work because it is unsafe, they need to tell you as soon as possible. The worker must then be available to carry out suitable alternative work, including doing other tasks that they are trained or able to do, or performing their work from another location, such as working from home," Safe Work says.