New figures show employment pressure contracting in some sectors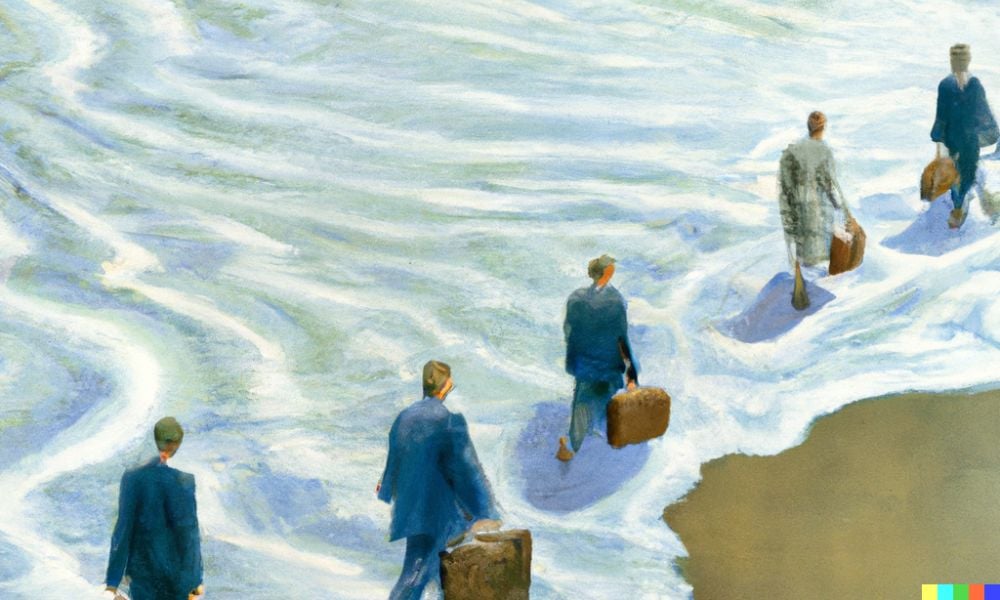 Headlines about tech and banking layoffs have been coming in thick and fast, and the talent shortage still seems to be hurting employers – but new figures from at least one sector shows that maybe the red-hot labor market may be coming off the boil.
The US manufacturing sector contracted for the fifth consecutive month in March, according to the latest Manufacturing ISM Report On Business. The report, issued by the Institute for Supply Management Manufacturing Business Survey Committee, noted that economic activity in the manufacturing sector in the US declined, following a 28-month period of growth. While two of the six biggest manufacturing industries registered growth, the remaining 12 industries reported contraction in March.
The report has raised concerns over the employment situation in the manufacturing sector, with the Employment Index continuing in contraction territory, registering 46.9 percent, down 2.2 percentage points from February (below 50 indicates a contraction)
This may be good news to some in the industry as it continues to face challenges from labor shortages, which have affected production output. The report noted that companies are slowing outputs to better match demand, resulting in softening new order rates over the past 10 months.
The Inventories Index dropped into contraction at 47.5 percent, indicating companies are managing their total supply chain inventories and liquidity. However, the Backlog of Orders Index sagged again and continued in contraction. The Employment Index continued in contraction after two months of marginal expansion, and the Production Index logged a fourth month in contraction territory, though at a slightly lower rate.
The Manufacturing sector is a significant part of the country's economy, accounting for around 11% of its Gross Domestic Product (GDP) and employing over 12 million people. The sector includes a wide range of industries, such as aerospace, automotive, chemical, electronics, food and beverage, and textiles.
While the US manufacturing sector has faced various challenges in recent years, including competition from low-cost labor markets and supply chain disruptions, it remains a crucial contributor to the country's economic growth and employment opportunities.
So just how much does manufacturing add to the US economy compared to other sectors?
Contribution to US GDP
Finance, insurance, real estate, rental, and leasing - 20.9%
Professional and business services - 12.4%
Government - 11.4%
Manufacturing - 11.2%
Healthcare and social assistance - 8.5%
Wholesale and retail trade - 7.6%
Transportation and warehousing - 3.6%
Construction - 3.3%
Information - 3.2%
Utilities - 1.6% of GDP
While these early indicators may be positive for those struggling to find staff, the proportion that manufacturing jobs make of the workforce varies a lot by state.
Here is a list of US states ranked by the proportion of jobs that are in manufacturing as of 2021, according to the National Association of Manufacturers – if you are in Indiana, this news is A Big Deal. In New Mexico? Not so much.
Indiana - 17.8%
Wisconsin - 16.6%
Iowa - 14.5%
Michigan - 13.8%
Ohio - 12.7%
Kentucky - 12.5%
Alabama - 11.6%
South Carolina - 11.1%
Arkansas - 10.5%
Tennessee - 10.2%
Minnesota - 9.5%
Missouri - 9.4%
Oregon - 8.7%
North Carolina - 8.3%
Mississippi - 8.2%
Pennsylvania - 8.2%
Louisiana - 8.1%
Illinois - 7.9%
Texas - 7.4%
Utah - 7.4%
Oklahoma - 7.3%
Georgia - 7.2%
Kansas - 7.2%
Nebraska - 6.8%
Washington - 6.4%
New Hampshire - 6.1%
Idaho - 5.8%
Vermont - 5.7%
Maine - 5.6%
Montana - 5.3%
West Virginia - 5.2%
Nevada - 5.1%
Colorado - 4.7%
New York - 4.5%
Arizona - 4.4%
South Dakota - 4.3%
California - 4.1%
North Dakota - 4.0%
Virginia - 3.9%
Rhode Island - 3.8%
Massachusetts - 3.5%
Maryland - 3.3%
Florida - 3.1%
Delaware - 2.9%
Connecticut - 2.5%
New Jersey - 2.4%
Alaska - 1.4%
Hawaii - 1.4%
New Mexico - 1.4%
District of Columbia (due to its small size, the District of Columbia is not included in this ranking)