'I found myself wearing two different hats – the CEO and the griever'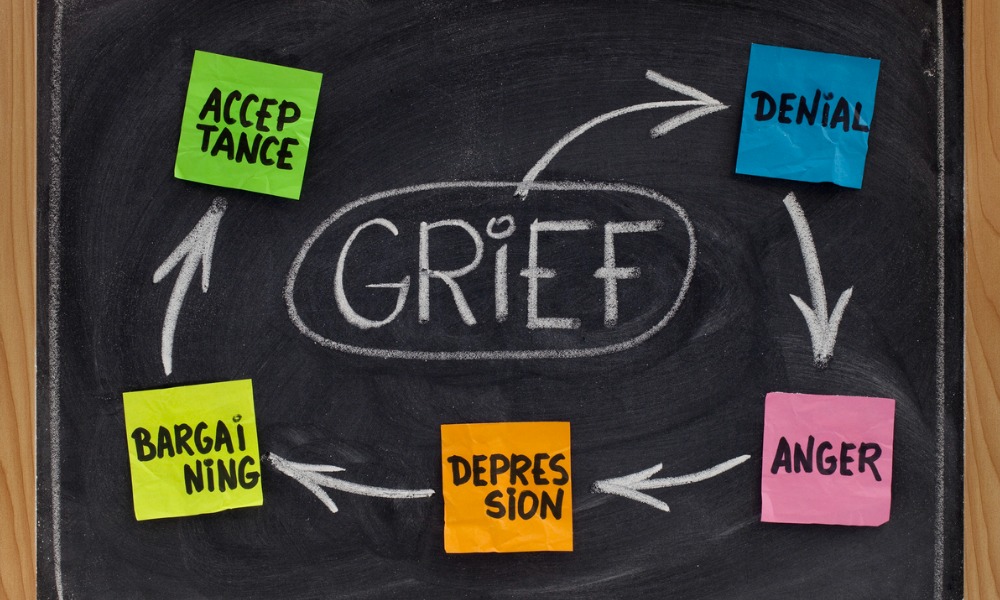 When a white supremacist murdered Mindy Corporon's father and eldest son outside the Jewish Community Center in Kansas, the grief and despair were debilitating.
"It physically caused foggy brain and exhaustion, which complicated my return to work," Corporon tells HRD. "I knew I needed to create something good from this tragedy – something that would help people through the kind of mess I experienced. Workplace Healing is a legacy to my dad and son."
Sadly, Corporon's not alone. Unsupported grief in the workplace costs companies up to $225.8 billion every year, according to the Center for Disease Control.
Personal versus professional grieving
Corporon co-founded Workplace Healing – a counselling service to help leaders, managers and care teams support grieving employees. Something Corporon would have appreciated when her own grief hit.
"As the CEO of a wealth management firm, I had to go back to work," she tells HRD. "I found myself wearing two different hats – the CEO and the griever, and some days I'd be one, the others day I'd be the other. I knew, when I would walk in as the griever, that I shouldn't be talking to clients. And then as the CEO, I wanted myself back. However, I knew that it was very difficult - I had to teach my team, how to speak to me, when to speak to me what topics to talk about."
It made for an interesting dichotomy – having to jump between being a leader and being a grieving mother and daughter. The issue with grief is that it's inherently personal – how we deal with loss differs from person to person. As such, employers need to start educating themselves on how they can help the individual at work – and never shy away from uncomfortable conversations.
"Grief and loss are a part of our human condition, and this can impact each of us in different ways," says Dr Raeleen Manjak, CHRO at the City of Vernon. "It's important to remember that these impacts do not dissipate when time away ends. The return to work might find the employee in the midst of their grief in the workplace or they may be struggling to put up a strong front.
"Knowing this, and remembering that grief is a natural response to loss and that all of one's sense of self can be impacted, it's important to remember that as employers navigate these often-unpredictable times. As such, grief is an individual experience," she says.
This is best captured in the Kubler-Ross Model of Grief, famously categorizing the five stages of grief - denial, anger, bargaining, depression, and acceptance.
America's bereavement leave policies
The process of grieving is not helped by America's limited availability of bereavement leave. There's no federal law that mandates organizations to provide paid time off after the death of a loved one – that's entirely up to individual company policies – and there is no mandated paid time off to attend a funeral.
This means employees are using personal days off to deal with funeral arrangements and estate issues – leaving little time to actually grieve. Only two states have local laws – Oregon and California. Oregon state government provides leave to employees according to the Federal Family and Medical Leave Act (FMLA), the Oregon Family Leave Act (OFLA) and the Oregon Military Family Leave Act (OMFLA). This law allows employees to take up to two weeks per family member in a one-year time period.
Read more: Are employers required to pay employees while they are on FMLA leave?
In California, the new AB 1949 is law requires employers to offer workers – who have been with the company for over 30 days – up to five days' bereavement leave upon a family member's death. This leave doesn't need to be taken on consecutive days – and the leave doesn't have to be paid.
While it might not be federally mandated in other states, many employers allow employees three to five days off. According to data from BetterUp, 88% of companies offer paid bereavement leave.
Educating leaders on the economics of grief
The situation isn't just stressful for the employees who're grieving, it's unknown waters for managers too. According to data from NCPC, 31% of employers would welcome some help on how to support bereaved employees – especially when it comes to making the first move.
"What we found when we began our focus groups is that people are scared to talk about death," says Lisa Cooper, co-founder of Workplace Healing. "They're scared that if they bring up the name of Mindy's son Reat, that many will remember that Reat was murdered when he was 14. Well, Mindy is never going to forget that. Just as I'm never going to forget that my parents have passed away - and when I tell stories about them, when I share stories, it makes me smile.
"Most people in our society, especially in the United States, are scared to talk about death. It makes them feel uncomfortable. As such, we're raising the level of grief awareness in the workplace, so that people feel supported and cared about by their teams."
Supporting an empathic culture
Empathy isn't a box-ticking exercise for employers, it should emanate into your entire culture - especially in the current talent crisis. According to BusinessSolver's 2021 'State of Workplace Empathy' annual study, 92% of employees say they're more likely to stay with an empathetic employer, with 84% of CEOs believing that a company's financial performance is tied to empathy in the workplace. What's more, almost 75% of employees are willing to work longer hours for an empathetic employer.
"The impact of grief in the workplace can occur at the individual, department, and organizational levels," says Manjak. "It's common to see higher levels of absenteeism - while out of the workplace - or even presenteeism upon return to the workplace. The employer can provide support to those grieving by offering time off and support networks.
"All of this must be reviewed and considered on an individual employee basis. The employer can offer increased levels of support during the transition back to work by offering a discussion about what the employee can manage during this time."
'It's okay to not be okay'
Op top of this, Manjak advises employers to invest in the following essential grief-led benefits;
EAP programs
Critical Incident Response Teams
Training, Learning and Development
Workshops
Employee Resource Groups (ERT's)
The crux of the issue for leaders is to bring a culture of understanding and empathy to the workplace – one in which employees feel comfortable enough to bring their whole selves to work. No matter how uncomfortable those initial conversations seem.
"A lot of times in corporate America, whether you're working from home and turning on your laptop in the morning or walking into an office at 8 am, you cannot leave your personal life at the door," says Cooper. "It's impossible. The good news is that it's becoming forefront in our world right now post-COVID to talk about mental health - to say, 'It's okay to not be okay.'