The 'oxygen mask theory' is more relevant now than ever before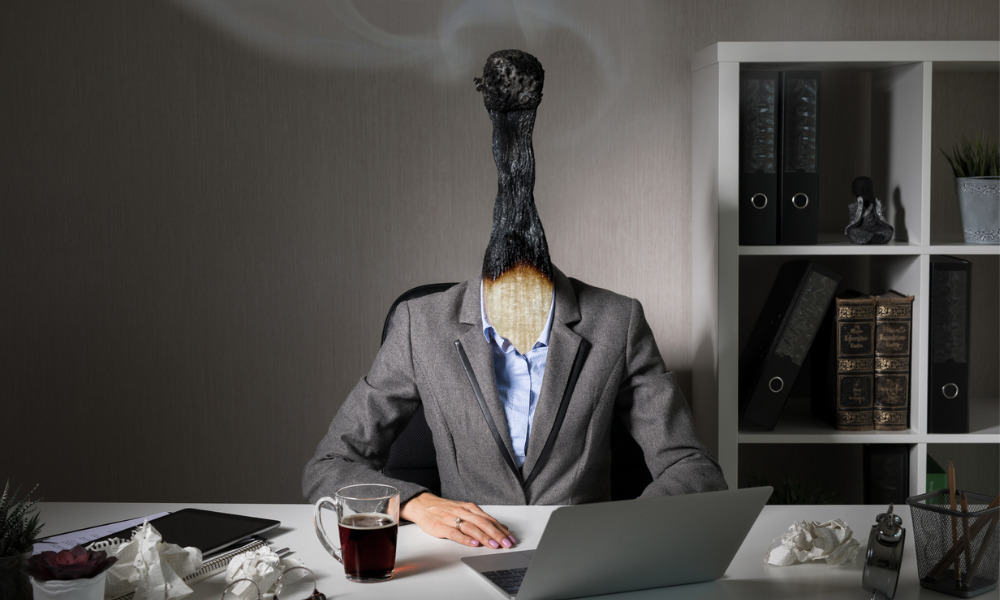 The COVID-19 crisis has effectively blurred lines between work and personal life – which is why it's no surprise that majority (73%) of professionals reported that they're suffering from burnout.
According to a recent study by Blind, the lack of work-life separation and an unmanageable workload are top reasons why everyone's feeling exhausted as they work remotely and shelter in place during the pandemic.
While everyone face challenges, how are leaders heading and managing COVID-19 responses faring? At a recent webinar by Alcott Global, one industry leader said it might be worse for this group of professionals.
"We were originally led to believe that we may have disruption for a course of several weeks, but there was never a conversation, at least initially, about several months," said Matt Burns, founder and chief innovation officer at Global HR Collective.
"I think as that picture started to take shape, it's certainly illuminated for many of our consultants and clients that perhaps they were taking on too much in service of trying to do their existing jobs pre-pandemic along with the pandemic response."
READ MORE: How to combat 'leadership burnout'
By about week eight or week ten of the crisis, he said his team started seeing signs of burnout. While crisis management differed by region, their contacts across the Americas, Asia Pacific and Europe shared similar reactions to the pandemic.
What came out of all the chaos and exhaustion was one incredible learning: "We didn't figure pacing very well".
"What I mean by that is once we understood that this was not a 'business as usual' type of activity in front of us, a lot of people started sprinting towards trying to solve a problem," he said.
This proved to be an issue as leaders were also contending with similar disruptions working from home.
"Many leaders that we work with of course have concerns, considerations and responsibilities outside the workplace," he said. "They have families at home. They're multigenerational in a lot of cases.
"They may have family or friends who are on the front lines and impacted directly by the actual pandemic itself. They have other considerations besides showing up to work in a conscious way."
Acknowledge the basics
Fellow panellist, Amit Singh, Head of HR for Asia & Japan at AXA Investment Managers agreed with Burns as he addressed the wide impact of the loss of a clear separation between work and life.
"When things were normal, it's interesting how on a daily basis we used to complain about the routine and now the importance of routine really became evident," Singh said.
"A lot of our efforts were really educating managers and also sending communications to employees as to how to actually plan their day, which seems very basic but was actually very important."
He believes it's crucial to have empathy no matter who you're dealing with. And as we're in the middle of a pandemic, the HR head reminded that it's important to accept that anxiety can affect anyone.
"People have been thrown into multiple job roles," he said. "They are teachers, home keepers, and doing their jobs. It is a very anxious time and what works best is to have empathy."
His team prioritised cultivating a culture of empathy by reminding everyone the strange circumstances of our time – that nobody had volunteered or decided to work from home for long periods of time.
"We're in the middle of a crisis where people have been locked up at home and they're doing their best to meet client needs," he said. "That acknowledgement needs to be there."
READ MORE: The emotional cost of working from home
The 'oxygen mask theory'
While accepting the circumstances and learning to pace is important, both Burns and Singh shared that leaders, like everyone else, must prioritise self-care to avoid burnout.
Burns used an oft-used theory relevant to leaders who are diving head-first to 'save' the organisation.
"We were really cautious about encouraging people to treat this in a rotational way, that as a leader you have to show up and look after yourself first," Burns said.
"It's that airline method mentality of applying the oxygen mask to yourself first before applying it to other people. And as a leader your impact is so much broader."
He advised leaders to take time to decompress, whether through a five-minute walk or a half-hour dinner with family.
"Taking time for yourself…is actually in service to the other people around you," he said.
READ MORE: Mental wellness: why C-suite should lead the discussion
A mindset reframe, that the crisis would be drawn out, also helped leaders "relax" and adjust their leadership style from one of command-and-control to a business continuity approach.
"Command and control is really effective in times of crisis and times of emergency, but it's not sustainable over the long term," he said. "It just burns people and organisations out too fast."
Singh added that self-care is crucial also because of one timely fact. Although he was referring to empowering every employee to do this and manage their anxiety, his insight was relevant to professionals of all levels.
"Who is the best judge of their own personal health situation? It's the employee," Singh said. "They know if they've got underlying health conditions, they know what risk they want to take and what they're not comfortable with. Make it voluntary for [individuals] to actually say no to things."