Many companies 'ignore the topic altogether' or approach it sporadically, says expert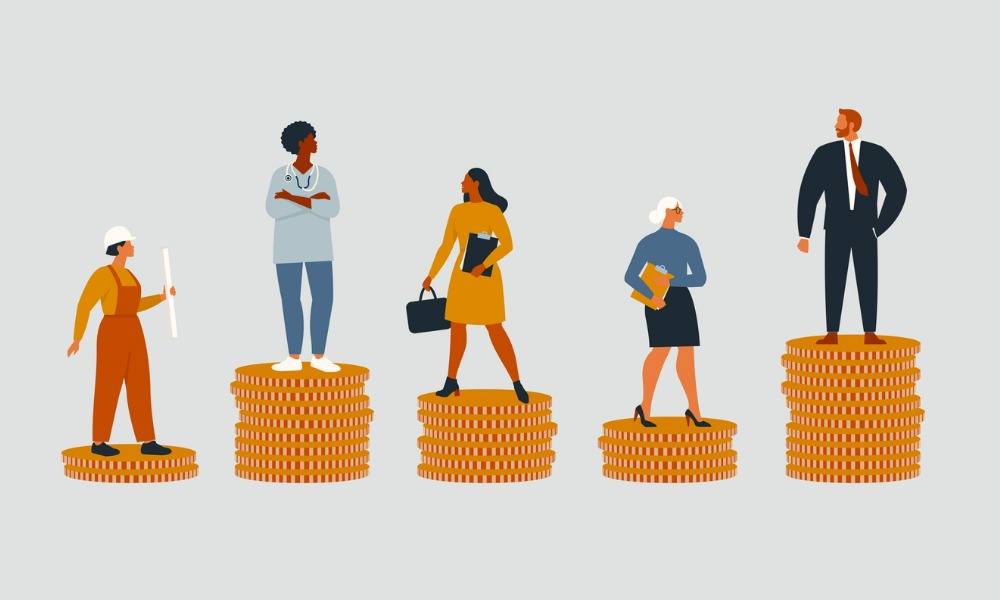 While 70 percent of companies consider achieving pay equity as critical to their business success, only five percent are getting it right.
That's according to a new report from the Josh Bersin Company, commissioned by Salary.com.
Ninety-five percent of the 448 surveyed companies are also not demonstrating high maturity when it comes to pay equity.
"These companies either ignore the topic altogether (until a legal, compliance, or reputational risk looms), or approach it as a sporadic project aimed at identifying issues and then dismissing them as isolated incidents, only to find themselves in the same situation a year later, and never making progress on addressing any root causes," said Salary.com's The Definitive Guide to Pay Equity.
4 levels to pay equity
Fifty percent of the companies in the study are in Level 1, meaning they are mostly trying to avoid legal or reputational issues or risks related to their employee value proposition (EVP). Their sporadic pay equity review process is entirely driven by the legal department and involves a basic job evaluation with elementary statistical approaches to determine a pay gap, says the report.
Over a third (37%) are in Level 2. These organizations have made the switch to performing a pay equity audit rather than just determining the pay gap, but are heavily focused on a traditional process to review pay equity issues.
Eight percent are in Level 3, where a strong C-suite sponsor is driving pay equity work in the organization.
Only five percent have achieved Level 4, where they optimize their talent investment by "helping people feel rewarded when compared to both the internal and external market".
"Achieving pay equity is a top-level imperative for organizations today, not just an HR initiative. The rapidly changing regulatory, demographic and employee engagement environment make pay equity a necessary part of every business strategy," said Kent Plunkett, CEO of Salary.com. "We sponsor independent research like this report because getting it right is important to every employee, employer and society in the world."
On Aug. 18, the Office of Federal Contract Compliance Programs (OFCCP) published a revised Directive 2022-01: "Advancing Pay Equity Through Compensation Analysis," which provides notable changes pertaining to federal contractors.
Pay equity pays off
For companies that make rewards and recognition fair and equitable, 42% have seen positive results on business outcomes and 18% have seen the same on people outcomes, finds the Josh Bersin/Salary.com report.
The comparable numbers are 7% and 11%, respectively, for companies that provide above-average rewards and benefits.
Specifically, employers with the right pay equity practice are:
1.6x more likely to exceed financial targets
1.2x more likely to delight customers
1.3x more likely to create a sense of belonging among workers
2.1x more likely to attract the talent they needed
1.5x more likely to engage and retain employees
1.7x more likely to adapt well to change
1.7x more likely to innovate effectively
"In general, it's about the right to get equal. Pay for work of equivalent value, but not only that, it is based on gender comparison," Lucie Guimond, a partner in the Montreal and Toronto offices of Ogletree Deakins, previously said. "It's the right of workers who sit in a typical female job to receive pay which is equal to that of a person who sits in a typical male job."