California court sides with medical center's stance in dismissing employee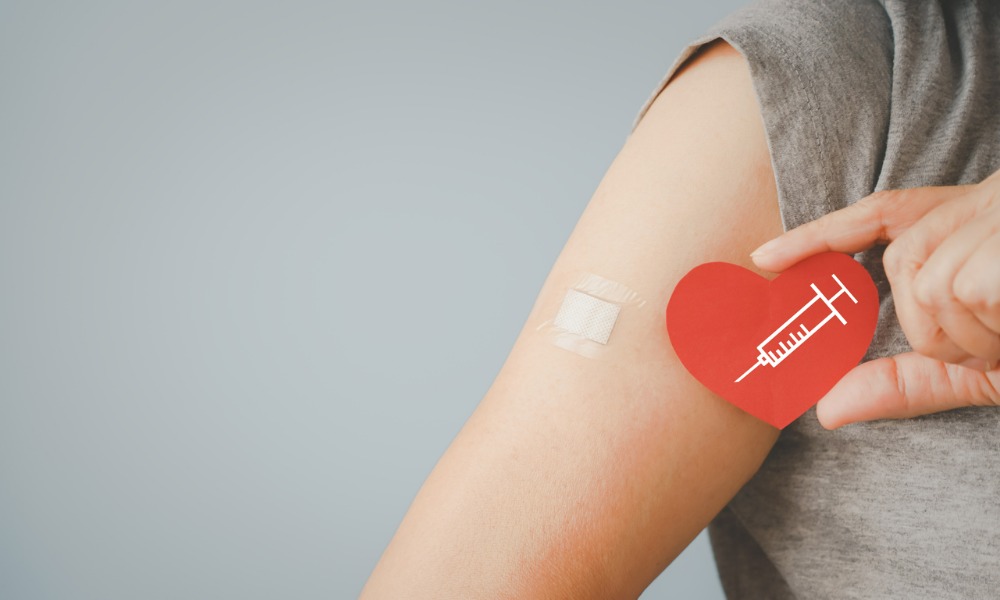 An employer is not bound to accept its employee's subjective belief that they are disabled and is entitled to rely on other medical information, the California Court of Appeal said in the case of Hodges v. Cedars-Sinai Medical Center.
In 2000, the plaintiff started working for Cedars-Sinai Medical Center, a nonprofit academic medical center in Los Angeles. At the time, she was not required to get an influenza vaccine since she was an administrative employee with no direct patient contact. She was diagnosed with colorectal cancer in 2007 and returned to work in 2009.
In 2016, guidance from the Centers for Disease Control and Prevention (CDC) recommended that all employees at healthcare facilities, regardless of role or involvement in patient care, receive the flu vaccine.
Read more: What HR needs to know about vaccine mandate for health care workers
In September 2017, Cedars announced a policy effective Nov. 1, 2017, which required all its employees to get the vaccine by the beginning of flu season as a condition of continued employment. This policy made exceptions only for employees with a valid medical or religious exemption.
The medical exemption covered only the following recognized medical contraindications: a history of life-threatening allergic reaction to the flu vaccine or any of its components, or a history of Guillain-Barré Syndrome within six weeks from a previous dose of any flu vaccine.
Medical exemptions for vaccine mandate
Cedars would require unvaccinated employees with an exemption approved by its internal exemption review panel to mask in all patient care areas. Unvaccinated employees with denied exemptions would be subject to termination.
In the plaintiff's case, her doctor, who was a gastroenterologist and internist practicing at Cedars, recommended an exemption for her for various reasons, including her history of cancer and general allergies.
Cedars strictly applied its policy to its workforce. It received 24 medical exemption requests and denied the requests of 14 employees, including the plaintiff. Of those 14, only the plaintiff still refused to get the vaccine after the denial.
Administrative leave, then termination
Cedars placed the plaintiff on unpaid administrative leave for failure to comply with the vaccination policy. One of its human resources representatives called her to encourage her to reconsider. But the plaintiff continued to refuse. She instead offered to work from home, to wear a mask, and to avoid going anywhere near the main medical campus.
Cedars terminated the plaintiff on Nov. 9, 2017. She sued it under the Fair Employment and Housing Act (FEHA). She made claims of wrongful termination, disability discrimination, failure to accommodate a disability, failure to engage in the interactive process, and failure to take reasonable steps to prevent discrimination, harassment, and retaliation.
Cedars argued that the plaintiff failed to prove that she was disabled. It offered the following supporting evidence:
CDC's guidance
testimony that there were only two medically-recognized contraindications
testimony that the plaintiff was never diagnosed with either contraindication
testimony from the plaintiff's doctor, who acknowledged that none of the conditions listed on her exemption form were recognized contraindications
evidence that her doctor advised her to reconsider her decision not to get the vaccine
evidence that her cancer history was an indication rather than a contraindication, which meant that it was advisable for someone with her history to get vaccinated
Disability discrimination claim denied
The trial court ruled in Cedars's favor, which prompted the plaintiff to appeal. The California Court of Appeal for the Second District issued a judgment agreeing with the trial court's decision.
First, the appellate court held that there was no triable factual issue regarding disability discrimination. Cedars terminated the plaintiff not because she was or was deemed disabled but because it considered her as capable of safely receiving the vaccine since she was not disabled, the appellate court noted.
Second, the appellate court determined that Cedars provided a legitimate, nondiscriminatory, and nonpretextual reason for terminating the plaintiff. Cedars was not "playing doctor" and was not using its status as a healthcare enterprise to evade the FEHA, the appellate court said.
According to the appellate court, the evidence showed that Cedars:
terminated the plaintiff because she did not get the flu vaccine
adopted a flu vaccination policy and exceptions recommended by the CDC, the federal agency responsible for limiting the spread of disease in the U.S.
implemented the policy to expand upon its longstanding efforts to limit employees' transmission of flu, a goal which had become more urgent in recent years after multiple flu-related deaths of patients
relied on CDC's guidance to conclude that there was no objective evidence of the plaintiff's disability