To stay competitive, HR leaders must find ways to incorporate employees' workplace culture preferences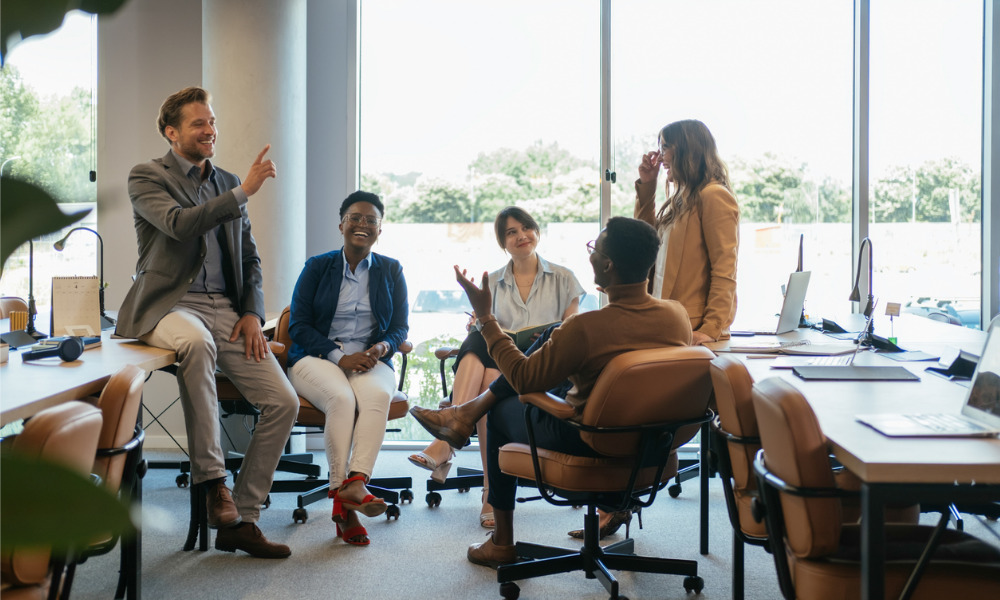 There has been a visible increase in employees prioritizing their ideal workplace culture when choosing a company to work for. This forces companies to reimagine their culture in the workplace to ensure they stay on top of employee demands – especially since the start of the COVID-19 pandemic as the labour market has tightened.
Below are some workplace culture characteristics that are in demand this 2022. But first …
What is the ideal workplace culture?
Workplace culture is a mixture of the company and its employees' characteristics and personalities that create the general tone of the organization. It is a mixture of leadership, values, behaviour, interactions, and benefits. Workplace culture significantly affects an employee's work satisfaction and productivity.
Meanwhile, ideal workplace culture is the vision of a good work culture where employees enjoy working while still being successful for the business. It is what companies strive to achieve to keep employees happy, earn a profit, and attract talent.
The ideal workplace culture constantly changes over time. The best way to find out what employees are interested in is by collecting feedback through different data-collecting tools such as interviews, surveys, and polls. Understanding their feedback can help companies decide what practices to implement to create a positive and healthy culture and what steps to take to change harmful routines that affect the workplace.
Read more: These companies have the best workplace cultures, according to employees
The importance of a good workplace culture
Focusing on creating a healthy workplace culture brings many benefits for employees and employers. One of the most significant benefits is how it impacts employee engagement and satisfaction. Having a healthy culture in the workplace improves the daily routine of employees, which can help maintain their attitude towards their work and company.
Workplace culture can also affect productivity. When employees are engaged and satisfied with the culture in the workplace, it boosts their motivation to do good in their work. This creates a better quality of output that satisfies clients.
It also attracts highly skilled job applicants while lowering turnover rates. Employees are looking for companies whose culture fits with their beliefs and goals. They are looking for companies that can support their need to learn and build their expertise in their chosen field. When companies are able to provide for employees' needs, it gives them a competitive edge for job applicants. It also minimizes the desire for employees to look for opportunities in competitive companies.
Workplace culture trends for 2022
To stay relevant and competitive in 2022, HR leaders should find ways to incorporate employees' in-demand workplace culture trends. Below are some of the most sought-after trends to watch out for.
Increase in remote and hybrid work arrangements
Companies forced employees to work remotely during the COVID-19 pandemic for health and safety reasons. As companies look into opening offices again, a recent Gallup report says there will be a reduction of about 37% in regard to people returning to a physical office full time. This is because more employees now understand the benefits of working from home.
Because of this, companies are now looking into adopting flexible work arrangements moving forward. Many are considering a move into either a fully remote or a hybrid work model, which sees employees working some days remotely in the week and at a physical office on others.
Other companies have started offering flexible work hours in a bid to keep employees engaged and stay competitive for new hires during the Great Resignation. It also shows how companies care for their employees' health and well-being post-pandemic.
Demand for more employee recognition and transparency
Recent McKinsey research on the Great Resignation has found that 54% of employees who quit felt that their employers didn't value them. This shows how recognizing the work done by employees can go a long way in boosting employee morale and motivation.
HR leaders and managers can give recognition in many ways, such as offering a small token of appreciation, a shout-out during meetings or emails, or even a quick snack party in the pantry or a virtual lunch out.
Transparency and open communication in the workplace
In relation to feeling appreciated and recognized in the organization, employees are looking for transparency and honesty in the workplace. Workplace transparency is clear and open communication between employees and the company. When there is open communication between the two, employees feel appreciated enough to share relevant information and safe enough to voice opinions and ideas.
In addition, having open communication with employees helps companies collect feedback easier and are ensured that the information collected is honest.
Employee growth and development opportunities
The COVID-19 pandemic has seen more people explore new or more challenging roles, which usually require new or updated skills and knowledge. Companies can create a healthy culture by investing in their employee's growth and development by providing educational resources for upskilling and reskilling. Creating new promotional opportunities in the workplace also allows employees to stay challenged and apply their expertise.
Improvement on digital tools
Technology continues to grow over time and should be embraced in the workplace. When technology is properly integrated with a company's workplace culture, it can significantly improve the organization's operations and communications, leading to higher productivity and employee engagement.
Providing relevant applications and equipment for employees to do their work attracts new talent, especially Gen Z applicants who are tech-savvy and rely heavily on the internet and social media.
Read more: How to build a connected culture for remote workers
Growth of a diverse and inclusive workforce
The demand for a diverse workforce has been increasing as more people grow aware of the need for inclusivity and equality. Having diversity in the workplace can offer fresh perspectives and opinions for different situations. Cultivating an inclusive workforce makes employees feel safe and comfortable to be themselves, which increases employee engagement and satisfaction.
With all the recent issues on racial profiling and discrimination, hiring managers should practice bias-free hiring and not judge an applicant's credibility based on their demographic such as gender, race, religion, and ethnicity.
Building a good workplace culture based on the current trends plays a significant role for the success of the company. However, HR leaders should be mindful that a healthy company culture is based on what works for their employees and not copying the culture of other companies. What may work for one organization may not be as efficient for another, which is why constant review is needed to see whether the workplace culture is still effective in keeping employees satisfied and working to their full potential or if it needs an update.