Here are some steps employers can take to combat loneliness in the workplace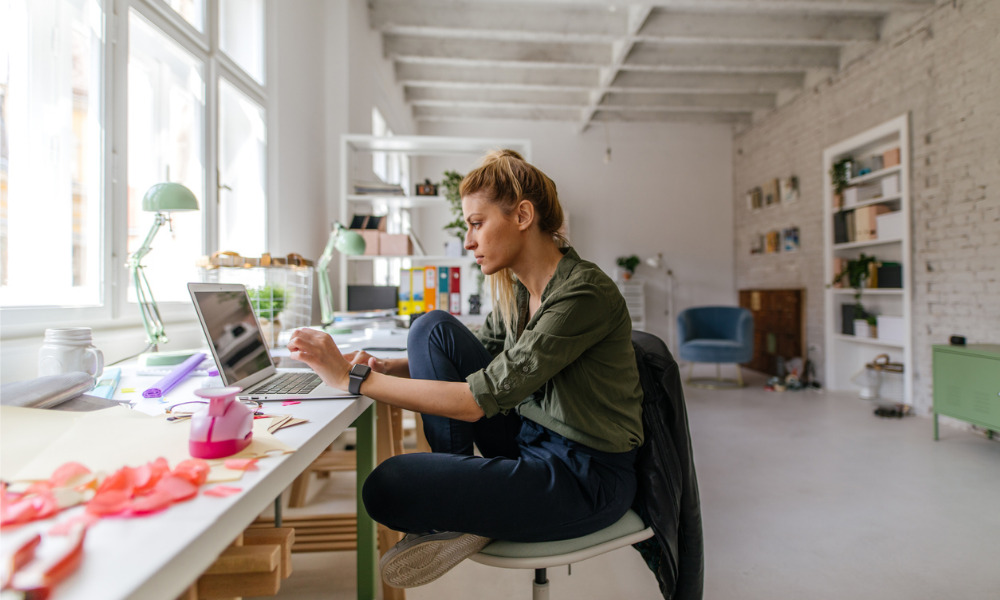 As more workplaces move online, human resource leaders and managers should be prepared to manage issues of loneliness and isolation that can arise from remote work.
Below, we identify the prolonged effects of loneliness in the workplace and what companies can do to beat them.

Read more: Dr. Howatt: 'Mental health and wellbeing have never been more important than right now'
Workplace loneliness and isolation
Loneliness is the negative emotional state people get from feeling isolated from friends and colleagues.
When a person feels lonely at work, they tend to minimize social interactions with colleagues – a situation that can impact their motivation and work output.

Measuring loneliness is difficult because not everyone in the workforce feels it in the same way. Additionally, there are many factors that can influence a person's perception of being alone and isolated, such as culture, social groups, and other unique personal issues.
Common causes of workplace loneliness and isolation
In the workplace, loneliness and isolation can happen for many different reasons. Below are some of the common causes:
Company culture: Sometimes policies do not fit certain lifestyles and work ethics, causing feelings of isolation from the rest of the team to develop.
Cliques and social groups: Groups that purposely exclude other people can also worsen loneliness in the workplace and cause further divide among employees.
Demographics: While it is important for a workplace to be diverse and inclusive, there are instances when employees relate to co-workers who come from the same background as them more. Age, race, gender, sexual orientation, culture, religion, and socioeconomic classes are common demographic factors that can cause social division.
Work setup: Employees who have different work schedules, work in siloed teams, or work remotely may feel isolated from the rest of the workforce.
Personal issues: The stress employees feel from personal issues, such as financial and housing challenges, can spill into their work life.
The impact of loneliness and isolation in the workplace
Research done by Wharton School of Business's Sigal Barsade and California State University's Hakan Ozcelik found that greater workplace loneliness in employees leads to lower work performances. Their study also found that workplace loneliness can spread and affect other people in the same office.
"Other people's loneliness can easily become our own because it's relational," Ozcelik says in a podcast. "Once the relational network gets infected, suddenly you've got these employees behaving strangely. In that sense, it's not an altruistic choice for a manager or a co-worker to help out a lonely employee. It's almost a managerial need that they need to take care of, a relational need. As a colleague, they need to reach out to an employee who feels lonely."
Feelings of loneliness formed in the workplace can also greatly impact employees' mental health and lives outside of work. Experts at the Royal Society found that loneliness can cause many psychological and physical health issues such as depression, poor sleep quality, accelerated cognitive decline, and impaired immunity. When this happens, all aspects of the employee's life, including work, is negatively affected.
How to beat loneliness and isolation at work
The best wat companies can manage feelings of loneliness at work is to build a culture of connection and community – here are five ways they can do this:
Assess the situation
Employers should keep an eye out for any signs of loneliness at work. Conducting surveys and asking for feedback regarding workplace loneliness is an excellent way to see where employees stand. From there, employers can analyze the data and responses collected to see how connected employees feel and to help identify any gaps that need to be addressed.
Schedule social gatherings
Planning social gatherings and team building activities provides a way for employees to meet colleagues, gather company news and updates, and create quality friendships. A monthly lunch out or a bi-weekly virtual meet can connect co-workers both working at the office and remotely.
Managers should also encourage employees to take frequent breaks. Holding quick meetings or snack breaks can help employees relax from a stressful task and get to know other colleagues. These get-togethers, whether big or small, make employees feel included in the company.
Build meaningful connections
It is important for HR managers to build meaningful connections at work. Providing opportunities for interaction is a great way to help employees socialize with each other but creating an environment where two human beings can build a solid friendship is even better. Understanding the interests and goals of employees help managers create a space where they get to explore and achieve those goals individually and as a team.
It is also important to align the goals of employees with company goals. In doing so, employees feel they are a part of a community that works toward a shared direction. Employers should foster teamwork in the workplace and keep an eye out for any negative behavior that can affect team spirit such as bullying and harassment.
Offer employee assistance programs
Sometimes, employees do not feel comfortable sharing their problems with certain people in the workforce. Providing a credible employee assistance program (EAP) for employees gives them access to expert, confidential assistance for various issues such as mental health conditions, substance abuse, and personal problems. In this way, companies are able to help employees improve their overall mental state.
Recognize and share successes
Recognizing and celebrating the successes of employees and teams is important to make them feel included and appreciated in the organization. Public recognition does not need to be saved for large company events. Managers can celebrate employee successes whenever possible such as a shout-out in the team group chat, a quick donut break, or weekly meetings. People need to take that time to connect and celebrate together.
Rewarding employees and teams who have done a great job can boost their morale and motivation greatly. It also encourages them to be more productive and engaged in the workplace.
Read more: WHO: 'Urgent need' to tackle mental health crisis
Whether physical office or remote, workplaces can get lonely and can negatively affect people and their productivity. HR leaders should take the lead in raising awareness on workplace loneliness and isolation and create a safe space where everyone has a part in sharing and supporting one another.