There's good news – and bad news – for these furry staff members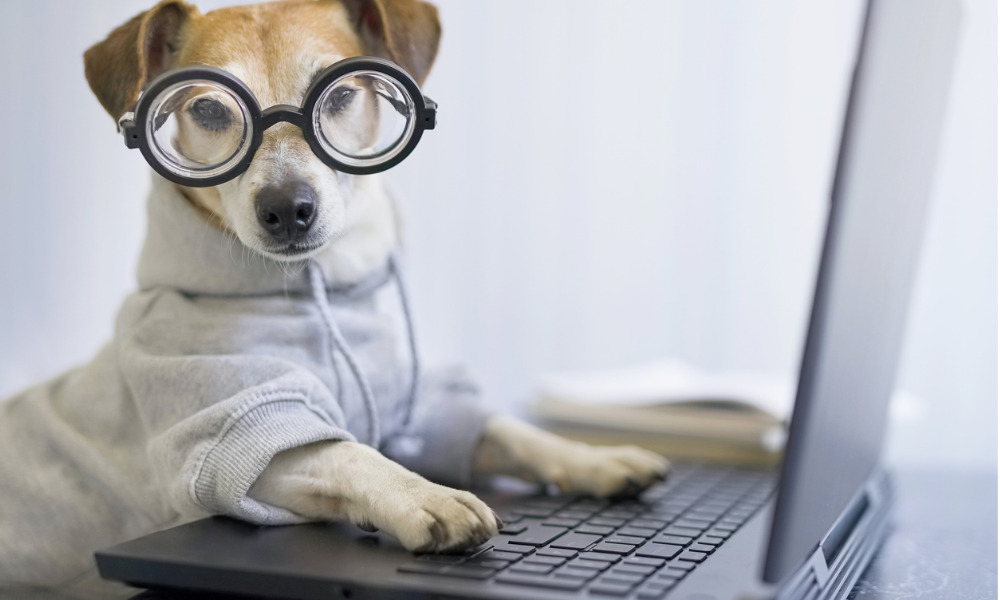 Is remote work causing your furry 'staff' to slack off?
Take a page from BBC sports broadcaster Andrew Cotter and how he handles the performance evaluation of his remote employees – that is, the two adorable Labradors, Olive and Mabel, keeping him company as he shelters at home amid the coronavirus pandemic.
A hilarious viral video posted on Twitter spoofs the typical performance review – with two nervous-looking dogs joining Cotter in a Zoom conference call. The two-minute clip begins with Cotter announcing company plans for their team.
READ MORE: 'Once a pet is in the office there are rules and expectations'
"I can see you both look worried, but the good news from head office is that neither of you is going to be furloughed," Cotter says.
But just as Cotter begins sourcing ideas from the two on how to stay loyal to the company, the inattentive Mabel looks away from the camera and off into the distance, seemingly uninterested in what Cotter has to say.
"Mabel, this is one of the things we have to address – the lack of focus at times," Cotter says in a carefully measured tone. "There are things we have to try to improve on."
When it comes to the annual report, a disappointed Cotter recounts how the two ruined a sofa and failed to catch a single squirrel out of the 913 they chased. "Not a good return," the boss says.
At that point, Mabel begins scratching on camera.
It's not all bad news, however. Olive, the black lab, is told she is receiving a "small bonus."
"We've got a message from management, which I have to read out: 'You're a good dog. Yes, you are. Who's a good dog? You're a good dog,'" Cotter reads in a drab tone.
Olive gets up and begins wagging. To which Cotter reacts: "I'm glad it makes you happy."
Still having the company meetings online. pic.twitter.com/aR3LfuSdKl

— Andrew Cotter (@MrAndrewCotter) May 11, 2020
Cotter's funny interaction with his pets is but a snapshot of how keeping furry friends close by can be beneficial to workers.
Mars Petcare Australia, named one of the country's best workplaces, for example, attributes its positive work culture partly to its pet-friendly policies.
READ MORE: Why employers should adopt pet-friendly offices
"In addition to increasing morale and reducing stress, it really does create a fun working environment," says Barry O'Sullivan, general manager at Mars Petcare.
"There is no doubt that it is something that just makes you feel better and ultimately associates are more productive and happier in a pet-friendly environment," he told HRD.
Having a pet around has been shown to have a positive impact on workers' well-being: 44% say they are more relaxed because of it, according to a survey by pet food maker Purina.
These days, it may be one of the simple joys of working from home – workers just have to make sure their own furry staff are hitting their KPIs.