A mutual non-disclosure agreement or mutual NDA can be a valuable tool in keeping information confidential between two parties. Read on to know more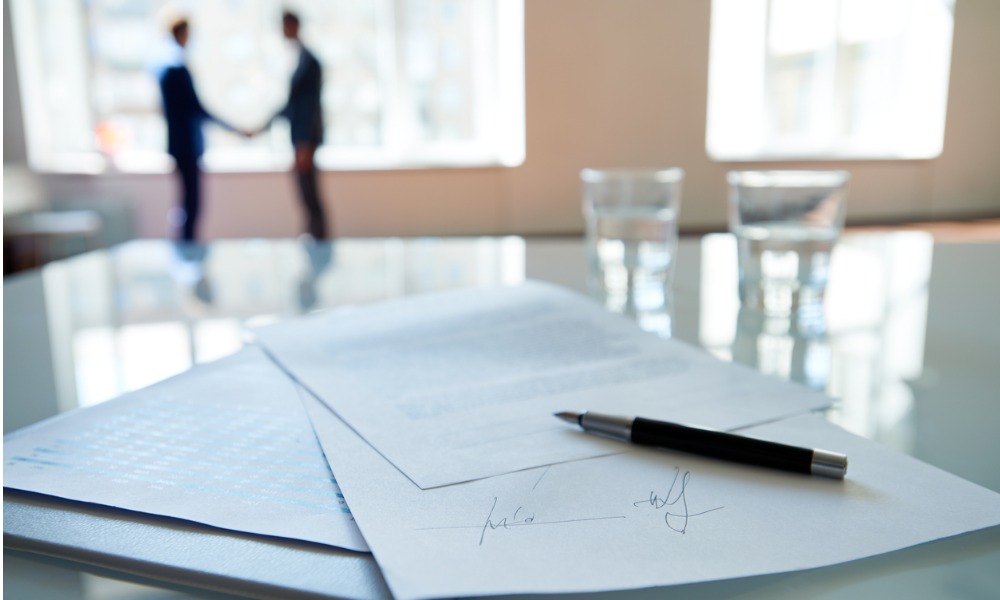 Mergers, acquisitions, joint ventures, and marketing tie-ups are some of the strategic moves that companies use to maintain their competitive edge, or simply to survive and remain profitable in today's fast-paced business environment. When companies make such moves, this requires sharing of confidential information between them. This comes in the form of trade secrets, formulae, secret ingredients and recipes, programmed algorithms and other information. If any of this is disclosed to third parties or revealed to the general public, it can be detrimental to both parties.
The answer to making mergers, acquisitions, and joint ventures safe for the two parties is to sign a specific type of non-disclosure agreement: a mutual NDA. In this article, HRD America discusses important items about mutual non-disclosure agreements, such as its definition, features, and benefits.
A mutual NDA is a form of non-disclosure agreement, which can be called other names, such as mutual confidentiality agreement. The textbook definition of a mutual NDA is that it's a legal document whose main purpose is to prevent at least two contracting parties from making any unauthorized disclosure of any sensitive information that the NDA deems relevant and confidential.
Does a mutual NDA require the signatures of both parties?
Yes! Both signatures of the contracting parties are required in a mutual NDA to signify that they have agreed to its terms and conditions. It also means that the parties agree to bind themselves to the terms, such as the effective time period, what constitutes a breach, and its consequences. The signatures are required to make the NDA legally binding, and this does not become binding or enforceable if only one of the parties signs it.
Is a digital signature acceptable for an NDA?
Yes, digital signatures are acceptable. In fact, some companies these days prefer to issue a digital NDA instead of one on paper. Note, however, that there are at least 3 conditions for a digital signature to be considered valid:
There must be a way to verify the entity or individual making the signature.
There must be a way to verify that the signatory (entity or individual) did so with the express intention of signing and affirming the document.
There must be a way to confirm that the e-signature is associated with the signed agreement.
When it comes to the different types of NDAs, a digital NDA with a digital signature is as legally binding as the paper version. Digital signatures are in fact validated by law through the Electronic Signature in Global and National Commerce Act.
A unilateral NDA is one-sided and requires that only one party, the receiving party of the information, agrees to bind themselves to the NDA's terms and conditions.
A mutual NDA is when two parties need to share confidential information with each other.
Both NDAs can function similarly, with the main difference being how and to which of the parties the information flows.
How long does a mutual NDA last?
It is common to have a mutual NDA last from 1 to 10 years, but this can depend on factors like the nature of the information protected.
If the confidential information is so valuable that disclosing it to the public or if competitors could bankrupt the company by getting hold of it, then the term may be indefinite.
Note that some state laws can determine a time period for mutual NDAs; some may not allow for time periods that are too generic or open-ended.
Can a mutual NDA have its period extended?
Yes, some NDAs may extend the term of its effectivity through clauses that allow for amendments that extend the term, if the parties agree. An amendment to this effect can sound like: "This agreement can be amended via a written instrument executed by the involved parties".
Learn the difference between a mutual and non-mutual NDA in this article.
The parties involved should consider a mutual NDA when they must share sensitive information with each other. A mutual NDA is useful should they decide to have a partnership, as in a joint venture.
A mutual NDA can also be appropriate when one company decides to buy another, and the two companies want to improve or streamline the production process. This would involve the sharing of confidential information between the two, requiring a mutual NDA.
Are mutual NDAs always necessary in mergers or acquisitions?
Not in all cases, even though mergers can be delicate situations. If only one of the parties is required to share information, then a mutual NDA is not appropriate. For example, if a small company wants to sell to a bigger one, then that company must share confidential information for the bigger company to decide if it's worth buying.
Since information is only shared by the smaller company, they can draft a unilateral NDA to keep the big company from sharing or profiting from any of the smaller company's trade secrets in case the sale doesn't materialize.
Can an employee draft a mutual NDA without a lawyer?
Yes, it's possible for them to make a draft, but it's best to consult a lawyer for legal advice and make sure all the important items are covered. A lawyer should review the draft before having the parties sign.
Both parties can protect their sensitive information in acquisitions, mergers, or joint ventures. As long as the mutual NDA is properly drafted, both parties can pursue a common goal without worrying that their confidential information gets leaked to the public or disclosed to competitors. In some cases, a mutual NDA can also be useful in preventing individuals from disparaging any of the contracting parties after their engagement, but this has limits.
What are the disadvantages of a mutual NDA?
On the flipside, mutual NDAs have their share of drawbacks:
High level of complexity – Though you can start with mutual NDA templates online, this is a very complicated document.
Time-consuming – Drafting a mutual NDA that satisfies the needs of both parties can take considerable time, especially if a lot of complex information is involved.
Can limit your company's activities –Depending on the terms, companies party to a mutual NDA may not have the freedom to take advantage of other opportunities like other joint business ventures without the consent or knowledge of the other party.
What is the indemnity clause of a mutual NDA?
This clause is meant to protect the discloser of the information through indemnification. The offending or breaching party compensates the other from any and all losses that arise from the breach – which is the disclosure or failure to protect the sensitive information that was entrusted to them.
The extent and form of indemnity is usually part of the terms of the NDA, but the offended party can also seek other forms of equitable relief.
There are certain elements that should be in a mutual NDA:
Clearly defined parties
The full names of any individuals, the registered company name if appropriate, along with their addresses and registration numbers are necessary to ensure that recipients of the information cannot escape their obligations.
Clearly defined confidential material
The definition of confidential information is important to avoid ambiguity and make enforcement easier. Information that's deemed valuable can include trade secrets, financial information, intellectual property, customer lists, manufacturing techniques, and technical data.
Set obligations for the parties
Any non-disclosure agreement must specify the obligations of the parties, like how each must keep the information secret, and what constitutes reasonable efforts to ensure the information is kept safe from the public and/or third parties. Obligations can include:
Not using the information in any way apart from its intended purpose
Not transmitting it by any means or in any form outside of the usual business hours or premises
Not recording or duplicating the information beyond what is necessary
Not making any of the information available to any unauthorized persons
As an additional safeguard, the NDA can state that the recipient gains no license, right, or interest in any intellectual property rights.
Define excluded material
It should mention what information cannot be considered confidential, such as information that is already in the public domain, and/or directly disclosed or lawfully acquired before the NDA.
Define the duration of the NDA
The term period should be reasonable. Depending on the nature of the industry, the type of information and other factors, a term can last from 1 to 10 years. However, terms that last indefinitely are not unheard of, but apply only when trade secrets and other information deemed extremely valuable are concerned.
Have a jurisdiction clause
The party that discloses information can stipulate which legal system has jurisdiction in case of legal issues. Doing this ensures that a jurisdiction is readily accessible in case of breach, and that the jurisdiction affords the greatest protection for the information.
Mutual NDAs can work as invaluable tools to protect your and your co-signor's information, but only if they're crafted thoroughly and contain clauses that are within reasonable limits.
What was your experience with mutual NDAs? Talk to us about your experience in the comments!