A lawsuit – that's what Deloitte is discovering after allegedly failing to keep a rogue talent director in check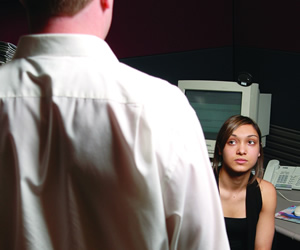 The owner of an executive search staffing firm has hit Deloitte LLP with a sexual harassment lawsuit, claiming she lost more than $3million in fees because of the behavior of a Deloitte talent director. Kim Valentini-Shamsky, who owns New York City-based Austin & Devon Associates LLC, did contract staffing for Deloitte and Deloitte Services, working largely with Louis Bastone at the company from 2007 to 2012.

According to Valentini-Shamsky, Bastone consistently flirted, making obvious and offensive sexual advances, but she felt that she could not cut off contact with him because he continued to provide her with job positions to fill.

"Plaintiff Valentini-Shamsky was perplexed by the rejection of candidates because these candidates were all highly qualified," the complaint says, according to Law360's report. "Plaintiff Valentini-Shamsky soon realized that her candidates were being rejected by defendant Bastone due to the fact that she rejected his sexual advances."

It took years before Valentini-Shamsky was able to tell anybody else at Deloitte about her perceived problem, because Bastone allegedly told her he was the "gatekeeper" to the company and forbade her from meeting anybody else at the firm.

However, in October 2012, a meeting with Deloitte's national talent acquisition and mobility sourcing manager, Mollie Stark, revealed all. Valentini-Shamsky disclosed her issues, admitting she was uncomfortable extended her contract before something was done about the situation. Stark seemed to empathize – but the next day, the contract was terminated.

The case is being considered by the Supreme Court of New York.