'It's really important that we prioritize the team member experience as much as the patient experience,' says CPO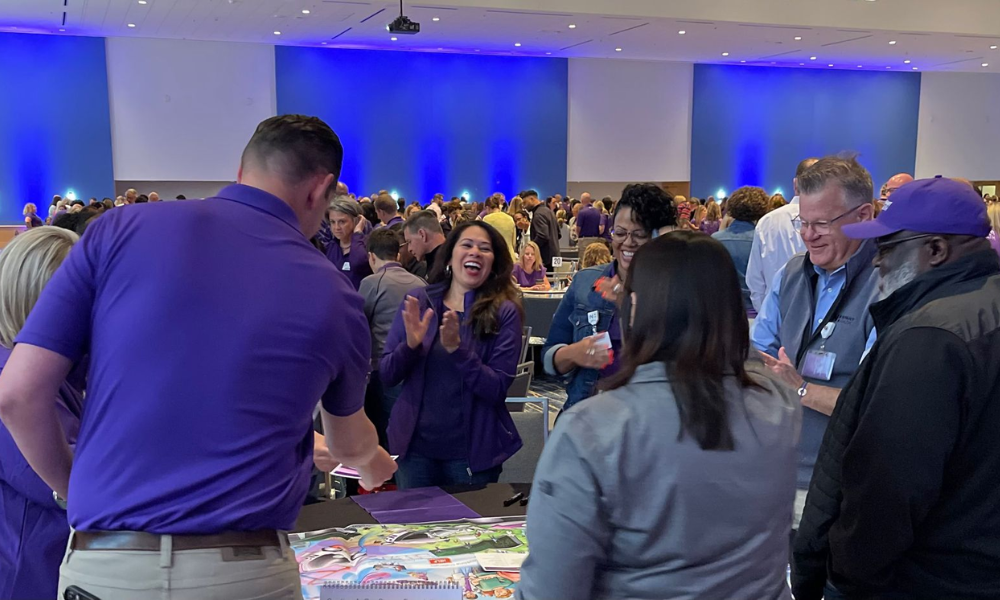 Carmen Canales is proud to reveal the "tremendous" engagement score of her workforce, with an impressive 84% who are highly engaged.
That's also noteworthy considering Canales works in health care – as the former senior vice president, chief people and belonging officer, Novant Health.
"That matters for retention and that matters for attraction of new talent," she says.
Much of that score could be due to the HR team's dedication to employee wellbeing, which was especially important both during and after the pandemic.
"What we're working on are really lingering, post-pandemic effects of working on really important and stressful work – taking care of patients, making sure that they recover, that they thrive, that they can go back to their families," she says.
"And when you're in that environment for so long, it can be traumatic."
That can lead to issues such as stress and burnout, says Canales, "so it's really about taking good care of the team members that we have, ensuring that they have good resources in place."
"If we hope to have any balance, any wellbeing, it means that we have to be… in good shape to keep who we have healthy and well in every aspect, and to keep attracting more like team members."
Team dedicated to wellness
With a master's degrees in labor and industrial relations, Canales has worked in the field of human resources at several employers, including Pepsi Bottling Ventures, Wells Fargo and Wake Forest University. She joined Novant Health in April 2020, just as the pandemic was heating up.
And that's why the focus on wellbeing for staff has been so important, which includes physicians. The company has a lead wellbeing officer, along with someone specifically focused on wellbeing in the HR department, she says.
"Much of the focus of that work is to really to mobilize [people] to be vulnerable, to talk about wellbeing [because] health, mental health is about awareness," says Canales. "They have interested colleagues who can spot signs of distress and really deploy to help swoop in with resources and to help people get what they need."
Novant Health is a four-state integrated network of hospitals, physician clinics and outpatient facilities that delivers a seamless and convenient healthcare experience to communities in North Carolina and South Carolina.
Headquarters Charlotte, NC
Founded: 1997
Physicians: 1900
Team Members: 36,000
Locations: more than 800
Hospitals: 15
Outpatient locations: 674+
Imaging centers: 30+
Physician clinics: 605+
Revenue: 5.4 billion USD (Operating, 2019)
'Thriving together' at Novant Health
Also important at Novant Health is the idea of "thriving together," which recognizes healthcare's unique challenges, pressures and intensity – and how that can impact employees. It's about going beyond "survival mode," which is normal and expected, to collectively thriving.
"Thriving together" is a concerted campaign that supports the company's "collective, holistic well-being" and enhances people's ability to flourish in the face of challenge, in times of crisis.
"It's really just naming our initiative and our intention and our focus on making sure that we're promoting every aspect of wellbeing – from financial resilience to mental health, physical health, etcetera," says Canales.
These initiatives include a 24-7 Behavioral Health Call Center; an EAP program; using "eHAT" for a one-to-one talk with a peer or a support group or meetup with an emotional health advocate team; speaking with a chaplain; speaking with a Wellbeing & Resiliency team; contacting the People & Culture team, and connecting with the BRG communities.
"It's really important at Novant Health that we prioritize the team member experience as much as we do the patient experience," she says. "Not only is it important that we prioritize it, but that we talk about it. We talk so much about patients, about patients being well and of course that was a priority that heightened during the pandemic. But now we're shifting a little bit – the patient has always been first, but we can't take good care of the patients if we ourselves aren't well."
Confronting burnout in healthcare
Also notable is the launch of a new app called NeuroFlow, says Canales, which allows providers to track patient progress and intervene if their well-being declines.
Directed at patients, it's also available to team members.
Meant to combat burnout among clinicians, NeuroFlow "provides tailored resources to help healthcare professionals manage work-related stress and promote mental and emotional wellness," according to the company.
"Burnout in the healthcare industry is at an all-time high and it's been a concentrated area of focus for Novant Health for some time now," noted Thomas Jenike, MD, senior vice president and chief well-being officer for Novant Health. "We've made a commitment to expand the tools and resources available to our team members, and NeuroFlow is a promising, confidential self-care option that complements the in-person and peer support services we offer."
Interview by Chris Davis.